Bora Bora Shopping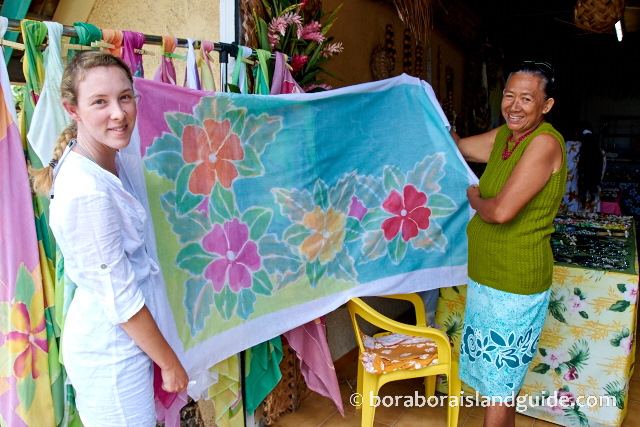 A beautiful hand painted pareo by a Tahitian Mamma
The most popular Tahitian island products for Bora Bora shopping are black pearls, coconut and tiare soaps, monoi oil, vanilla beans, shell leis, wood carvings, woven hats and baskets, and the colorful pareo fabric worn by the islanders. 
These items can be found in boutique shops in Vaitape and along the southern part of the Circle Island Road.
There are also markets set up by the main dock in Vaitape. You can find out more about where to buy pearls on our Tahitian Pearl Jewelry page.
The market place in Vaitape is open when ever a ship is in port, and has very well priced selections of local crafts.

Bora Bora Shops

There are a handful of specialty shops in the main town of Vaitape. You can find pearls, books, clothing and home-wares.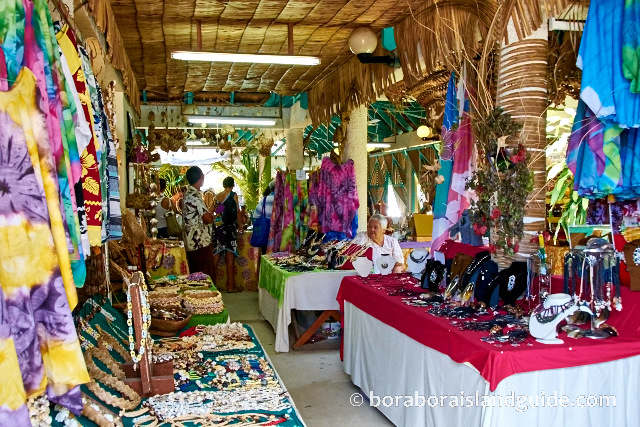 Vaitape Market Place near the dock
The Bora Bora T-shirt Shop has a playful selection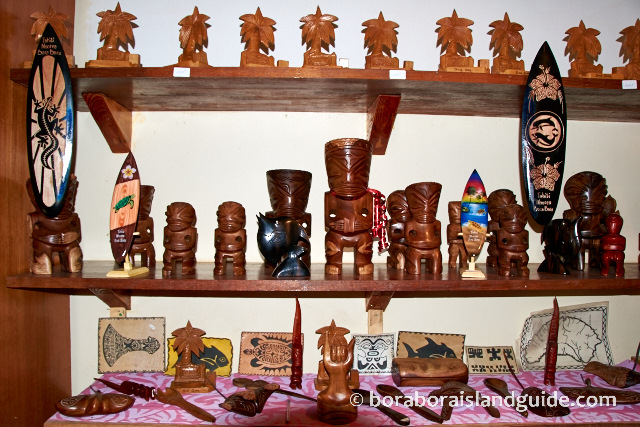 carved tikis
Some of the best Tahiti shopping is at the Papeete public market. It's the biggest, with the best selection, so it is worth a visit. If you want souvenirs of your Bora Bora travel, prices are often cheaper there. So on your way home, its a good place to buy bigger items, as well as gifts for family and friends.
Do I Bargain When Shopping?
Bargaining and haggling over prices in markets and stores is not usual practice. However you can ask for a 'discount' when purchasing pearl jewelry.
Information on Bora Bora Shopping Retail Hours
Shops are normally open weekdays from 7:30 a.m. to 5:30 p.m. Long lunch breaks are taken at midday. (The French have their main meal and a siesta at lunch time.) Saturdays they are usually open until midday. Everything is closed on Sunday except for shops located in hotels and resorts.
Search the Site

Are you still looking for additional information? You can use the Google search box below to search the site.