Bora Bora Le Meridien
Over Water Bungalows
These classy Bora Bora Le Meridien Overwater Bungalows sit in a beautiful turquoise part of the lagoon and have great views across to Bora Bora Island and Mt Otemanu. They offer value for money.
The 4-star Le Meridien has 84 medium size over water bungalows (540sqft⁄ 60m²) set along two extensive pontoons. This was the first Bora Bora over water bungalow resort to be built on a motu, so it occupies a prime position directly across the lagoon from Mt Otemanu.
In 2010 all the villas were completely refreshed. The make-over has managed to effectively blend a Polynesian island feel with clean, modern amenities which reflect the Le Meridien's sheik, minimalist image.
Everything about the interior of these overwater villas feels new and timeless. A high, washed-wood ceiling and relaxed, neutral colors add to the spaciousness.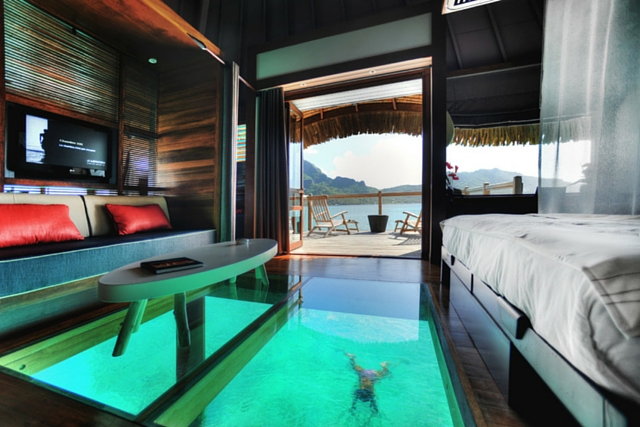 The light, airy room has chic furniture; including a beautifully presented king bed, compact walk-in wardrobe, comfortable sitting area and a desk with a stunning lagoon view. The large, gleaming, marble bathroom with separate bath and shower is a plus.
Each villa has a wall of glass window for appreciating the lagoon ambiance, and 81 feature the largest glass floor panels of any French Polynesian resort.
You can have a mat placed over the glass in the evening if you want a dark room in the morning. Each has a generous, partly shaded, private deck with steps down to a small pontoon (with shower) to slip into the lagoon.
The 59 Bora Bora Le Meridien Over Water Bungalows face up or down the turquoise lagoon. Others look towards the romantic, thatched-roof resort and it's palm dotted, white sand beach. One overwater villa, closest to the shore is disability accessible.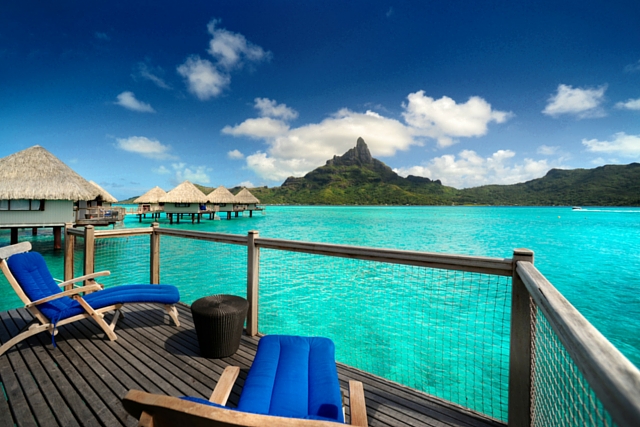 The 22 Premium Bora Bora Le Meridien Overwater Bungalows have more privacy, wider decks and spectacular views across to Bora Bora Island and Mt Otemanu. Some are at the end of the pontoon, further from shore where the water is deeper.
The Bora Bora Le Meridien has thoughtfully placed it's restaurants so that you can eat breakfast, lunch and dinner while enjoying views of Bora Bora Island jutting out from the ever changing blues of the lagoon. If you're planning a wedding or honeymoon in Bora Bora the Le Meridien has a beautiful over water chapel with colorful stained glass windows. You can tie the knot, or renew your vows, with a dramatic view of Mt Otemanu.
Another advantage of staying in one of the Bora Bora Le Meridien overwater bungalows is the opportunity to swim with turtles. A major attraction here is an official Turtle Sanctuary. A marine biologist can introduce you to these amazing creatures who have the intelligence to navigate thousands of kilometers, back to their place of birth, to lay their eggs.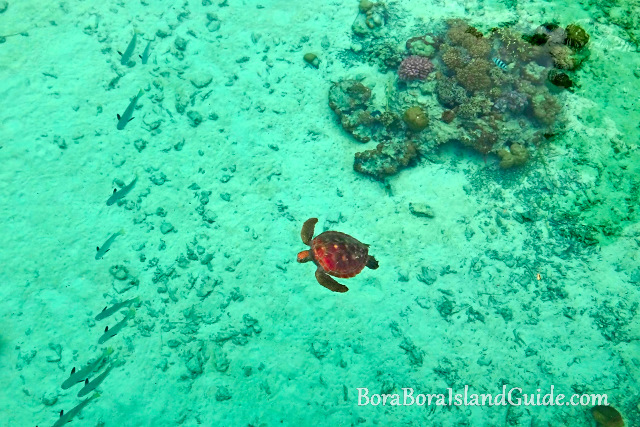 Le Meridien's turtle sanctuary
Search the Site

Are you still looking for additional information? You can use the Google search box below to search the site.