Paul Gauguin Cruises Make Tahiti Travel Easy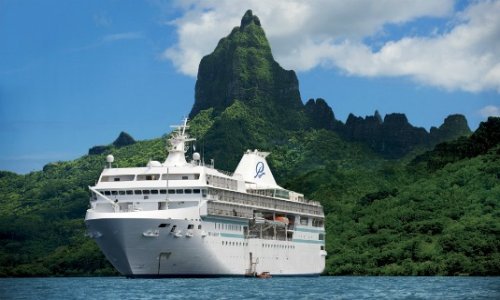 Paul Gauguin cruises are an incomparable way to experience the culture and beauty of French Polynesia while enjoying fabulous food and comfortable accommodation, all for the best price possible. The Conde Nast Traveler's Annual Readers' Choice awards has ranked the Gauguin line as one of the world's top 5 small cruise ships.
A Luxury Tahiti Vacation, All Inclusive

Cruises are a fantastic option if you are searching for great value all inclusive Tahiti vacations with a touch of luxury. Paul Gauguin cruises include all meals, drinks, most alcohol, and many activities. (Not included are cabin upgrades, shore excursions with guides, spa treatments and the most expensive liquor labels.) Usually there is a shipboard credit given as a bonus when booking, and this can be used towards most of these costs. A Tahiti island bus tour is also offered on disembarkation day.

Packages for Paul Gauguin cruises include economy class flights to Tahiti with Air Tahiti from Los Angeles, plus connections from other cities to LAX.
You can also get great deals on these Tahiti luxury resorts to extend your Tahiti vacation before or after Paul Gauguin cruises.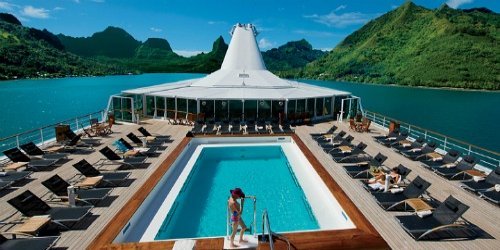 Honeymoon Vacation in Tahiti

If you are wanting a cruise honeymoon package, Tahiti, Paul Gauguin cruises take care of every aspect, so that you can focus on enjoying each other.  
Tip: Arrive in Papeete at least a day early, rather than on an evening flight the night the ship departs. Have a day to explore Tahiti and take advantage of package accommodation rates you are entitled to at the Intercontinental. 

Paul Gauguin Cruises maximise vacation pleasure hours

You will be on a floating luxury resort that moves you from one beautiful island to the next, while you are sleeping or having fun. There's no need to continually pack and unpack, get to airports, or wonder where your next good meal is coming from. Everything is thought of on this boutique ship. Paul Gauguin cruises only have 151 cabins with accommodation for up to 332 passengers so everyone is pampered.

Embarkation on Paul Gauguin Cruises

Boarding begins at 3pm. (If you arrive at the pier before 3pm, you will be standing in the sun waiting). Your luggage will be checked in on arrival at the pier. A welcoming crew is waiting to take your hand luggage and replace it with a cold glass of champagne. Savor this moment. Your luggage will be waiting for you as it is delivered to your room almost instantaneously. 
An Authentic Polynesian Experience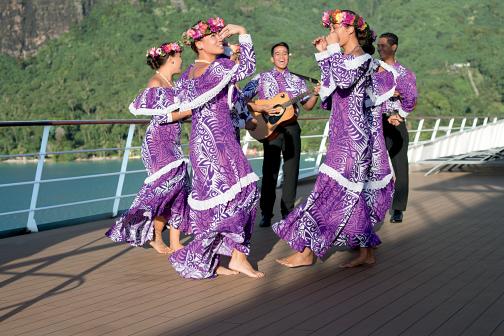 A Paul Gauguin cruise can be as relaxing as you choose. The gracious hostesses are Tahitian (they give Polynesian craft classes) and are known as Les Gauguins. Their insights on all things Polynesian are a constant reminder that you're on a cruise, South Pacific style. There is a staff member for every 1.5 guests so attentive service is a treat. Want a drink by the pool? Don't get up, they'll bring it to you.  
State Rooms

The cabins are compact with plenty of well designed cupboard storage. The bathroom has a surprisingly large bathtub/shower combo and ample storage space. The higher the level on the ship, the larger the cabins are. A cabin maid (referred to as a stewardess) will be assigned to your room to keep it fresh and take care of your needs. This is a nice touch. You can ask for what you would like in the fridge and have it regularly re-stocked.

Do you need a balcony/veranda room for Paul Gauguin Cruises?
Balcony rooms are light and airy and the balconies have screening between neighboring ones, so provide a private sitting area. If you intend lingering in your room you will enjoy a balcony. On a 14 day cruise there are more sea days, so you will get more use from a balcony. I find that I only sleep and dress in my cabin as I love participating in the on board activities. And eating...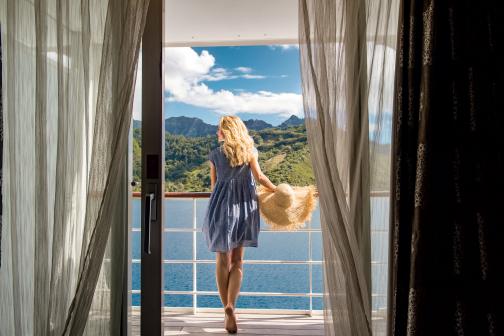 Nearly 70% of the suites and staterooms on The Gauguin feature a balcony
Eating on Paul Gauguin Cruises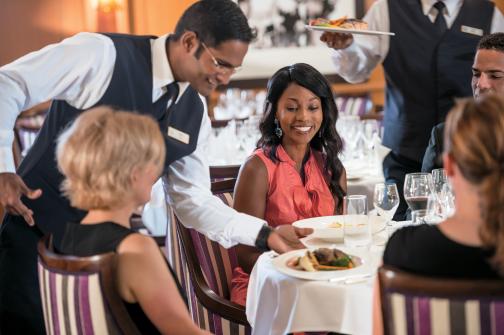 L'etoile on Paul Gauguin
Eating on the Paul Gauguin is an experience to anticipate. The food is wonderful. The service is exceptional. The environment is beautiful. Open setting allows you to choose where you sit. There is nothing quite like returning to the boat after a day of adventure, freshening up, and then taking the lift to the dining room where smiles, and great food and drink, flow freely in a relaxed atmosphere. There's no bill paying or tipping and you don't have to think about getting back to your hotel afterwards! Most people leave Paul Gauguin cruises with a few extra pounds/kilos.

L'Etoile is open for dinner only and offers a variety of choice for appetizers, soups, salads and mains. Wine is poured generously.
La Veranda features a 7 course tasting menu and several a la carte dishes. Wine is chosen to compliment each menu. Bookings are necessary and usually available on the same day.
Le Grill is a casual outdoor restaurant specializing in Asian/Fusion cuisine with a focus on sea food. Their catch of the day will be the freshest fish you will ever eat.
On each of the Paul Gauguin cruises there is a Polynesian night. A celebratory 6 course feast featuring Tahitian specialties is served up in the 2 main restaurants.
Breakfast is worth getting up for on Paul Gauguin Cruises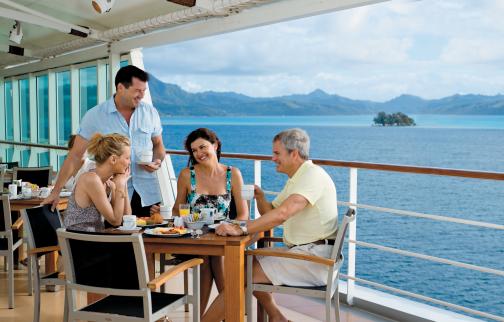 At breakfast La Veranda has a buffet and a small fixed menu. Le Grill also offers a buffet and you can sit outside enjoying the air and the amazing scenery. There is nowhere else in the world that you can sit in this comfort, eating food of this quality and be surrounded by spectacular scenery like this. If you are a Continental breakfast person La Palette will be your spot.

Lunch is a buffet

This is served in La Veranda and Le Grill. On days at sea, lingering over lunch is a treat. (But on island days you will probably be roaming in paradise.) You can graze on a selection of salads, deli meats, sandwiches, soup, pasta and a carving station. The hot food provides variety with a daily theme of Pacific, Tahitian, Greek, or around the world curries. A simple afternoon tea is available at La Palette. If you arrive back in the latter part of the afternoon you can snack at Le Grill.

Tahiti luxury cruises with Culture

One of these enrichment lectures is given for an hour each night:

An archaeologist/anthropologist, Mark Eddowes gives detailed presentations about the people and culture of French Polynesia.
A naturalist, Bobbi Verdegaal talks engagingly about the formation of mountains, reefs and lagoons. She also answers queries about coral, fish and where to find the best snorkeling in Tahiti.
A documentary film producer, John Bowermaster, shows films about his travels around the globe in a sea kayak.
An authority on Paul Gauguin, Arnaud de Sulle gives insights into the life of Gauguin.
Cousteau sponsored Youth Program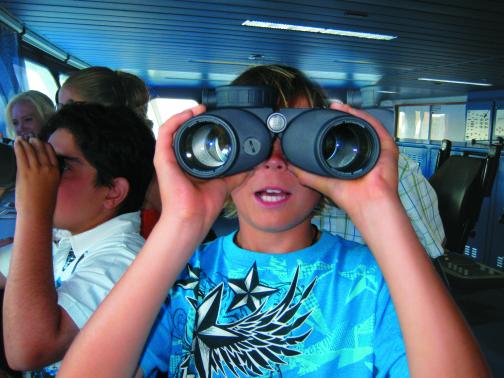 The Ambassadors of the Environment Youth Program is sponsored by the Cousteau family. It teaches about French Polynesia above and below the water including culture, anthropology and environment. Participating kids play games, do crafts and have interesting excursions to gain a certificate for completing the program.

Tahiti Vacations that include Entertainment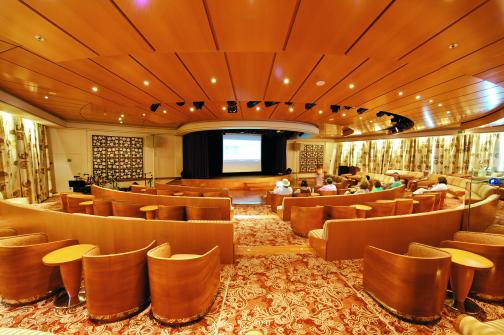 Each evening there is relaxing music in the piano bar, and the house band plays in the La Palette lounge where there is a small dance floor. Or you can try your luck at a few gaming tables or slot machines in the Casino. Some nights there are (dancing, singing, magic, variety) shows in the ship's theatre.
The cruise director, the boutique manager and the Les Gauguins (Tahitian hostesses) change hats and entertain.
At several ports lively local groups come aboard and entertain with Tahitian dancing. At other ports on-shore performances are arranged or local children board the ship to dance.
Tahiti Excursions on Paul Gauguin Cruises

A variety of onshore excursions is offered at each port. There is a travel concierge team on board to chat with and book these Tahiti excursions that incur extra cost. You can also book on the website before you leave home. It's useful to book ahead for the archaeological tours with Professor Mark Edowes and the sea-life encounters with Dr Michael Pool as they are very popular. If you would like to rent a car (for example at Bora Bora, to drive the Circle Island Road) book ahead or they will usually be taken on the days a ship is in. Find out more about Bora Bora Excursions.

At most islands the water is too shallow for Tahiti cruise ships to pull in to a wharf. Tender boats will take you to the wharf at each small island stop. (Be aware that tenders are stored on the side of the ship so if you want to sleep in, it may be noisy while they are lowered.) When you arrive back at the wharf after your explorations you will be given a cool drink of water and a wet flannel while you wait for the return boat.

On excursion days remember the power of the Tahitian sun. If you have fair skin you will even burn under a beach umbrella. Apply sunscreen before you leave your cabin. Pack your hat and a throw-over. Tahiti is all about the magnificent blue water. Hopefully you will have known to purchase a rashie and some board shorts so you can enjoy your precious days in the water and not show up at dinner looking like lobster.
As part of Paul Gauguin cruises, full day beach cook-outs are organized on private motus (islands) at Bora Bora and Taha. You can kayak, snorkel or sit under a palm tree and contemplate the beauty of it all. You will never tire of gazing at these beautiful lagoons.

Best Equipped of Tahiti Cruise Ships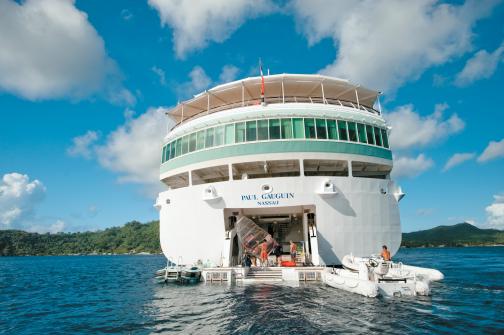 Their retractable onboard watersports marina offers complimentary kayaking and windsurfing.
The Paul Gauguin has a marina at the stern. This serves as a water sports deck for windsurfing and kayaking off the back of the ship, when the conditions are right. If you didn't bring your own snorkeling equipment you can check out snorkel gear (from the sports deck) for the whole cruise. If you take the dive excursions, you have easy entry to the dive boat from this sports deck and head straight off for your diving experience.
Scuba Diving in Tahiti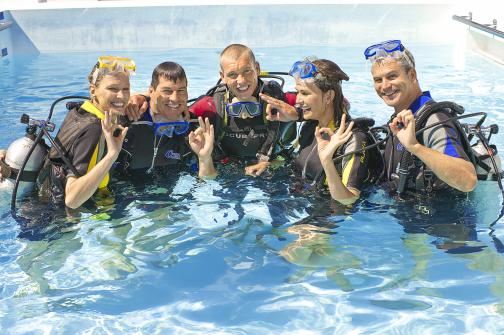 The only luxury ship in the French Polynesian islands offering PADI certification onboard
The Paul Gauguin has 2 dive masters whose talents include making nervous beginners feel calm and comfortable. On your first day aboard you can fill out a questionnaire re previous dive experience and reserve your space. The Gauguin dive team offer a 2 hour class in the pool to teach the basics. This gives cruisers the pool time to be eligible for 2 beginner dives, Bora bora Lagoon and Moorea Shark Dive. Here's more about these dives and scuba diving Tahiti.

Gauguin Cruise South Pacific Options

Paul Gauguin Cruises offer more choice than other Tahiti Luxury Cruises. You can have from 7 nights to 14 nights, depending on the islands you want to visit. Get details of the Paul Gauguin cruises.

The Society Islands are the stars. If you crave beauty, water activities, and some Polynesian culture, these islands are perfect. Bora Bora, the Pearl of the Pacific, is included in each cruise. So if your budget allows a 7 night cruise, you will see the best. No matter how many nights you cruise, you will feel like crying when the crew farewells you with song and a bottle of water-to-go as you leave the boat on the last day.
When to take Tahiti Luxury Cruises

Here's what you need to know about Tahiti weather for planning to cruise Tahiti. Cruise ships at sea are affected by the weather so if you have a choice consider the season when booking your Tahiti vacation.

Find out what to pack for a Tahiti cruise.
Search the Site

Are you still looking for additional information? You can use the Google search box below to search the site.