Bora Bora Boat Excursions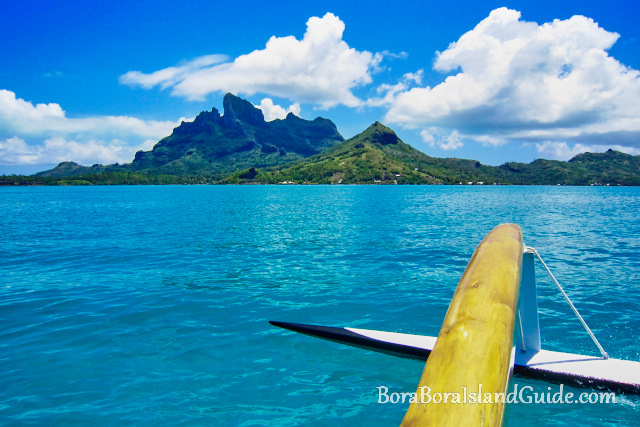 The view of Mt Otemanu changes as you boat around the lagoon
The best way to appreciate this unique setting is on Bora Bora boat excursions. From the lagoon you can admire the towering, rocky, green summit of Mt Otemanu. It transforms from wide and solid, to square and nubby, to slender and needle like, as you circle the island.
You also get to see the beautiful sandy motus that surround the main island. They are privately owned so to step onto their beaches you need to be accompanied by a tour guide or know precisely where the few public Bora Bora beaches are located.
There is a variety of Bora Bora boat excursions to choose from. The companies offering them have various sizes and types of power boats and you can choose a circle island half day or a full day tour for Bora Bora lagoon excursions. Some companies take large groups of people and sit them in rows across the boat. This means that you have a less intimate experience with the lagoon and your local guide.
Shark and Ray Feeding Bora Bora Boat Excursions
Bora Bora lagoon tours provide an opportunity to see a shark and ray feeding and even do some Bora Bora snorkeling in chest deep water as these friendly, curious creatures swim around. You will also be guided to some of the best coral gardens for snorkeling. On a half day tour you stop on a sandy motu to swim and snack on some fresh island fruit. During a full day tour you will have a motu stop on one of the most beautiful Bora Bora beaches. You can swim and snorkel while a barbeque picnic lunch of fish and chicken island specialties is prepared.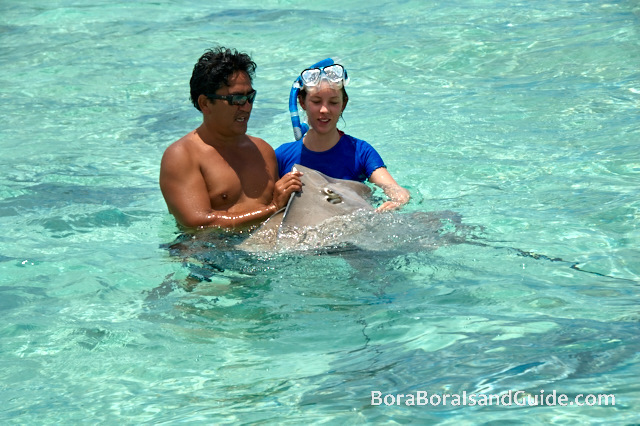 Feeding the stingrays on a Bora Bora boat excursion
I prefer to cruise in a Tahitian outrigger canoe which takes a small group of people. Although a motor has been added, the basic design is the same as the Polynesians have used over the years for traveling around their islands. Check availability and book a shark and ray tour.
Outrigger canoe tours are offered by:
Moana Adventure Tours
Located in Pofai Bay, B.P. 220, Vaitape, Bora Bora, tel. (689) 67.61.41, mobile cell (689) 78.27.37 They also do customized tours.
Lagoon Service
tel. (689)75.69.57., Tours for groups and couples.
Temanava Tours
B.P. 111, Vaitape 98730, Bora Bora, tel. (689) 67.72.26 Tours for a minimum of 4, maximum of 14 people.
Teremoana Tours
B.P. 282, Vaitape 98730 Bora Bora, tel. (689) 67.71.38 Tours for a minimum of 8 and maximum of 30 people.
Moanareva Tours
B.P. 790, Vaitape 98730 Bora Bora, tel.(689) 67.71.34 Tours for up to 24 people.
Sailing Bora Bora
Sailing is one of the most exclusive and pleasurable way to enjoy a few hours around this island. Sailing the lagoon is so smooth and quiet, that it feels like flying over the water. Vitamin Sea offers 2 awesome sailing excursions, with only 4 couples on a spacious catamaran. One gives a morning or afternoon sailing with a floating bar experience; and the other is a very romantic sunset sail.

Motor Boat Hire
If you're the independent type, try hiring a motor boat to explore the best Bora Bora beaches and snorkeling spots at your own pace. Make sure the hire place gives you a lagoon map so you can find all the treasures that are waiting to be discovered. Tie the boat to a buoy at the beautiful coral gardens. Pull it onto the sandy shore at one of the secluded public beaches that are only accessible by boat. Or anchor it in the sand and swim wherever you want. Read about our best Bora Bora boat hire excursion here.
La Plage
Located north of Matira Point at the Novotel tel. (689) 67.68.75 laplage.bora@hotmail.com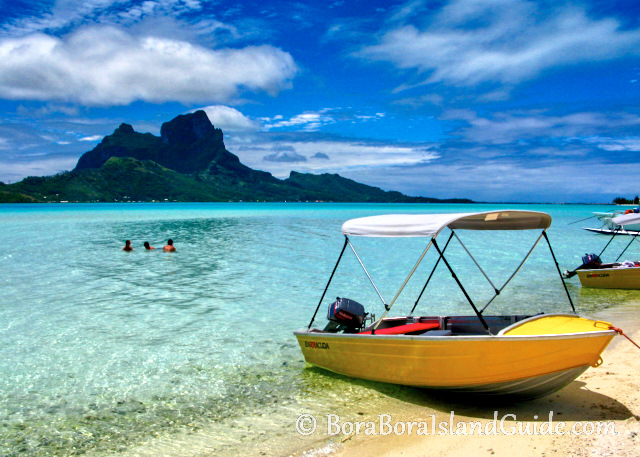 Our lovely yellow boat we hired and cruised around the lagoon
Speed Boat Tours
For glamorous lagoon Bora Bora boat excursions book one of these speed boat Tahiti tours. Your guide will show you the best of Bora Bora's lagoon as he zips you speedily around in style. To ensure that you will be in a small group, or to opt for a private hire, we suggest the following:
Bora Bora Photo Lagon
Damien offers a variety of interesting lagoon adventures of differing lengths. He adds a special touch to his Bora Bora tours by adapting his route according to the sun conditions on the day of your trip. On private Bora Bora boat excursions his purpose is to help you create the postcard photographs of your life. He also offers 3 distinct Bora Bora boat tours for small groups. tel (689) 771096
Reef Discovery
Christophe entertains groups of up to 6 people on a full day or half day day circle island tour which will be the best snorkeling experience of your life. This charming, humorous diving instructor specializes in assisting people with snorkeling. cell phone (689) 76.43.43
Glass Bottom Boat
You can take Bora Bora boat excursions in a custom built glass bottom vessel designed for those who want to enjoy the magnificent Bora Bora marine life without getting wet. These Bora Bora boat tours are available through:
Moana
Located in Pofai Bay tel. (689) 67.61.41, cell (689) 78.27.37
Luxury Yacht
If you want to tour paradise like a celebrity you can take Bora Bora boat excursions around the island on a luxury 24 meter motor yacht, Roa which caters for 8 to 12 passengers. These Tahiti excursions are through:
Roa Yachting
tel. 71.83.86
You can also take a Tahiti sailing charter from Raiatea (a nearby island) and sail around Bora Bora.

Sunset Cruises
Tropical Bora Bora is one of the most romantic places on earth. Sunsets are especially colorful in this latitude, so to amplify the romance you can sail blissfully around the shallow south eastern part of the lagoon as the sun disappears into the Pacific Ocean. On these relaxing Bora Bora boat excursions you can sip Tahiti cocktails and watch the stars form a dramatic backdrop. The full moon is spectacular as it rises above the motus and sparkles across the lagoon. During winter the bright southern cross appears.
Bora Bora Voila
Have a 40 foot catamaran. Based at the Bora Bora Beach Resort
tel (689) 67.64.30
Lagoon Service
tel. (689) 75.69.57
Private tours for couples. Includes a romantic dinner.
Light Tackle Fishing Trips
There are even Bora Bora boat excursions for keen fishermen. The experienced captain of a 17 foot Boston Whaler takes people to some of the best fishing grounds outside the reef. You can troll for wahoo, barracuda, yellow fin tuna, mahi-mahi and bonito.
The lagoon waters near the barrier reef give an opportunity for some light tackle hand line spinning and fishing. These Bora Bora boat tours are available morning or afternoon from:
Moana Adventure Tours
Located in Pofai Bay tel. (689) 67.61.41, cell (689) 78.27.37
Through taking Bora Bora boat excursions your appreciation for the amazing lagoon will grow. The lagoon area is three times the size of Bora Bora island, so get out on the water and explore!
Search the Site

Are you still looking for additional information? You can use the Google search box below to search the site.