Sailing Tahiti: An all inclusive Vacation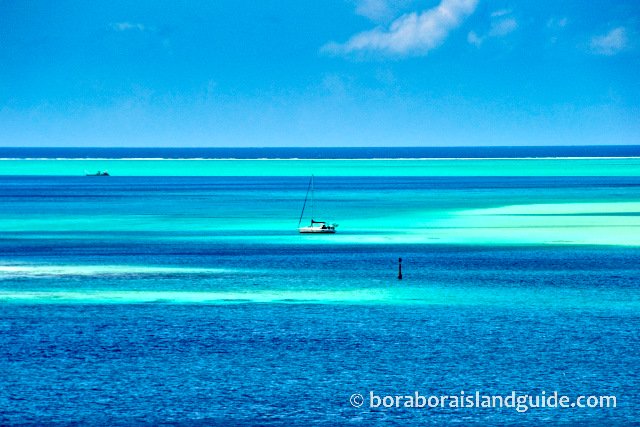 ­Sailing Tahiti provokes the senses unlike any other voyage on earth. Or any other style of Tahiti vacation!
Imagine traversing crystal clear, royal­ blue waters to explore remote verdant volcanic islands or coral archipelagos, where few visitors venture. To a magical world of pure white sandy beaches, warm turquoise lagoons, flower lei welcomes, and sunsets enlivened by the strumming of ukuleles.
No hurry, no worries here. The catch of the day is hanging and coconuts wait to be plucked from palm trees.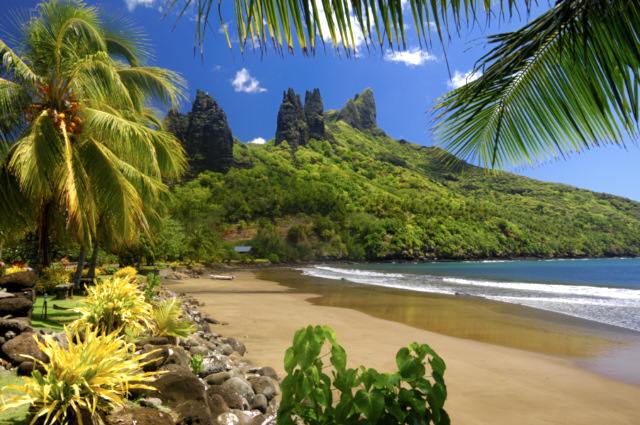 A beach in the Marquesas © P.Bacchet Tahiti Tourism
­Sailing Tahiti on a yacht charter enables you to be as connected to the local color or as free as you wish. French Polynesia (often romanced as "Tahiti" which is an abbreviation for "Tahiti and her Islands") has a scattering of over 100 islands spread across vast, clean waters. So a Tahiti sailing vacation offers a kaleidoscope of exotic landscapes and adventures to be lived from the intimacy of your yacht.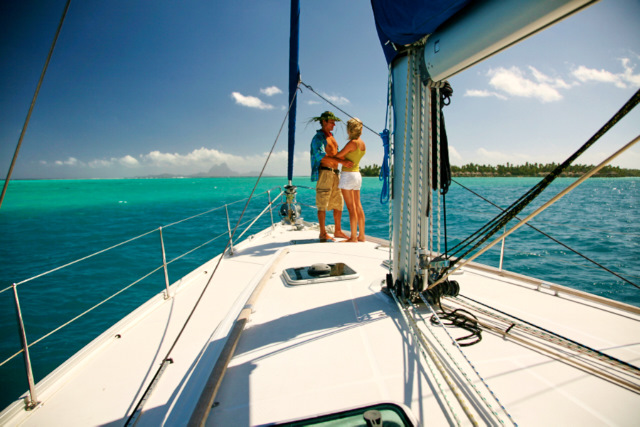 © Gregoire Le Bacon - Tahiti Tourism
What's it like sailing Tahiti?
French Polynesian waters are approximately the size of Western Europe. The numerous, scattered, Polynesian islands include lush volcanic isles rising above sea level, and several outlying archipelagos, each comprising of a string of many coral islands. Such a diversity of sailing possibilities! A Tahiti yacht charter enables you to choose from thousands of anchorages, bays, and lagoons to explore, with wonderful, steady winds to power you along.

An anchorage in the Marquesas © Isabelle Ozan - Tahiti Tourism
Because of the unique geographic formations you'll experience two distinct types of sailing conditions. While in the shelter provided by the coral reefs, Tahiti sailing offers steady, balmy trade winds for relaxing aboard, and in the open ­water-passages you'll be driven by stronger winds, so experience a more spirited sailing.

Where to go sailing in Tahiti?
Tahiti is actually the main island in French Polynesia and this largest, most populated isle sits among the best known Society Islands. Another 117 are located in four great groups. These are the Austral, Gambier, Marquesas, and Tuamotu archipelagos.

© Olivier Marstea
The three archipelagos most visited by Tahiti yacht charters are the Society Islands of Tahiti, Moorea, Bora Bora, Huahine, Raiatea and Taha'a; the Tuamotu Atolls of Rangiroa, Manihi, Tikehau, and Fakarava; and the untamed Marquesas to the north.

Society Islands
The Society Islands are the most inhabited group of islands. These include the legendary destinations of Tahiti, Moorea and Bora Bora. Step ashore into the picture­-poster scenery and discover that the hues are even more sublime than the photographs.

The Societies are divided into the Windward Islands (Tahiti and Moorea) and the Leeward Islands (Bora Bora, Huahine, Raiatea, Taha'a, Maupiti).

A Sophisticated Sailing Destination
The lush, green, volcanic landscape of each Leeward Island rises steeply from a vivid, blue lagoon dotted with small white­-sand beach islets. Each island paradise is encircled by a protective outer coral reef.

In sharp contrast to the delights of the more remote atolls, Tahiti's Leeward Islands offer a "must see" sophisticated sailing destination.

Far flung Tahiti Islands
Beyond Bora Bora you can choose to sail out to the pristine waters of the remote island groups formed as atolls.

If you're fond of scenery under the water, set sail to the Tuamotu Atoll where the deep, crystal-clear lagoons teem with sea life.


A Tuamotu Atoll © Marcel Isy-Schwart
From there you can continue to navigate far north to reach the mysterious Marquesas Islands where Polynesian myths and legends still linger, and are impressively depicted in their original artistic tattoo designs. Here you can anchor in the safe sanctuary of gorgeous bays.

For those unable to get a group together to charter a yacht, the only regular way to go is on the Tahitian boat, Aranui. Read a description of it's fascinating ports of call. The Paul Gauguin cruise ship, dedicated to luxury Tahiti vacations in Polynesian waters has several yearly itineraries, which include the Tuamotus and Marquesan Islands.

Or you can decide to sail distant south, to the lesser traveled waters of the Austral and Gambier Islands where only the truly adventurous go.
Where to Charter a Yacht in Tahiti?
Raiatea, in the Leeward Islands has become the sailing capital of French Polynesia and is the base for Tahiti Charter, Sunsail Tahiti, Tahiti Yacht Charter and The Moorings.

From Raiatea it's only 22 miles northwest (and downwind) to Bora Bora and 24 miles eastward (and to windward) to Huahine. You can see both islands on the horizon. Oh the anticipation!

Here's detailed information on where to find a Tahiti yacht charter and how to get to Raiatea for sailing Tahiti.

Climate
One of the most delightful aspects of arriving in Tahiti is the pleasant temperature you will step into at any month or season of the year. And the water is about two degrees warmer than the air!

Sailing Tahiti is do­able all year round. But conditions are best, for yacht charter, when the trade winds are blowing, between April and October. In Tahiti's summer months, between November and March, there is less breeze blowing and it is hot and humid.

Getting to Tahiti
Airlines such as Air Tahiti Nui, Air France, Qantas, Japan Airlines, and Air New Zealand operate regular international flights to Tahiti.

Los Angeles to Papeete is about 8 hours flying time. Adding 4 extra hours from New York means 12 hours of flying. From Sydney to Tahiti is also 8 hours in the air, with a stop down in Auckland, New Zealand.

All International flights arrive at Faa'a International Airport, just outside the capital city, Papeete, on the main island of Tahiti.

Airstrips on the smaller islands are quite short so Air Tahiti provides an awesome (non-profitable) service offering regular flights, from Papeete, to over 40 island destinations in French Polynesia.

'Must Know' TIP
Feeling lured by the white-sand beaches, turquoise lagoons, untouched islands, colorful sea life, and Pacific sunsets? Sailing Tahiti will give you the seafaring adventure of your life!

As there are a limited number of yachts available for charter in French Polynesia and Tahiti, you must book in advance. For the peak period think at least 6 months ahead for sailing Tahiti between July and August.

Search the Site

Are you still looking for additional information? You can use the Google search box below to search the site.