Cruise Tahiti to Marquesas Islands
Visitors who wish to Cruise Tahiti to Marquesas Islands have two distinct choices. 
Sail directly from Papeete on the Aranui 111 freighter. Or book a luxurious Tahiti vacation on the on the all­-inclusive Paul Gauguin.
Until 2003, when the custom built Aranui 111 was launched, curious travelers seeking to cruise Tahiti to Marquesas had to "rough it" on the freighter voyage out to the far flung islands of French Polynesia. Now, although it's a working cargo ship, passengers can sail the 800 miles in comfort.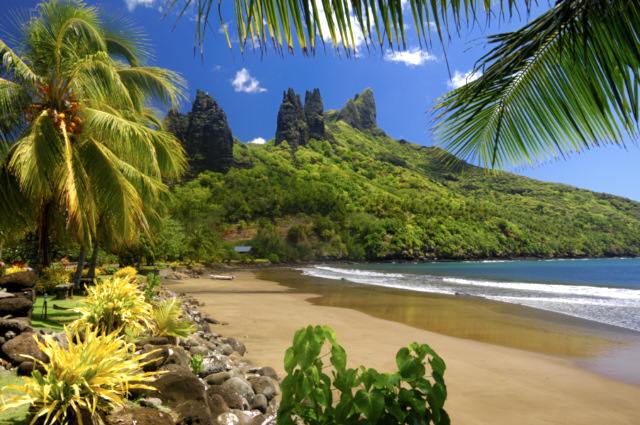 Nuka Hiva © P.Bacchet Tahiti Tourism
If you have 16 days to cruise Tahiti to Marquesas, the Aranui is simply the best way to get a glimpse of the French Polynesia westerners first sailed into. These distant atols were so isolated that missionaries were unable to reach there and change the culture. Little has changed and there's few roads or cars. Visitors are still rare and are sincerely welcomed. Friendly islanders know that their ship has come in and flock to the dock to greet you.

In Tahitian "aranui" means "the great highway". This aptly describes the service performed by this mighty freighter, manned by muscular Tahitians and Marquesans. It calls in at each of the main villages and several remote valleys on the 6 inhabited islands (15 stops), unloading essential fuel, food, building materials, bedding, beer, and even fishing boats and trucks. And picking up dried coconut and noni fruit.

You see some interesting maneuvers as the crew loads a pick­up truck, from the ship's hold, onto a barge or platform, balanced on top of two whale boats tied together. Part two of this operation is to get the load safely to shore, as the waves bounce it around. Passengers also go ashore on a whale boat as the water is too shallow to take the ship in to dock.


Cruise Tahiti to Marquesas
Tuamotus © Kirkland photos

On the first stop, the Tuamotu Islands, you can watch exquisite black pearls being harvested from giant oysters.

The mountain spires of Ua Poa will signal your arrival in Marquesan Island waters. Here you can see traditional Polynesian artists at work and go on a scenic walk to explore ancient jungle ruins.

Sailing into the bay of Nuka Hiva, surrounded by towering, waterfall­streaked cliffs is an unforgettable arrival. Nuka Hiva has some of French Polynesia's best dive sites so the under water scenery is spectacular too. You can take to the air in a helicopter for another extraordinary experience. The writer (to­be) of Moby Dick jumped ship here. A jeep safari retraces his escape route over the mountains to a lush river valley described in his book. Here you can explore stone tiki gods, sacred ritual sites and petroglyphs of birds, fish, and sacred turtles, hidden amongst bamboo and vanilla vines.

Paul Gauguin's search for an unspoilt island ended at Hiva Oa and he painted his final masterpieces here. Aranui's multi lingual guides lead you to jungle ruins dominated by the largest tikis outside of the Easter islands. A great civilization flourished here before the French arrived.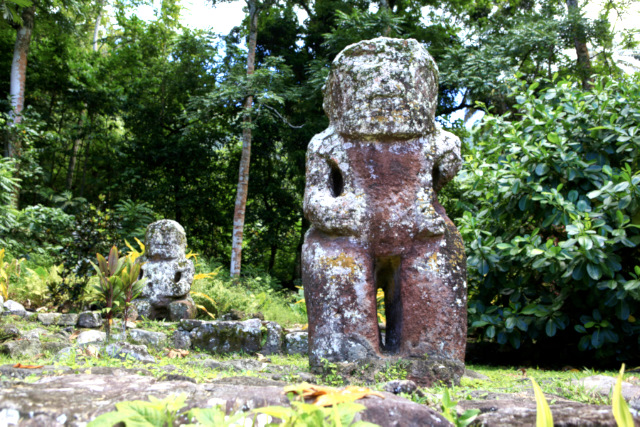 Hiva Oa © Gregoire Le Bacon - Tahiti Tourism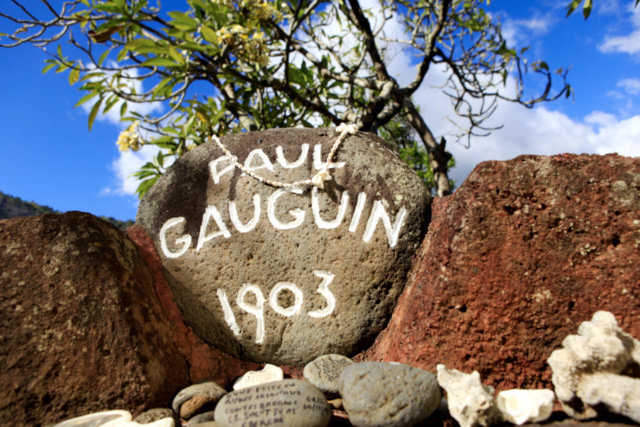 Hiva Oa © Gregoire Le Bacon - Tahiti Tourism
Fatu Hiva is the center of Marquesian culture. If you are fascinated by traditional arts and crafts this visit is a big reason to cruise Tahiti to Marquesas on the Aranui. It's the only way to get there if you're not a turtle! You can watch artists painting ancient designs on tapa cloth and pareos (traditional sarongs), making coconut oil scented with tiare blossom, and carving ornate bowls and spears. And take a guided hike with awesome views of towering cliffs and majestic waterfalls which leads you to swim in a serene river pool.

Hearing that the wild horses outnumber the 300 residents is a revealing introduction to life on Ua Huka. You can explore the unusual terrain by horse or jeep and enjoy a Marquesan buffet of poisson cru, bbq rock lobster, curried goat, taro, breadfruit, and sweet red bananas.
How is the Aranui decked out?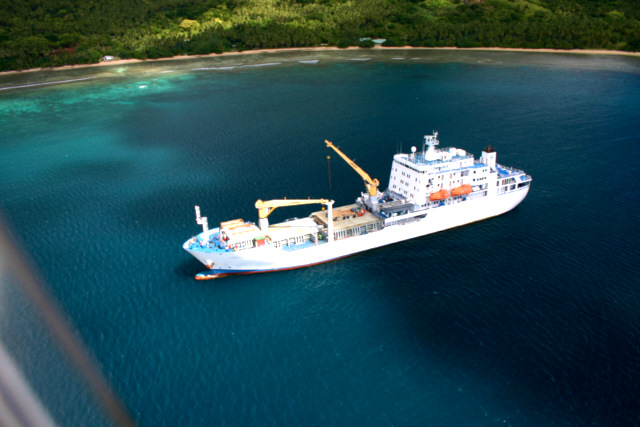 The Aranui © J.Benhamza

Aranui 111 was designed with extra space for travelers who want to cruise Tahiti to Marquesas Islands in comfort. All indoor public areas are air conditioned and 208 passengers can be accommodated in 63 standard 'A' cabins, 9 deluxe cabins.

What to take on an Aranui cruise to the Marquesas?
This is not the kind of Tahiti cruise where you get dressed up for dining with the captain.

You need to pack:

comfortable 'active wear' clothing
swim suits and sun rashie
snorkel and flippers
water shoes for coral protection
hat for sun protection
mosquito repellant
light shirt style throw-­over

Coming Soon: the Aranui V
From November 2015 you can cruise Tahiti to Marquesas in even more comfort, on the Aranui V. As I write it's interior is being built, with promises of luxury: 1 presidential suite, 8 luxury suites, 21 premier suites, 2 junior suites, 24 superior deluxe cabins, 7 deluxe cabins 40 standard cabins and a dormitory sleeping 24 explorers in berths. A price tag for everyone!

We intend to take Aranui's inaugral cruise Tahiti to Marquesas Islands. Will we meet you in the splendid new dining room?

Search the Site

Are you still looking for additional information? You can use the Google search box below to search the site.