A Sophisticated Tahiti Sailing Destination!
Want to explore mesmerizing sights in a sophisticated Tahiti Sailing Destination?

The winding coastlines, verdant volcanic peaks, and brilliant coral gardens of French Polynesia's Leeward Islands attract the largest number of residents and visitors, outside of the main island of Tahiti.
What's spectacular about each surprising jewel­-of­-an­-island is it's deep, calm, turquoise lagoon that provides smooth inshore Tahiti sailing, and safe, sheltered havens for yachts. The encircling reefs have narrow, well­marked entry passes, allowing you to navigate safely in, and back out into open water. Then it's onward to the next moment of awe, as you approach another gorgeous island.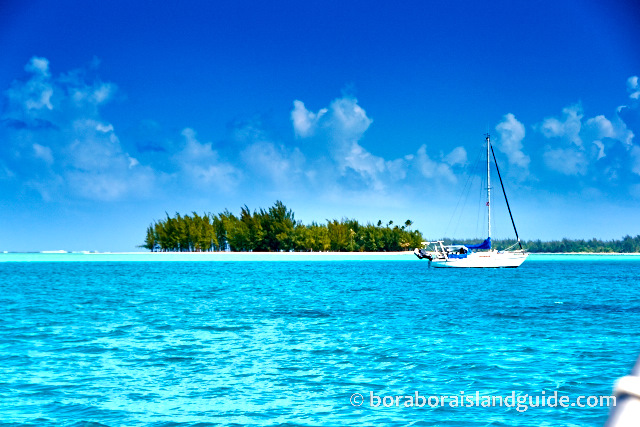 A yacht by Motu Tapu in Bora Bora
The 'Pearl of Tahiti'
Bora Bora is definitely a highlight of a Tahiti sailing vacation and not to be missed! Here you'll enter an enchanting world of Polynesian charm spritzed up with French chic.

Flying into Bora Bora is a dream­like experience which is pictured indelibly forever after. Yet I've sailed in from the mighty Pacific Ocean three times, and navigating through the only pass into the splendid, tranquil lagoon is an even more moving experience! It becomes extra poignant as my relationship with the world's most beautiful island grows.

Bora Bora is a unique Tahiti sailing destination!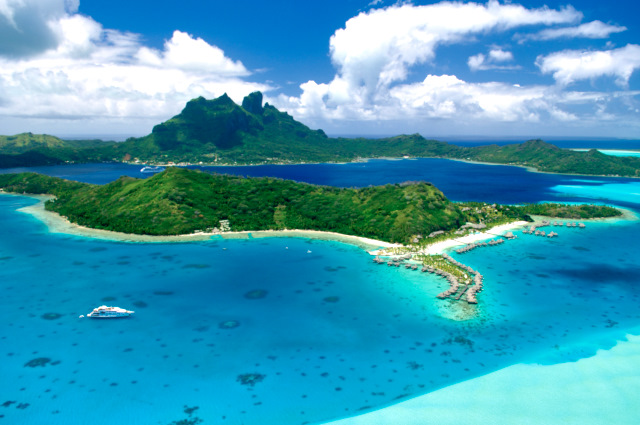 Bora Bora lagoon© T McKenna
Things to do in Bora Bora
Take a day ashore and hire a bicycle, scooter or car to leisurely see all the main attractions around the Circle Island Road. Or take a guided on-­land island tour. A multitude of water activities can be enjoyed around the incredibly blue, warm, lagoon, including opportunities for safely swimming with sharks and curious rays. Here's some free fun things to do in Bora Bora.

It's also interesting to have a closer look at one of the luxurious Bora Bora resorts. You are welcome to book lunch at the prestigious St Regis. Or eat leisurely in a more relaxed setting, with your feet in the sand, at the Bora Bora Nui. If swimming with turtles is on your wish list you can book a tour at Le Meridian's sanctuary and choose to lunch with the most awesome view of majestic Mt Otemanu to be found in Bora Bora.

Eating in Bora Bora
You'll find a diversity of food choices here. Eat in the casual, friendly ambiance of the famous old Bora Bora Yacht Club (the freshest fish can be found here!) or the newly opened (since the 2010 hurricane) Maikai Bora Bora Yacht Club. It's an opportunity to share and compare experiences, sailing Tahiti, with locals and fellow travelers.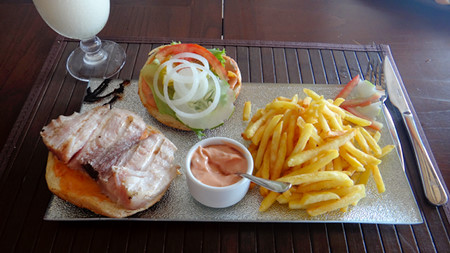 A fresh Mahi Mahi burger at the Bora Bora Yacht Club

After a satisfying day of sailing and activities on a picture-­perfect lagoon in tropical paradise, pick up a mooring and dine ashore at one of the fascinating local restaurants. You can choose to dress up a little and experience some fantastic French cuisine at the world renown Lagoon or the ever popular Villa Mahana. Make it a night to remember! If you'd like to find out what it's like to actually live on this legendary island, here's all the tips on how to eat as the locals do. Or you can simply drop anchor in a secluded spot and barbecue aboard under a blanket of bright stars, savoring the peace, the serenity, and the sweetly scented, evening air.

Tahiti sailing Navigation Markers
The lagoons around Raiatea, Tahaa, Huahine and Bora Bora are well­marked for navigation, making them easy Tahiti sailing. The system used is local, and not to be confused with international port and starboard markers.

Simply follow "rouge a l'isle et verte a mer", the red (square) markers to land, and green (triangular) markers to reef. These effectively create a passage­way within the lagoon for you to simply cruise between red and green, never going between a red marker and the island, nor a green marker and the reef.

Occasionally a cardinal marker will identify an isolated danger, so be familiar with cardinal marker symbols. The buoyage system in the reef passes is per the international system (red port hand return to harbor). Tahiti has a solar tide. Which means a low tide at sunrise and sunset, but there's no significant difference between low and high tide.

Bora Bora Yacht Cruises
TIP: Travel with eyes wide open, savoring every precious moment, in this much dreamed of Tahiti sailing destination. You are one of the few who have found your way to an idealic Bora Bora vacation.

Tahiti Charter sailing offers a thrilling Tahiti sailing vacation for those seeking adventure beyond an over-water bungalow stay. With Tahiti Charter you join a traveling yacht with experienced crew, who are sailing through the islands of Tahiti. You can also request a sailing experience dedicated to sailing around Bora Bora.
Roa Yachting

Roa Yachting, based in Bora Bora operates an impressive, luxury-lovers 24 meter motor yacht, Roa. They offer a thrilling day out around Bora Bora. If you have a generous budget, you can arrange a private 6 night, all inclusive cruise, sailing Tahiti's Leeward Islands.

Contact tel. 718386, www.roayachting.com

Bora Bora Voile

Bora Bora Voile has a catamaran,Taaroa III, providing a relaxing half day cruise that gives a taste of Tahiti sailing. Tour charges are XFP 8,000 per adult, with children under 12 half price. This excursion includes some beautiful snorkeling. Voile also offers a romantic sunset cruise for XFP 6,000.

Contact tel.718386 www.boraboraexcursion.com

Tahiti Yacht Charters
Find a comprehensive list of nearby Tahiti yacht charterers, including the popular local company, Sunsail Tahiti, here.

Read more about what you'll experience sailing Tahiti waters on a yacht charter.
Search the Site

Are you still looking for additional information? You can use the Google search box below to search the site.