Choosing a Tahiti Yacht Charter
­Planning a Tahiti vacation as a group? The price of a Tahiti yacht charter, divided between friends or relatives, is a very attractive alternative, and equivalent money-­wise, to staying at luxury resorts.

­Especially when you consider that activities such as boating, snorkeling and exploring are all included.
Plus a knowledgeable skipper will guide you to the most wonderful sights. You can visit isolated lagoons far from the 'beaten tracks' visited by regular, organized tourism.
You'll experience more of the natural beauty, fragrance and freedom of this water world, Tahiti, from a yacht charter, than a hotel stay.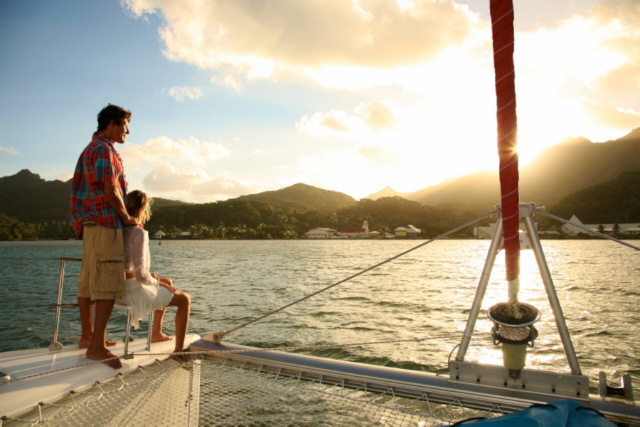 © Gregoire Le Bacon - Tahiti Tourism
Types of Tahiti Yacht Charters
All types of charter yachts are available in Tahiti. You can have a catamaran or a luxury sail boat that enables sailing close to the islands and the coral reefs. Or cruise around on a luxury motor yacht.

Yacht charters are offered 'bareback' for those who can skillfully sail on their own, or 'crewed', where you pay a daily fee for a skipper, cook, and whatever staff you require. If you opt for 'bare-boat', we recommend you hire a skipper. Having a captain familiar with the Tahitian waters enables you to enjoy the sensory feast (especially as you enter the narrow passes to some of the lagoons) and a local will share memorable insights into the fascinating Polynesian geography, culture and history.

© Olivier Marstea
Where to Charter a Yacht in Tahiti
The flower isle of Raiatea, in the Leeward islands, has become the sailing hub of French Polynesia. It's just a 45­minute Air Tahiti flight from Faa'a International airport in Papeete, Tahiti, which is the entry point to French Polynesia. Most Tahiti yacht charter operators have their bases on Raiatea.

You can provision your yacht nearby at the quaint little town of Uturoa, which is the administrative center for the Leeward Islands.

Chartering a yacht from here provides easy access to romancing Tahiti and Her Islands by sea. This is the best pace to start sailing trips to Bora Bora and beyond, to the far out atolls.

From Raiatea it's only 22 miles northwest (and downwind) to Bora Bora and 24 miles eastward (and to windward) to Huahine. Oh the anticipation! And both are within sight!

Tahiti Sailing Companies
Tahiti Yacht Charter

This larger company is based at Marina Apooiti, a kilometer away from Raiatea Airport.They have 15 charter yachts at Raiatea and the main island of Tahiti. The price of a large catamaran is 8,500 Euros during the high season (July to August). The lowest price available is 3,150 Euros for a four cabin yacht in the low season (November to March). Add on 155 euros a day for a skipper and 130 euros if you want a cook.

Contact Tahiti Yacht Charter tel. 45­04­00 www.tahitiyachtcharter.com


Sunsail Tahiti

Based at Faaroa Bay, in Raiatea, Sunsail Tahiti has 3 different pricing periods; high season (July to August), intermediate (April to June), and low season (September to November). Prices are similar to those above. Sunset offers discount prices for charters longer than 8 or 15 days. A skipper can be provided for those without the required sailing skills.

Contact Sunsail Tahiti tel. 60­04­85 www.sunsailtahiti.com


© Kirkland photos
The Moorings Ltd.
With headquarters at 93 North Park Place Blvd., Clearwater, FL 33759, U.S., Moorings operates the largest bare-boat yacht chartering service in the South Pacific region. They offer 30+ yachts from out of Marina Apooiti in Raiatea. High season price increases are from April to September, due to demand. Special prices are offered at other times of the year. Note that security insurance and local taxes are extra charges.

Moorings will require you to hire a skipper if necessary, and cooks are also offered. All charter prices are from noon to noon.

This comprehensive, client orientated, U.S. service supplies Tahiti yacht charterers with excellent local information and gives detailed charts on navigating channels and accessing anchorages.

All Tahiti charter yachts supplied by Moorings are equipped with radios. You can even have a reassuring voice from Moorings assist you in sailing in and out of passes. Accessing passages to volcanic and coral islands requires diligent attention to visual markers so Moorings has a regulation forbidding night sailing.

Contact tel. 888/952­8420 www.moorings.com

Private Yacht Charters
Here's a contact list for private brokers who arrange 'crewed' or 'bareback' Tahiti yacht charters:

Charter World P/L

Based at 23 Passchendacle St., Hampton, Melbourne, VIC 3188, Australia
Contact Charter World tel. 03/9521­0033 www.charterworld.com.au

Luxury Yacht Charters

Box 939 Main Beach, QLD 4217, Australia
Contact Luxury Yacht Charters tel. 1800­218­049 www.luxurychartergroup.com

Ocean Voyages
Based at 1709 Bridgeway, Sausalito, CA94965 USA
Ocean Voyages is practiced at organizing Tahiti yacht charters. It charters the catamaran, Fai Manu, based at Tahaa, or the sloop Coup de Coeur, for groups of four to six people. The Bisou Fute, also moored at Tahaa, accommodates a party of eight. A cabin cruiser, Danae 1V harbored at Raiatea can be booked for two couples.

Contact Ocean Voyages tel. 415/332­4681 or 800/299­4444 www.oceanvoyages.com

Paradise Adventures and Cruises

Based at Newington Technology Park, Unit 14A/8 Avenue of Americas, Newington, NSW 2127, Australia.

Contact Heidi Gavriloff tel. 02/8799­2500 www.paradise adventures.com.au
Sail Connections Ltd

Based at Unit 26, 8 Madden St., Auckland 1, New Zealand

Contact tel. 09/358­0556 www.sailconnections.com

The Windward Islands Cruising Company

Based in San Francisco, CA, USA

Contact tel. 650/343­0717 www.pacific­adventure.com

Yachting Partners International

Based at 28­29 Richmond Place, Brighton, East Sussex, BN29NA, UK

Contact tel. 44­1273/517­722 www.ypi.co.uk
If a Tahiti yacht charter suits your travel style find out what it's like sailing Tahiti waters. Make sure your Tahiti vacation plans include this unique, 'must sail into', sophisticated island destination!

Search the Site

Are you still looking for additional information? You can use the Google search box below to search the site.