Bora Bora Resort Transfers
How to Get from Bora Bora Airport to Your Resort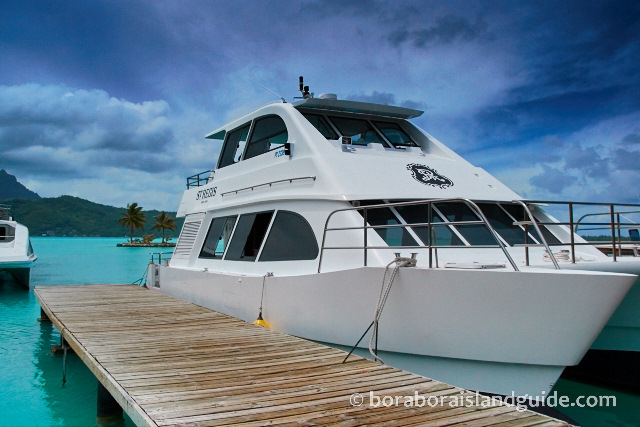 Many resorts pick up guests their guests from Bora Bora Airport for a fee
There are three ways to get to your resort from Bora Bora airport:
1.  Bora Bora resort transfers can be arranged to take you directly from the airport to the resort. These need to be pre-booked ahead of time with your resort for a fee.
2.  Free boat transfer from Bora Bora airport to the town of Vaitape is available to all Air Tahiti passengers.
3. Book a private transfer from the airport to your hotel online. These transfers cost significantly lower than the resort transfers.

If you are wanting the smoothest arrival to your resort, book a private transfer or your resorts' shuttle. The resort shuttle will greet you with tropical leis and take you on a glamorous boat to your resort. Many of the resorts are on outer lying motus, so this is the quickest and easiest way to get from Bora Bora airport to your resort.
If you are staying on the main island of Bora Bora at the Intercontinental Le Moana, The Maitai, The Sofitel Marara Beach or at a Bora Bora pension, you can save money by taking the free Air Tahiti shuttle. You will then need to take a taxi or bus to your resort. Or book a private transfer at a reasonable cost.

Ways to Save on Airport Transfers
Guests of the Conrad Nui resort can easily make use of the free shuttle to Vaitape, and then hop on the Conrad's boat shuttle from the dock to the resort for a very small fee (around $6).
Guests of the Pearl Beach Resort can save money by taking the free shuttle, but will need to take a taxi from Vaitape up to the Pearl Beach Dock and then pay a small fee for for the Pearl Beach's regular shuttle.
Arriving at your resort by boat transfer is a beautiful beginning to your stay at your resort in paradise and a magnificent way to start your vacation. I do recommend booking your resort's shuttle or a private transfer unless you are doing Bora Bora on a budget.
For more information on Bora Bora Airport visit our Bora Bora Airport page.
Search the Site

Are you still looking for additional information? You can use the Google search box below to search the site.