Maitai Bora Bora Accommodation
On one visit to paradise we chose to stay at the Maitai Bora Bora. We planned to get out to see the island and take excursions, so we wanted cheap accommodation
Le Maitai is the only large hotel, with a private beach, that offers cheap over water bungalows, beach bungalows and ocean view or garden rooms. Here's what we found during our stay.
Maitai Bora Bora welcome
When guests arrive in their bungalow or room they are greeted by a scattering of fresh flowers and gifts of a printed Maitai pareo (for her)and T-shirt (for him). Plus there's a bowl of fresh fruit enlivening the simple tea and coffee making area.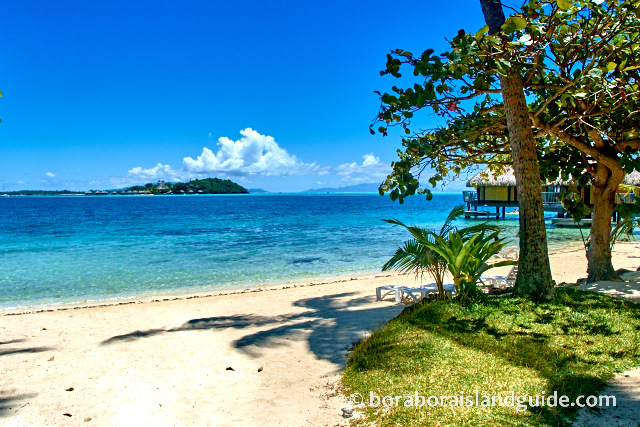 The Maitai's private beach
Maitai Bora Bora Over Water Bungalows
The Maitai over water bungalows are small and simple with an authentic Polynesian décor that includes natural woven wall surfaces. An advantage of staying over water is that there are no mosquitoes. If you're looking for cheap Bora Bora over water bungalows the Maitai's are the cheapest.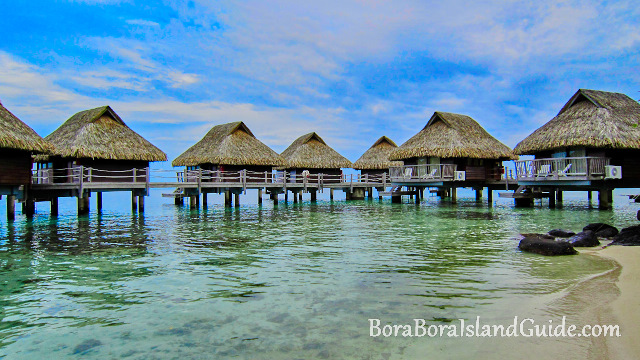 The modest over water bungalows at the Maitai
An over water bungalow stay is all about the blue lagoon. There is a glass coffee table to spy on, or feed, the marine life in the water below. You can also sit outside on your deck and enjoy the lagoon ambiance and warm temperatures. If you'd like to snorkel straight from the pontoon below your deck, ask for one in deeper water.
Maitai Bora Bora Beach Bungalows
If you're wanting Bora Bora cheap bungalows on a white sand beach, the modest but authentic Maitai beach bungalows are in a pretty setting. You get to sleep in a little Polynesian thatched roof villa, and it's just a few meters out the door to lie on a sun lounge at the beach. The size and décor of these beach bungalows is similar to the Maitai over water bungalows.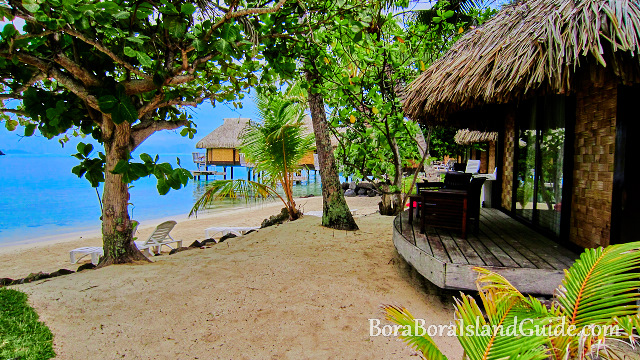 A Maitai beach bungalow
Maitai Bora Bora: Rooms with a View
The Maitai rooms are functional and clean. They provide great Bora Bora cheap accommodation. There's no luxury here. All rooms have a similar layout. There's two single, firm mattresses making up a king size bed. The bright Polynesian patterned quilt is appropriately thin and comfortable for Bora Bora weather.
A narrow bench along the wall, opposite the bed, holds an old style television. The wall of windows on the lagoon side has large glass doors opening to a balcony, with a small table and 2 simple chairs. The bathroom has a shower, wash basin and toilet. Storage space includes some drawers, a small wardrobe and a few shelves that also contain a security box.
The air conditioner cooled the room quickly each time we returned to it. But we had to turn it off to sleep as it's air movement was quite vigorous. At night we closed our balcony doors to keep mosquitoes out.
This budget hotel knows it's guests and it has an empty fridge ready for you to stock up with goodies from Tiare and Chin's markets. We had the most delicious feasts on our balcony. Chin Lee's fresh prawns and pork ribs were extra tasty with the sun sparkling on the multicolored blues of the lagoon.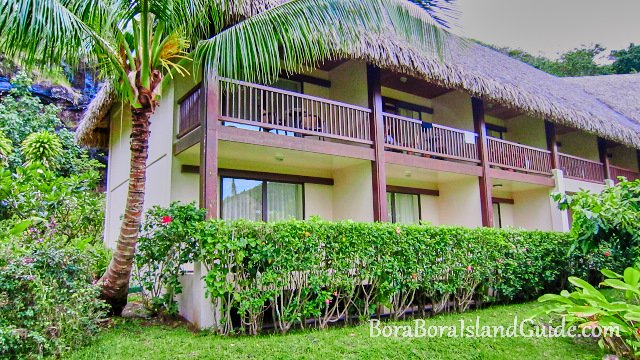 The garden rooms are on the lower floor and the lagoon view rooms are on the top floor
The Maitai Bora Bora Garden Rooms are the cheapest. They're on the lower level. The view from these rooms and balconies is mostly of the lush, colorful, garden foliage although some rooms look through to ocean. From the Ocean View Rooms on the top floor you can see all the way to Tahaa. We paid a little extra to stay in an ocean view room and thought the dazzling outlook was worth it.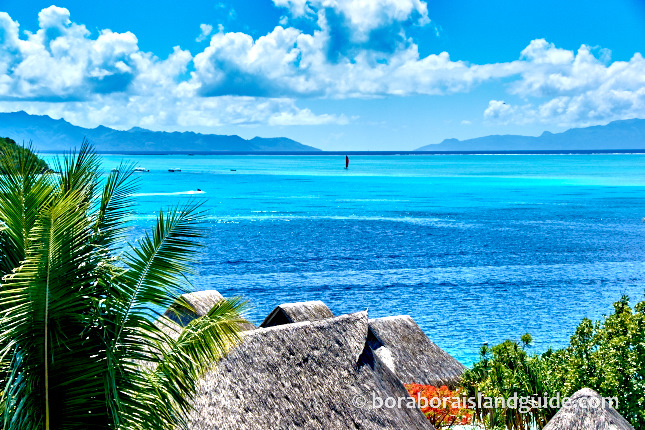 The spectacular view from the lagoon view rooms!
Our room had a connecting door to the next room. That's a plus for families. But we could hear every shower and every conversation the couple staying in there had! So when booking do specify what you need.
The uphill walk to our room gave us a work-out, but there was a kaleidoscope of beauty to appreciate on the way. I even noticed aloe vera growing near our staircase to the second story and picked some to sooth a light sunburn.
Relax. You're On Island Time
We found that the authentically Polynesian Bora Bora Maitai runs on 'island time'. Don't be surprised if there are no tissues in the bathroom or your tea bags aren't replaced. If you ask for a phone call to be put through to Avis and have to ask again a little later, smile about having great location and views in Bora Bora...cheap!
We stayed 5 nights and twice we were given the wrong key to our room. The second time the porter, who had the real key, was untraceable and we had to wait to access our room. After I politely let the concierge know how I felt about the wait and the extra walk up the hill, our errant porter was sent running after us with a bucket of champagne and flowers. Next day we visited the Sofitel and saw him, in his kayak, catching the waves behind our boat from the Private Island. We laughed as we realized he had much more interesting things to think about than placing correct keys on rings.
There is a different rhythm of life on this island. It was refreshing to watch the maid happily pushing the laundry trolley down hill with her 4 year old sitting atop of the pile of linen, grinning. Polynesians traditionally lived 'in' time. Which is why Bora Bora has some of the best Tahitian dance groups in French Polynesia.
Which Room Style Is Best?
If a cheap Bora Bora vacation is your priority and you want your accommodation as a base for seeing the island we suggest that you will be happy in a garden or ocean view room. But if you want a relaxing holiday you will appreciate being in one of the cheap Bora Bora bungalows down at the beach. If you're wondering how the rooms are located and what else this hotel offers find out more about the Maitai Bora Bora.
Search the Site

Are you still looking for additional information? You can use the Google search box below to search the site.