Cheap Bora Bora Vacations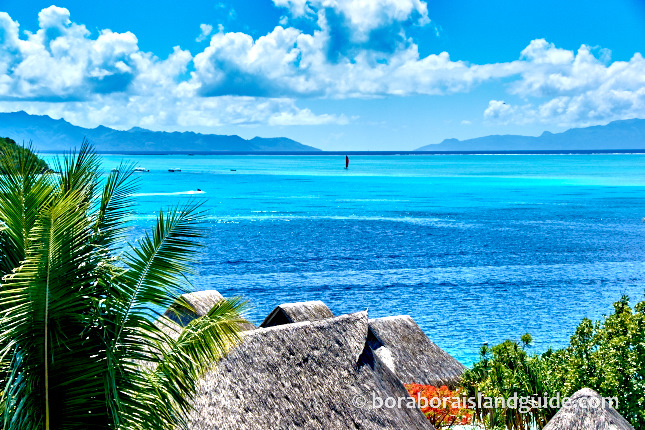 View from one of the cheapest rooms in Bora Bora!
Searching for cheap Bora Bora vacations? When proposing ideas for Bora Bora vacations, cheap is not a word that people usually use. This mystical island is famous for it's beauty and luxury! So how can you visit the world's most beautiful island for cheap vacations?
Bora Bora's best kept secret is that there are other types of hospitality that you don't see in glossy magazines. You can have cheap Bora Bora vacations and swim in the same warm, blue lagoon as the multi-millionaires over at the Four Seasons. And you won't have to sell your car to do it!
Stay at the Maitai
The 2 tiare Maitai is the only large, budget priced hotel in Bora Bora. From the moment you arrive at reception there is a distinct Polynesian island atmosphere. It's accommodations are modest for Bora Bora, but so is the price. It makes cheap Bora Bora vacations possible.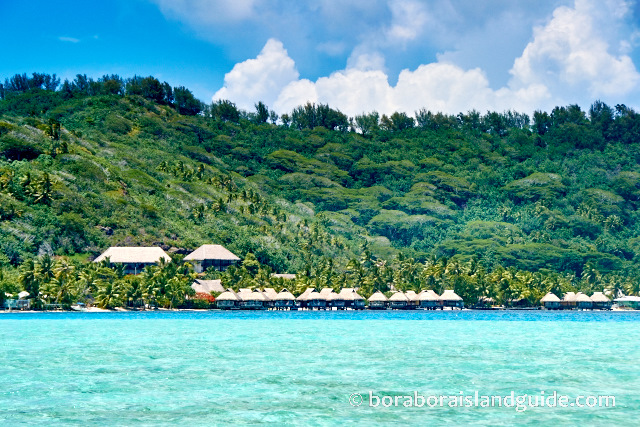 The Maitai has a range of accommodation options
Both the ambiance of the tropical gardens and the wide panoramic vista from the ocean view rooms are astonishingly beautiful. The little white sandy beach with it's complimentary water craft is another plus.
The Maitai runs on 'island time' so if you stay here you must enjoy what it does offer and not expect a high level of service. We suggest that you only purchase accommodation as there is a variety of delicious, affordable, food choices in the neighborhood that are fun to discover.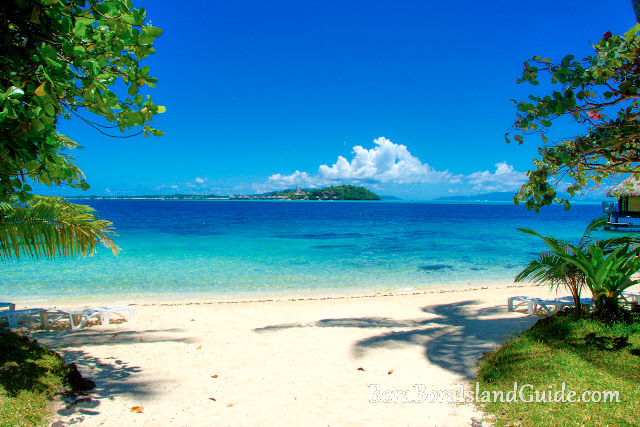 The Maitai's private beach
Cheap Bora Bora Over Water Bungalows
If you're wanting cheap Bora Bora overwater bungalows the Maitai's are the cheapest in Bora Bora. They're also the smallest. The traditional Polynesian style décor is brightened with a scattering of fresh flowers as a welcome greeting. A glass panel under the coffee table enables guests to watch manta rays and tropical fish passing underneath. And you can sit outside on a shady deck above the world's most beautiful lagoon and marvel at the many dazzling colors of blue.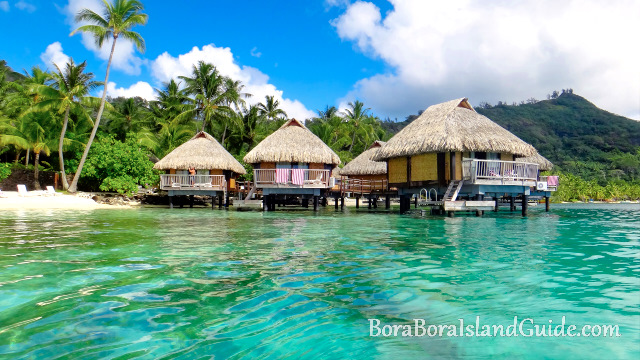 The Maitai's Over Water Bungalows
Choose a Bora Bora Family hotel
An ideal way to have cheap Bora Bora vacations, that suit any budget, is to stay in one of the family pensions or guest houses. Officially these lodgings are called family hotels. By holidaying with a local family you can have a more intimate contact with the island culture and enjoy being hosted in a personal way. There's a large variation in price, style of accommodation, location on the island, and level of service provided. So it's important to know what to look for when choosing family hotels.
Plan a Bora Bora Cheap Vacation All Inclusive
Many people look for Bora Bora all inclusive vacations because it seems daunting to plan a holiday in an unknown place, which they have heard is expensive. Since 'all inclusive' Club Med closed, it takes a little more thought. With the insider information on this website you will know what all your choices are and how to get the best value. This enables travelers to put together cheap Bora Bora vacations that fit their individual dreams and budget.
One way is to stay at a moderate priced resort and include the meal plan. The cheapest Bora Bora resort bungalows are available on the Marara Beach side of the Sofitel on the main island. The Sofitel takes pride in offering a different cultural activity every day of the week. Plus you can use complimentary water craft to paddle to the best snorkeling in Bora Bora at the 'aquarium', any time you like. The Sofitel's great location means you can stroll out the door to the most popular area of Bora Bora Island.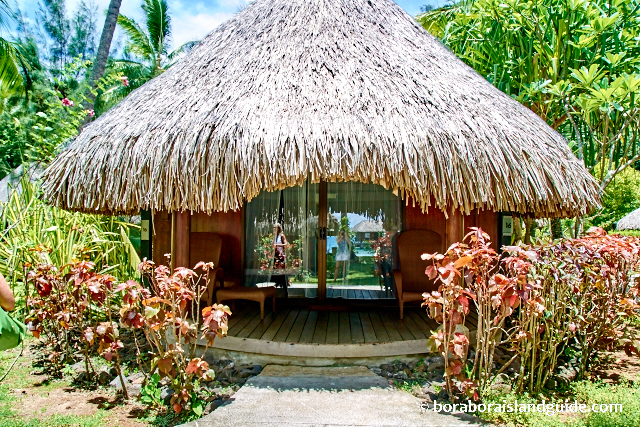 A cute Garden Bungalow at the Sofitel Bora Bora
 Sail On a Princess Cruise
Searching for cheap Tahiti  vacations? Princess Cruise lines leave Papeete to sail around Tahiti, to 5 beautiful islands, several times a year. The main stop, Bora Bora! Tahiti Cruises make perfect Tahiti cheap honeymoon packages. They're all inclusive vacations. Food, entertainment, and travel is provided on these relaxing, floating hotels.
You have a 4 course meal, watch a show, dance a little, go to sleep (or whatever honeymooners do) and wake up at a new island. Chose the level of state room that suits your budget. We've tried them all and had a magicical, cheap Bora Bora holiday every time. If you haven't seen an opulent suite you'll never miss one.
Buy Cheap Flights to Tahiti
Everyone flying to Bora Bora must arrive in French Polynesia at the international airport on the main island of Tahiti. There are no international flights to Bora Bora. Cheap flights for Tahiti airfares are available. From there you must fly with the only inter-island carrier, Air Tahiti, for the quick flight to Bora Bora. As there is no competition there are no 'cheap' Bora Bora flights in the usual sense. Find out the criteria for paying less and getting better value on flights to Bora Bora.
Vacation off-season in Bora Bora
Cheaper prices are available for air fares and all accommodation styles at the times of year when fewer tourists go to Tahiti. Find out the best time to go for cheap Bora Bora vacations.
You can have Bora Bora vacations cheaper than you thought with experienced travelers' tips for affordable Bora Bora vacations.
Search the Site

Are you still looking for additional information? You can use the Google search box below to search the site.