Four Seasons Bora Bora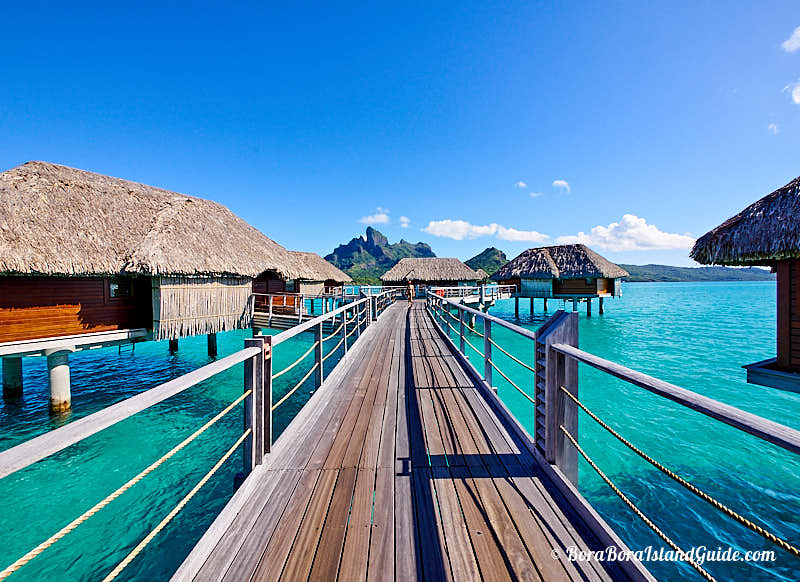 Four Seasons Bora Bora is one of the 5 star resorts on the exclusive island of Bora Bora. We've been vacationing on the world's most beautiful island for years, and compare the experiences we have had, at each of the Bora Bora resorts, on our our luxury resort page. 

Four Seasons is Bora Bora's most recently built over water bungalow resort. This extraordinary hotel is set on a secluded coral motu, fringing the famous Bora Bora lagoon, so a shuttle boat transports guests between the airport, and to and from the resort's dock on the main island.
The exotic location, lush grounds, luxurious bungalows, and high level of service; make the Four Seasons Bora Bora a top romantic haven for couples - as well as the  most family friendly resort in Bora Bora. 
Once arriving, there's really no need to leave. Guests of the Four Seasons are offered many fascinating things  to do and see around the resort, as well as a variety of options to take the best Bora Bora excursions and tours directly from the resort's dock.
Here we have answers to; Why stay at the Four Seasons Bora Bora? ... in a nutshell.
After our recent vacation at Four Seasons Bora Bora, we've reviewed the rooms, food, resort, beach and activities:  

Four Seasons Bora Bora Accommodation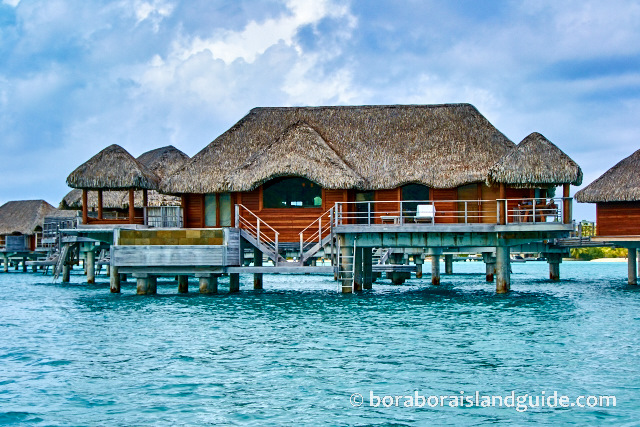 A Four Seasons Over Water Bungalow
Accommodation at the Four Seasons Resort Bora Bora is over water bungalows and beach villas.
100 over water bungalows with beach, lagoon or mountain views
Selection of bungalows with plunge pools
7 beach-side villas with 1,2 or 3 bedrooms and private pools
Four Seasons Restaurants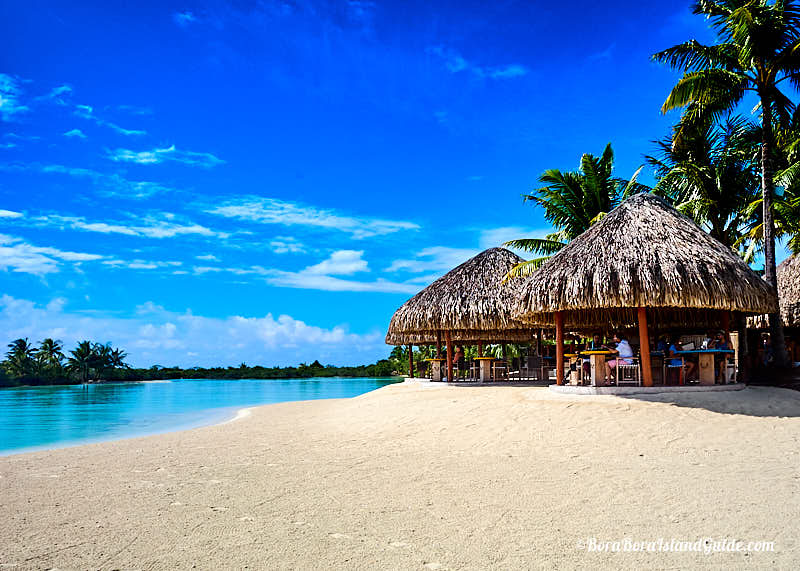 The Four Seasons has charming waterside restaurant venues for both casual and formal dining.
Sunset Bar and Restaurant serves specialty cocktails and light sushi meals
Tere Nui restaurant features the Four Seasons decadent breakfast buffet and casual lunch menu
Fare Hoa Beach Bar and Grill serves lunch and dinner alongside the lagoon
Arii Moana is the formal dining venue of the resort with Polynesian and French specialties
In-room dining can be enjoyed from your overwater bungalow at any time of the day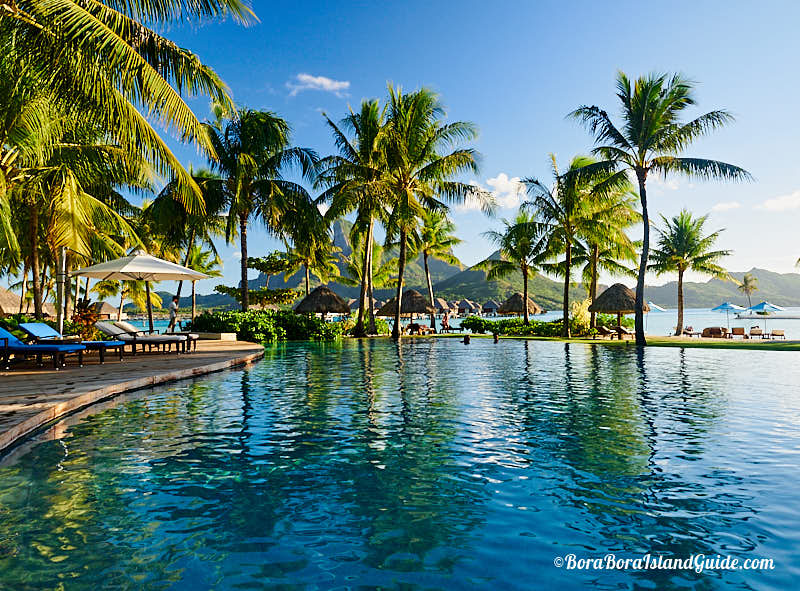 The beach-front pool at Four Seasons resort in Bora Bora enjoys sensational views through towering palms to the lagoon and Mt Otemanu. The Fare Hoa bar and restaurant nearby provides drink and food service all day - so you can relax in and around the pool, and eat and drink at your leisure. Private cabanas are available for use by all guests and are the perfect place to relax with a book - out of the sun, or cuddle with you lover.
Four Seasons Bora Bora Spa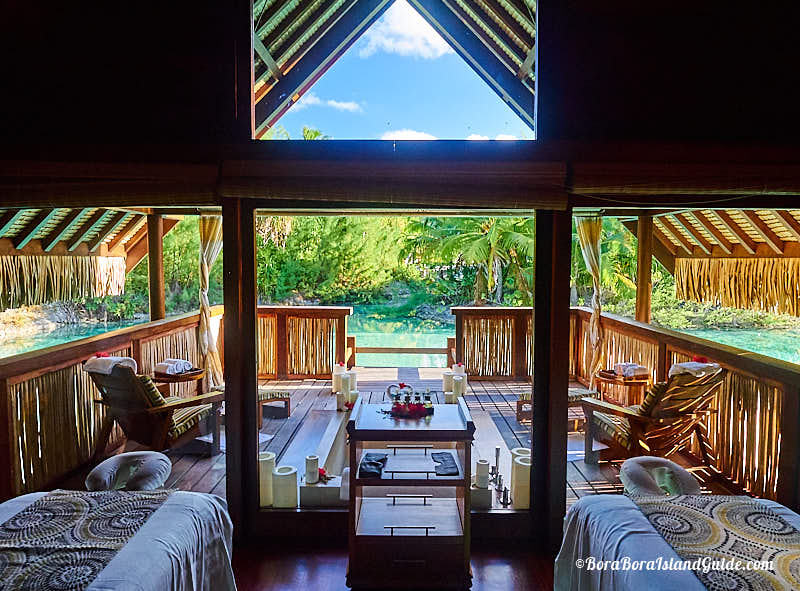 The Four Seasons spa offers pampering treatments at the lagoon edge. Every sensual delight has been considered. Guests can relax in indulgent outdoor treatment pavilions, between the palms; or opt for the romance of an over-water suite and watch marine life swim below.
Four Seasons Bora Bora Snorkeling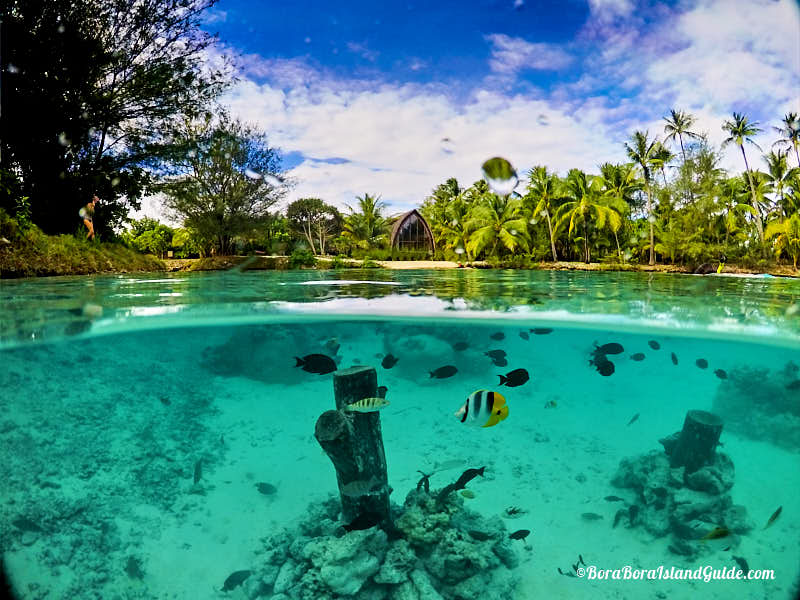 The Four Seasons Bora Bora has an on-site marine biologist who cares for the precious inner-lagoon coral sanctuary at the resort. Guests can snorkel, at their leisure, through this sheltered lagoon, where colorful fish swim past water sculptures. This is a perfect place for children to try out their snorkels for the first time.
Four Seasons Bora Bora Beaches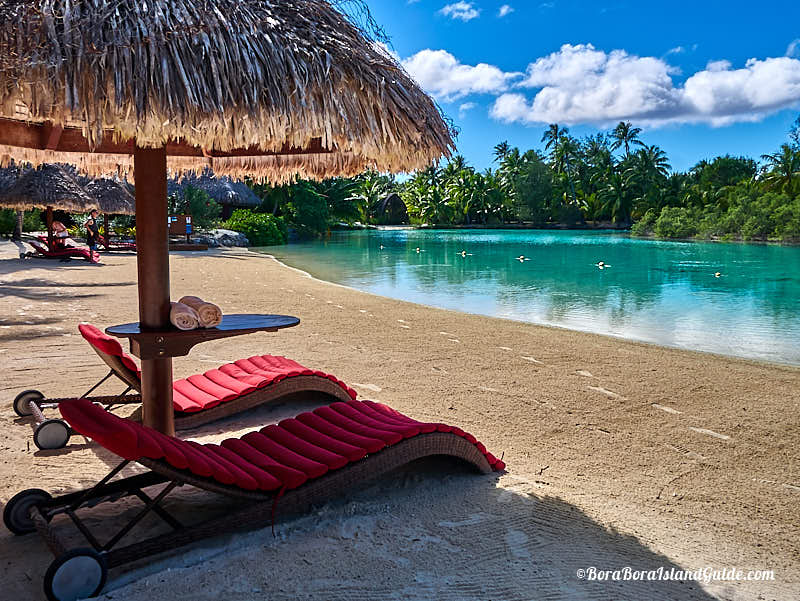 The Four Seasons Bora Bora has two main beaches for guest use. The main beach by the pool with views to Mt Otemanu, and the sheltered beach by the snorkeling lagoon. Both beaches are decked with comfortable sun lounges and offer shade shelter. If you are staying in a beach villa, you will also have access to your very own private stretch of beach - with a direct view across the lagoon to Mt Otemanu.
Activities at the Four Seasons Bora Bora

Catamaran
Infinity pool
Children's splash pad
Lagoon Sanctuary
Multilingual Concierge
Kids for All Seasons program
Spa with relaxation lounges and vitality pool
Complimentary non-motorized water sports
Fitness Center
Tennis courts
Volleyball court
Weddings at the Four Seasons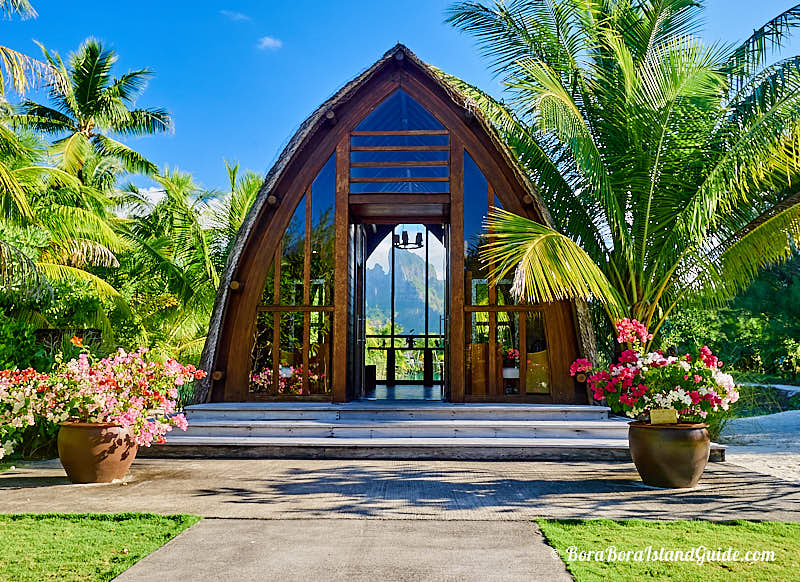 Four Seasons Bora Bora Resort has everything your heart could desire for a destination wedding. You can create a personal honeymoon package Bora Bora style, with extras added in, by using our specialist Tahiti travel agent.

Couples can declare their love in the quaint lagoon-side chapel, with a perfect view to Mt Otemanu; or on a small islet, which is reached by canoe, from the lagoon beach.
After a dream ceremony, the most intimate over water honeymoon suites in Bora Bora, await the fortunate bride and groom.
Search the Site

Are you still looking for additional information? You can use the Google search box below to search the site.