Four Seasons Bora Bora Pool
Lie leisurely around Four Seasons Bora Bora pool for long enough, and you may see that it's shaped like a wave. This sparkling, blue wave lies behind the sensational, white-sand beach; as if it's been splashed ashore.
Lucky vacationers, lazing in shaded nooks around the glistening pool, have panoramic views over the lagoon; with Mt Otemanu, on the main island, as the backdrop. As the beach, the bar, the kids club, and the breakfast and lunch restaurants surround the Four Seasons Bora Bora pool; it's the serene hub of this luxurious resort.
So if you don't have a plunge pool on the deck of your over water bungalow there's no need to feel like you're missing out. The surreal beauty and tranquility of the Four Seasons Bora Bora pool put me in a glorious vacation mood. Even if you do have a plunge pool, come soak in the glamorous ambiance of the cool, main pool.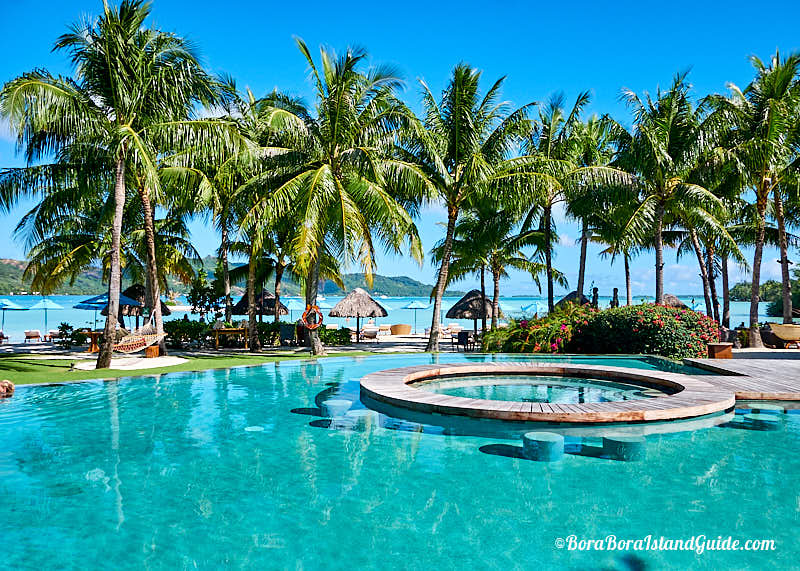 One end of the Four Seasons Bora Bora pool has a gradual slope, like a beach, to make it easy to walk into the water. This is a perfect place for small children to play in the shallow water (with adult supervision of course). Although this romantic resort is a sanctuary for couples, it's amazing how kids fit right in here too.

The resort was booked out during our stay, yet there were very few vacationers to be seen; except on Polynesian dinner night when everyone showed up for the dancing. I wondered where the other guests were hiding! There were always sun-lounges by the pool saying "lie on me". This a sublime place to relax, eat, drink, and socialize, during the heat of the day. Don't discover it's pleasures on your last morning at the resort.

Four Seasons Bora Bora pool cabanas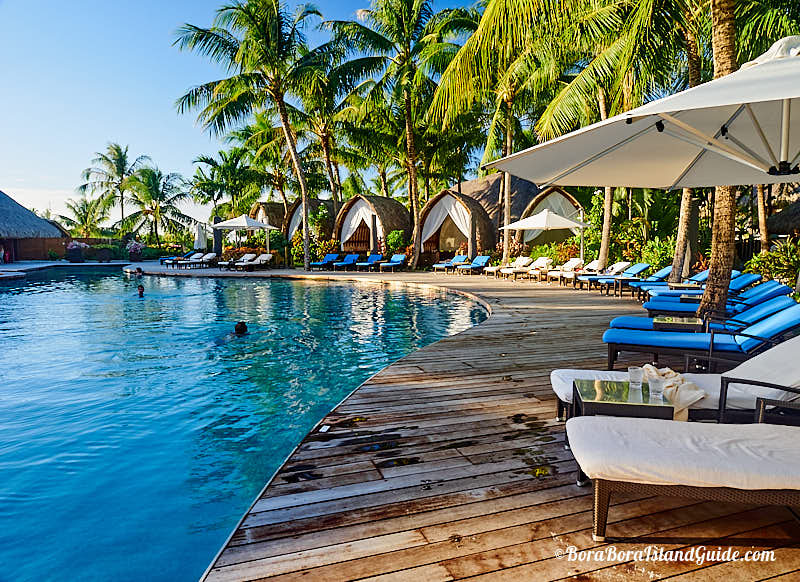 The Four Seasons Bora Bora pool cabanas provide a sanctuary for taking time out from the sun. Lovebirds can snuggle there in privacy; and those seeking solitude can disappear to read a book, or have a nap. These artful cabanas also create a comfortable space for a family to set up: children can amuse themselves playing quietly in a Polynesian style cubby-house with their toys, and even build a pillow fort.
Four Seasons Bora Bora Pool Bar
It's only a few steps to the Fare Hoa beach bar, but there's no need to actually walk over to it as "service with a smile" is at hand. You'll find the extensive menu from Fare Hoa restaurant tucked under the glass of your side-table, and the waiter will deliver lunch, or a snack, right to your sun-lounge when you desire.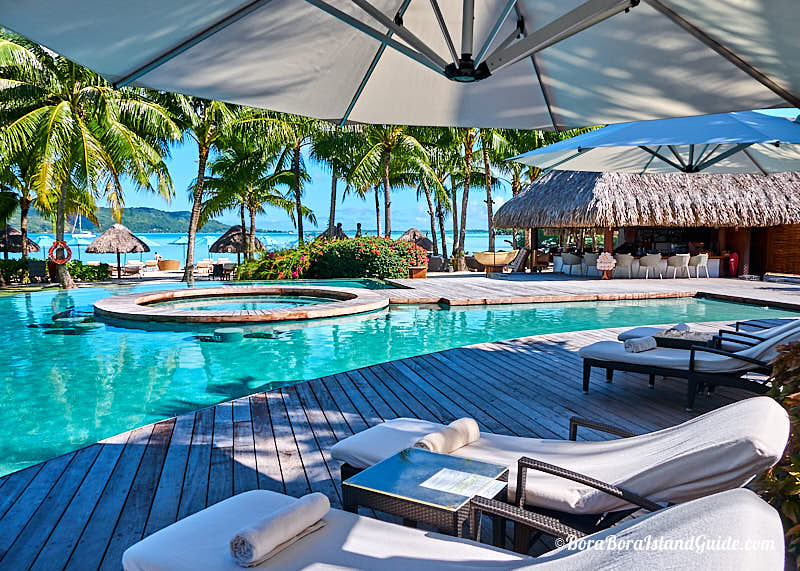 The consistently immaculate presentation of the Four Seasons Bora Bora pool was uplifting. This added the final, touch of heaven. We had extraordinary service and everything was always neat and clean. It felt like music was playing for me because I didn't have to lift a finger, or even open my mouth, to make all this happen!

Eat and shop in your bikini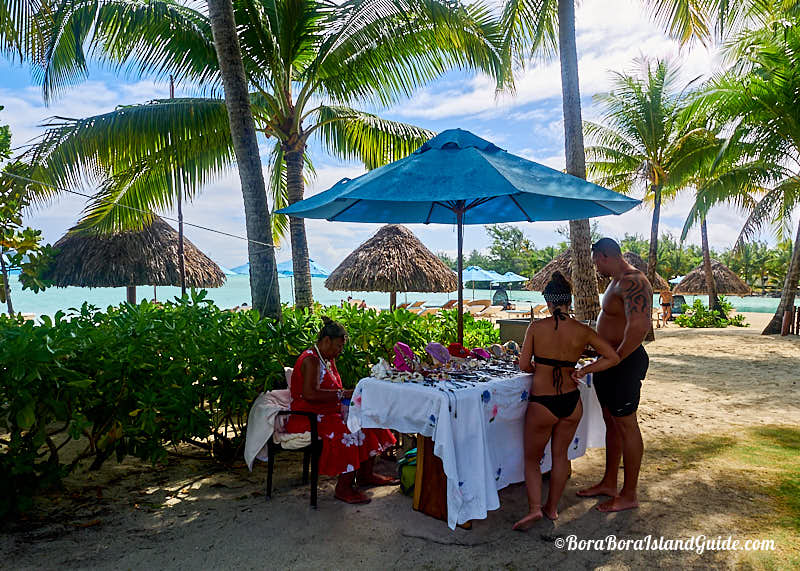 Everything has been thought of at this resort. There's no need to get out of your bikini and go to town to buy little island souvenirs. Just saunter by and pick them up while you're hanging out at the Four Seasons Bora Bora pool.

Luxury Touches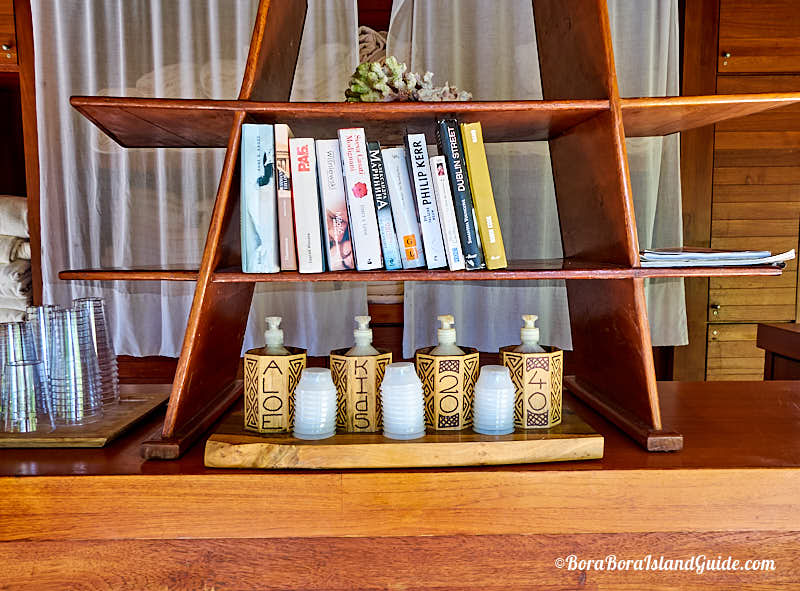 The unwritten motto at the Four Seasons Bora Bora pool seems to be: Guests go home spoiled. Be prepared to hit the earth with a bump when you arrive back home. I immediately started planning my next vacation!

There's fruit-imbued water on-tap, but there's no need to go fetch it as the pool staff come around offering chilled water and snacks throughout the day.
Of course ... to be entitled to the cosseting  luxury of the Four Seasons pool you do have to pay for a room. So have a quick look at what a "room" is like at this gorgeous resort.

Behind all the beauty is a circle of chairs where those still thinking about "quitting" can hide secretly behind lush greenery while they take a puff and reflect on the beauty of life. Yes, the conveniences around the Four Seasons Bora Bora pool show that this top resort has thought of everything!

Search the Site

Are you still looking for additional information? You can use the Google search box below to search the site.