Four Seasons Bora Bora Beach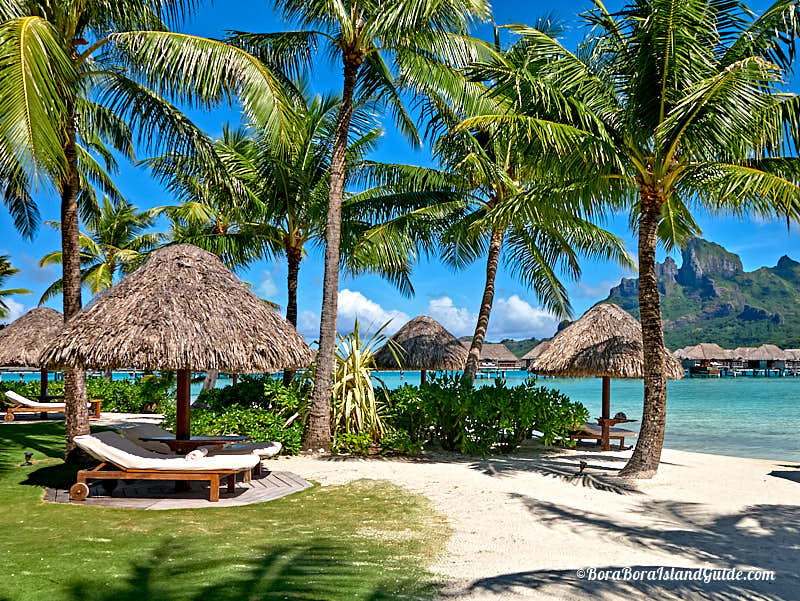 Lounging on the classy Four Seasons Bora Bora beach was my favorite activity. This was surprising as I have lived alongside some of the world's best beaches most of my life.

Here's what gave the Four Season's beach a ten!
Each time I strolled onto the Four Seasons Bora Bora beach there was a neat row of padded sun-lounges waiting at the water's edge for me to select a nook. When I glanced towards one, a beaming beach-waiter instantly appeared with a fresh, specially designed towel tucked under his arm, unrolled it, spread it out, and tucked it neatly under the cushions.
If the sky-blue umbrella was folded up, he inquired if I would like it opened. After ensconcing me in comfort, he asked what he could bring me to drink.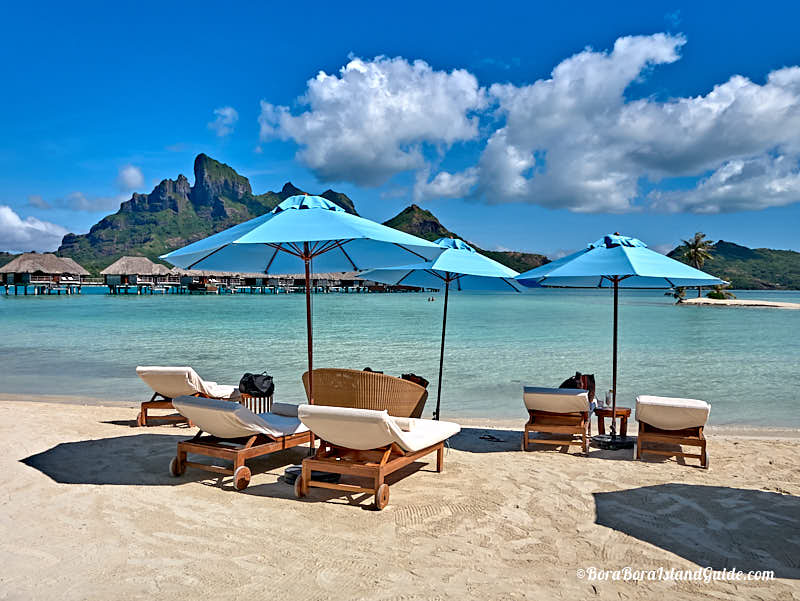 Cups of water, clinking with ice, flowed freely all day. Beer and cocktails appeared like visions. When hunger distracted me from the views, our minder appeared with a menu that had a wide choice of snacks and salads, and we picnicked lavishly right there on the beach, with the grandeur of Mt Otemanu just across the water. In the afternoon, as the sun lowered,  I asked for the umbrella to be moved to the side. Our beach-boy grinned, as if it was pleasing to attend to my comfort, and lifted it like a feather.

The swimming pool is another sublime attraction at the Four Season's beach. As Bora Bora's lagoon water rates highly for purity in regular stringent testing, and temperatures are pleasant all year, I prefer to swim in salt water. Yet even if you never take a dip, the visual appeal of the swimming pool sets the scene for soaking in pleasure on a luxurious lounge nearby. A romantic row of thatched roof, comfy cabanas adds romance to the scene and provides privacy.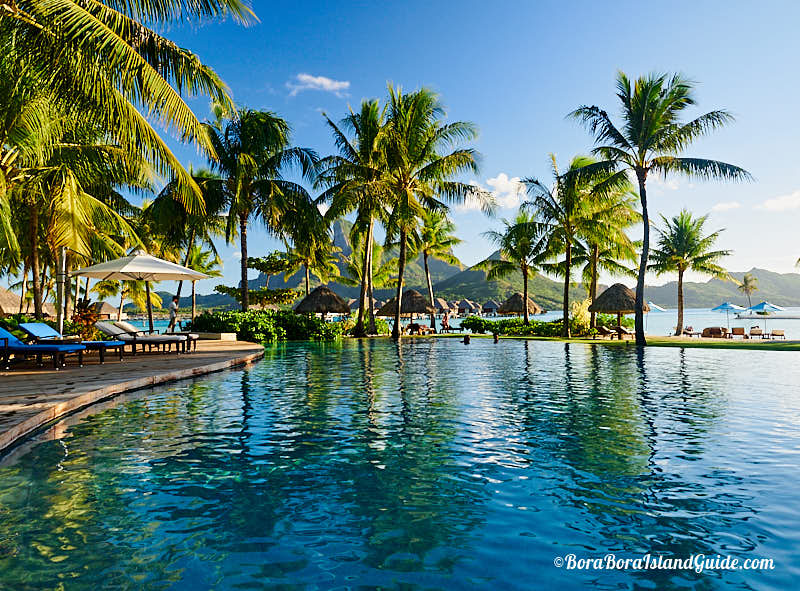 All around the planet perfectly presented pools define luxury resorts. But this one has  Bora bora Island, the lagoon, and a perfectly manicured beach, displayed on a canvas up front. It's an amazing, pinch-me-is-this-real ... place to hang out. Bora Bora beaches are all beautiful but this one has the most spectacular scenery and setup.

Chilled fruit-infused water stations are located by the pool. Sunscreen and aloe is readily available by the beach. Your friendly waiter will bring complimentary watermelon, or fresh coconut, to snack while you relax. The washroom is adorned with tropical flowers, and fitted out with towels and moisturizer. No other Bora Bora resorts indulge guests to this extent. I returned home dreaming of returning to loll - like a star in a movie – on the Bora Bora Four Seasons beach.

When is the best time to enjoy the Four Seasons Bora Bora beach?
Peak season in Bora Bora happens to be in winter. So you can frolic on the beach even more joyously in off-peak times when the water is even warmer. Watch for special deals on Bora Bora Four Seasons to get yourself on this top beach. Recently there was an offer of a fifth night free when you stay during selected dates. Check with this boutique Tahiti travel specialist who has access to the best deals and the buying power to pack extras into your stay.

Search the Site

Are you still looking for additional information? You can use the Google search box below to search the site.