Tahiti Beaches
The heavenly Tahiti beaches make French Polynesia a beach lover's paradise.

On the main island of Tahiti, there are some spectacular black sand beaches. Lafayette Beach, is a beautiful, quiet, black sand Tahiti beach surrounded by lush tropical vegetation. The Radisson Plaza Tahiti Resort is located on one end of this beach.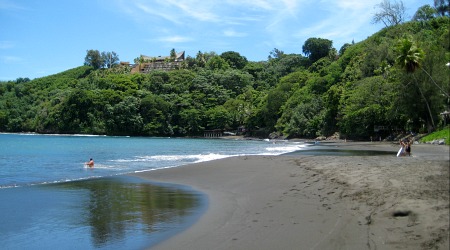 Black sand Lafayette Beach on Tahiti
If you're looking for snorkeling in Tahiti, Plage de Toaroto, is a good beach for snorkeling. The favorite beach of many locals is black sand Point Venus Beach. You will often find them playing soccer on the black sand soccer field, while Polynesian groups are singing and dancing in the park nearby. Venus Point also has a picturesque lighthouse. If you want white sand Tahiti beaches, head to the south-west coast.

Best Moorea Beaches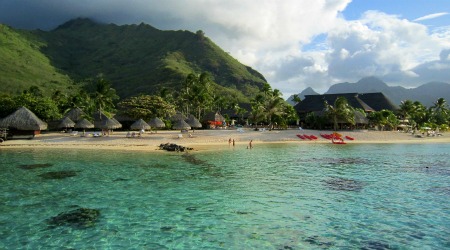 There is great snorkeling from the Hilton Moorea's Beach
Temae Beach stretches for about a mile of white sand on the north-eastern coast of Moorea, just south of the airport. It is Moorea's best public beach. The resort beach at the Hilton is a fabulous beach to snorkel from as there are gorgeous tropical fish in the shallows, a few meters from the shore. You need to be a guest to visit this Tahiti beach.

Best Huahine Beaches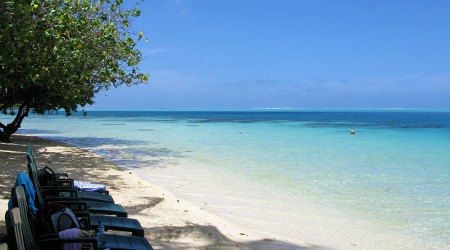 My Favorite beach on Huahine, next to the Relais Mahana Resort
One of the very best Tahiti beaches is on Huahine. This long strip of pristine white sand goes from the southern point of Huahine and runs west along the coast, past the Relais Mahana Resort. The clear turquoise of the water is as beautiful as it gets, so it's an enchanting beach for snorkeling. Nearby there is an ancient religious site, Marare Anini.

Raiatea & Taha'a Beaches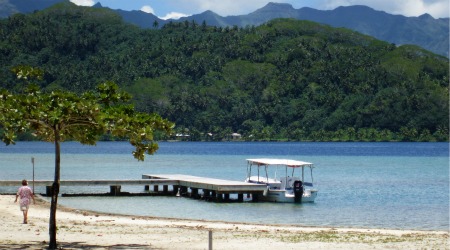 The beach next to sacred site 'Marae Taputapuatea' on Raiatea
There aren't any long stretches of beach on Raiatea and Taha'a. Instead there are some beautiful little sandy spots to be sought out. One pretty little beach I found is next to the sacred site of Marae Taputapuatea. There are some dreamy islets, including Motu Tautau (home of Le Taha'a Private Island & Spa) around Raiatea and Taha'a.

Bora Bora Beaches
I love Bora Bora beaches for their fine white sand and calm, warm water. But these most photographed, Tahiti beaches are so much more than a place to swim and soak up sun. They are a visual feast. The multiple blues of the water, surrounded by the brilliant green vegetation and the imposing presence of Mt Otemanu creates a unique ambiance. And to add to the pleasure, there are so many entertaining Bora Bora excursions and water activities to enjoy around the beaches.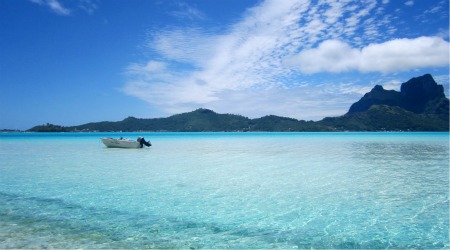 Bora Bora Motu Beach
Famous Matira Beach has almost two kilometers of white sand. It is the only good public Bora Bora beach on the main island and is an excellent beach for swimming. Many of the best Bora Bora beaches are on little sandy motus in the lagoon. Some of these fantasy islets with heavenly beaches and views are locations for luxurious Bora Bora resorts.

Best Rangiroa Beaches
Rangiroa is a large atoll in the Tuamotu Archipeligo, so the entire atoll is fringed by lovely beaches. The lagoon is beautiful with the clearest water you will ever see. The beaches here have broken coral and and pebbles amongst the sand, so it's necessary to bring some reef shoes or flippers for when you go in the water.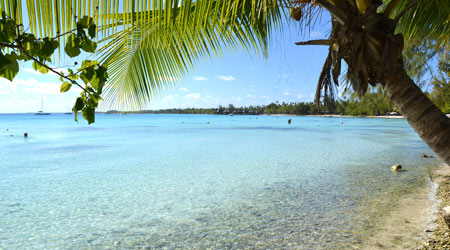 Rangiroa Atoll is fringed by beaches
We hired bikes and rode around to find our own secluded piece of beach paradise. There are not many tourists here (or locals) so you will likely have the water all to yourself.
Rangiroa has a legendary Tahiti beach, Les Sable Roses, known for its exquisite pink sand. It's on the southern end of the lagoon and is a hour and a half drive by boat. If you want to go see this you will need to arrange for a boat to take you there. Day trips, that include a picnic lunch on the deserted beach, can be organized. Take everything you'll want for the day with you, as there aren't any shops or facilities at this remote Polynesian beach.
I grew up next to the most famous Australian beach, but Tahiti beaches have won my heart. You can see more of the best beaches, and share your favorite beach with us, on our best beaches in the world page.
Search the Site

Are you still looking for additional information? You can use the Google search box below to search the site.