Bora Bora Resort Weddings
Romantic Bora Bora resort weddings offer everything your heart desires, to make the precious moments of your ceremony forever memorable. They are the ultimate destination wedding abroad.

The setting for taking your vows is in scenery so magnificent you'll feel like you're starring in a movie. This pristine, island paradise is voted the most beautiful island in the world, year after year!
It's Your Time to Celebrate!
Hand over all the little details to the wedding planner at one of the beautiful Bora Bora resorts. Or contact our Tahiti travel specialists who can provide complete packages for an enchanting wedding in paradise.
Bora Bora resort weddings can be intimate celebrations or big events. Either way you can relax and enjoy the entire occasion, as it unfolds. They have the perfect people to plan and attend to every wish. And romantic ideas for special touches you may not even have thought of.
Where is the best place to get married in Bora Bora?
| | |
| --- | --- |
| A beach wedding? | Or wedding in a chapel? |
You have selected Bora Bora for the location of your tropical island wedding. Great choice! So where is the best place to get married in Bora Bora? There are so many beautiful locations to choose from.

Each resort offers something different for a Bora Bora wedding. You can get married in a wedding chapel suspended over the blue lagoon. Or high up on a mountain top with a superb view. If you are dreaming of a beach wedding, Bora Bora has some of the world's most photogenic beaches. Let's look at the best places to get married in Bora Bora.
A ceremony on the beach or in a chapel?
Some couples choose to marry in Bora Bora, on the beach, in a traditional Tahitian style wedding. Beach ceremonies can be traditional Polynesian style events and include music, dancing, flowers, and lots of color. Or you can opt for a simple  white-sand ceremony with a marriage celebrant.

You can also marry in a more traditional way, in one of the beautiful chapels alongside the lagoon. Have a think about which style of Bora Bora wedding is right for you.
Bora Bora resort weddings:



Intercontinental Thalasso Resort Bora Bora
At the Intercontinental Thalasso you can walk down the isle with the turquoise lagoon under your feet. This Bora Bora resort has one of the prettiest chapels I've seen. Sitting on stilts over the lagoon, this petite chapel has colorful, stained-glass windows and a glass aisle. It looks directly across the turquoise water to majestic Mt Otemanu, the center-piece of Bora Bora. Thalasso resort wedding packages give you the choice to say 'I do' in the over water chapel, or in a traditional flower and palm decorated Polynesian beach ceremony. Both ceremony styles include musicians, dancers, flower necklaces, and crowns.
Sofitel Marara Beach and Private Island
The Sofitel has the most unique location of all the resorts in Bora Bora. At this Bora Bora resort, weddings can take place on the exquisite, white-sand beach facing Mt Otemanu, or above tropical gardens, up on a picturesque hilltop, with inspirational 360 degree views around the multi-blues of the lagoon. This is the most scenic location to get married in Bora Bora.
Hilton Nui Resort Bora Bora
The Hilton Bora Bora Nui Resort & Spa offers 5 wedding packages. The quaint Hilton wedding chapel is set high on a lush, volcanic hill, with a wide panorama across the lagoon. You can also marry on the Hilton's white sand beach. The ceremony and a small reception, can take place in an intimate open air bungalow, at the end of the beach, alongside spectacular, black, volcanic rock. For one of the most private Bora Bora resort weddings, you can have your ceremony on Motu Tapu, a sacred isle, historically the domain of Tahitian royalty.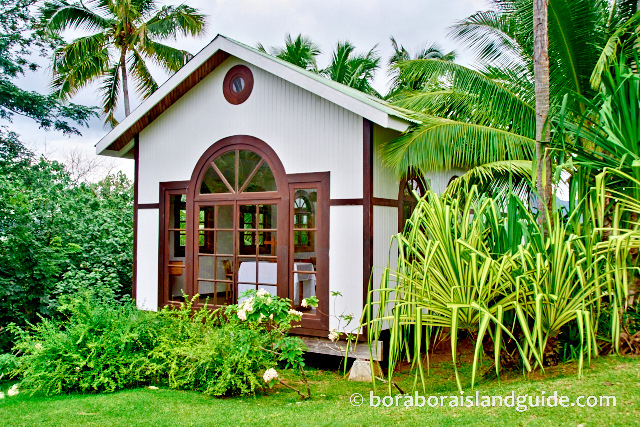 Hilton Wedding Chapel at the top of the hill
St Regis Resort Bora Bora
The St Regis Resort Bora Bora is our top pick for a Bora Bora resort wedding. It's all about personalized service. This luxurious resort has a focus on couples and romance. Their bespoke weddings include all the elements of a dream wedding. You can liaise with an on-site romance concierge, as well as a wedding planner. St Regis Bora Bora is devoted to giving couples the most memorable Bora Bora resort weddings. Elegant European touches around it's extensive grounds exude a sophisticated, romantic atmosphere. The event area overlooks the stunning Bora Bora lagoon. You can celebrate with an impressive reception banquet for up to 100 guests.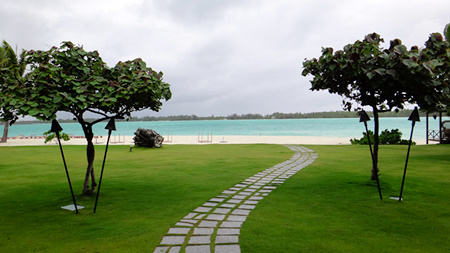 The St Regis has elegant, vast grounds for a Bora Bora wedding
Pearl Beach Resort Bora Bora
The natural, tropical-garden location of Pearl Beach makes this resort one of my favorite places in Bora Bora. The views of Mt Otemanu and the main island are spectacular from much of the resort. Weddings and special events take place on a quiet beach that faces the horizon (rather than Mt Otemanu). Pearl Beach Resort also has an intimate chapel for those wanting a more traditional wedding, .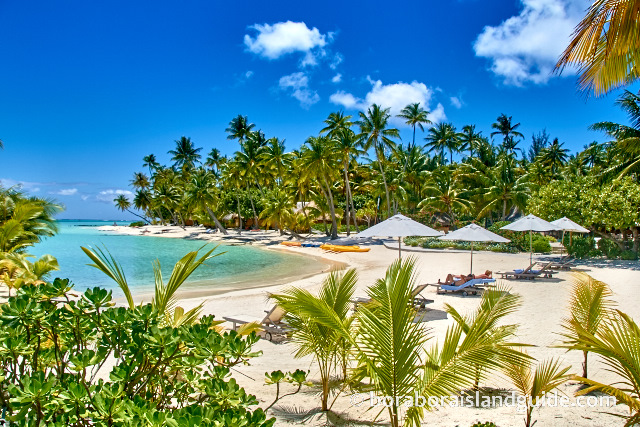 Facing the horizon, this beach is the location for a beach wedding at the Pearl Beach Resort
Four Seasons Resort Bora Bora
As this is the newest resort in Bora Bora, the Four Seasons has the grandest wedding chapel of all the Bora Bora resorts. If your dream is to be married in a stunning chapel, with a cathedral ceiling, and magnificent island views, choose to be married at the Four Seasons.
A private wedding in Bora Bora?

There are many options for Bora Bora resort weddings. If you desire a very private ceremony, in a more intimate location, discuss your ideas with the wedding planner at your chosen resort. They organize everything from the location and celebrant, through to the music, flowers and decoration.

Search the Site

Are you still looking for additional information? You can use the Google search box below to search the site.