Family Pensions Bora Bora & Tahiti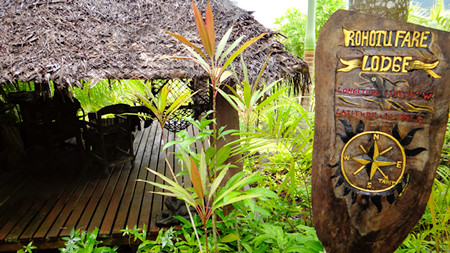 The library at Rohotu Fare Lodge on Bora Bora
Here's official information on the different styles of family pensions, Bora Bora Island and Tahiti. There's a level of friendly, Polynesian hospitality to fit every budget. Hosts may be Tahitian, Chinese or French.
French travelers usually refer to these family lodgings as Bora Bora pensions de famille. English speakers call them family pensions. Bora Bora Island family accommodation providers belong to an association whose 'Haere Mai' federation represents 21 islands across French Polynesia. The federation name for all of these lodgings is family hotels.

French Polynesia's department of tourism is in the process of rating family hotels. One hundred strict criteria are used. They are awarded one, two, or three tiare, Tahitian flowers. Most value is placed on the quality and attractiveness of the site, the level of comfort, and the services that are supplied. Only a few on Bora Bora have been rated.

Bora Bora Pension Prices
Prices vary considerably because each of the family pensions in Bora Bora offers something different.
You can have a vacation in Bora Bora pensions and pay between $40 to $150 per night for a double room. If you want a longer stay this is the best style of accommodation to choose. Most family hotels will negotiate a cheaper rate if you want Tahiti housing for an extended period. Make sure you clarify exactly what will be included in the rates during your stay.
Types of Home Stays in French Polynesia
Bed & Breakfast Guest Rooms

Some hosts welcome visitors to guest rooms in their own homes. They may sleep up to 12 people. Breakfast is served in the family dining room, on a shaded terrace or in an eating fare (house).

Furnished Bungalows 

Other hosts offer a stay in little guest houses located in their gardens or near the family property. Some have private bathrooms. Others have shared guest-only bathrooms. Up to 9 bungalows, sleeping up to 27 people, is allowed on one premises. Usually a French breakfast of freshly baked croissants and tea or coffee is available. Some offer all meals, with a focus on island specialties, and you can choose the ones you want.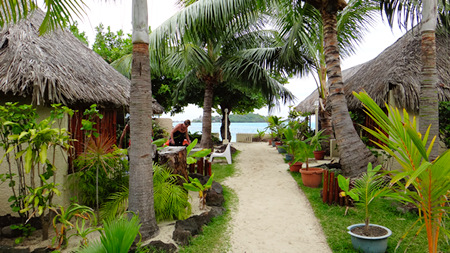 Village Temanuata's pathway to their bungalows in the garden
Furnished Bungalows with Kitchen

These Bora Bora pensions also have up to 9 bungalows, sleeping 27 people. They have the added convenience of private bathrooms and kitchens equipped for guests to cook their own meals. There is an office, manned by the owners, to assist guests.

Family Hotels

Small family hotels are permitted to have up to 12 units, sleeping up to 36 guests. A reception area provides guest services. Usually there's a laundry room, laundry service, a bar and a dining room. Rooms are cleaned daily. The rate includes breakfast and there's also a full meal plan available.

Advantages of Home Stays
There are advantages in holidaying in local family pensions. Bora Bora resorts are quite pricey, so home stays make it possible to have a cheaper holiday on what has been voted as the world's number 1 island. We have more sugestions for cheap Bora Bora vacations here. You can also experience the Polynesian culture more closely and enjoy personalized interactions and services. Some of the hosts pride themselves on giving you the highest possible level of service. Bora Bora pension owners know the best local attractions and tour providers. Some hosts lend bicycles or drive you around. They also help you arrange excursions and motu picnics.
Selecting a Pension
For a great value vacation that suits your budget, find out what each of the family pensions, Bora Bora guest houses and small family hotels have to offer.
Want advice on how to choose from the family pensions? Bora Bora Island is unique so here's what you need to consider.
Search the Site

Are you still looking for additional information? You can use the Google search box below to search the site.