Islands Near Tahiti: Best Tropical Vacations
Here's useful information about the islands near Tahiti to help you appreciate the unique geography of French Polynesia and decide what other beautiful islands to visit.
Tahiti is one of 118 islands and atolls that sit in 5 archipelagos (island groups). Tahiti lies among the Society Islands. So if you're wondering which islands near Tahiti are easiest to get to and provide more accommodation choices, the answer is the other Society Islands of Moorea, Raiatea, Tahaa, Huahine and Bora Bora. They are the closest islands to Tahiti.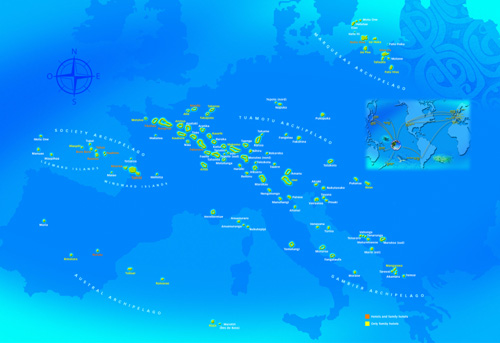 Islands of French Polynesia © GIE Tahiti Tourism
The Tuamotu Atolls are further out, and the Marquesas, Gambier and Austral islands are even more remote, so not as frequently visited by tourists.
The area of the Pacific Ocean known as French Polynesia is the size of Western Europe. But when the total landmass of all 118 islands and atolls is combined it's only a little larger than the U.S. state of Rhode Island! These incredible facts will help you picture that many of the islands near Tahiti are actually quite a distance across the sea.
The good news is that each island group is connected by Air Tahiti flights and they're the most scenic you'll ever take. Even the isles further away from the main island of Tahiti are still short trips. So it's easy to get to the islands near Tahiti. The Tuamotu Atolls are just over an hour away from Tahiti. The Marquesas are a 3 hour flight from the Society islands and the Tuamotus.
As you can see, there are many alluring tropical islands to choose from for Tahiti vacations. Often you will virtually have these pristine isles to yourselves. French Polynesia only gets as many visitors in a year as Hawaii has in 12 days! This is why it's remarkable beauty is unspoiled, and the blue water in the lagoons is so clear and pure.
Best Island in Tahiti
So which is the best island in Tahiti to visit? Going by tourist numbers, the best islands in Tahiti to visit are Moorea and Bora Bora. If you have more time for your vacation you can visit other tranquil islands near Tahiti. Every island is beautiful and has it's own 'flavor'. We advocate that everyone visiting Tahiti should include a Bora Bora vacation.
Although Tahiti is the main island with the capital Papeete, and it has beauty to be found, the true postcard pictures of Tahiti that you see are of the islands near Tahiti and often they're Bora Bora.
Tahiti Islands
Society Islands
The Society Islands are made up of Tahiti, Moorea, Huahine, Raiatea, Tahaa and Bora Bora.
Tahiti is home to the capital of French Polynesia, Papeete, and is the largest and most populated island.
Tahiti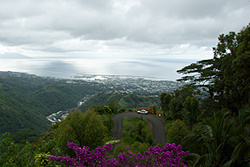 © BoraBoraIslandGuide
Moorea is a close ferry trip or plane ride away from Tahiti. It has a dramatic inner island and is the favorite vacation spot of Tahitians themselves. Moorea has gorgeous over water bungalow resorts in some of the loveliest settings in Tahiti.
Moorea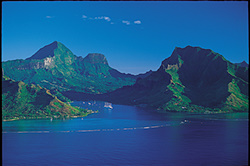 © GIE Tahiti Tourisme – Tim Mckenna
Huahine remains pristine and wild. It's Circle Island Road made of shells was only paved recently.
Huahine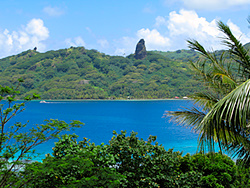 © BoraBoraIslandGuide
Raiatea is known as the most sacred island in Tahiti. It is believed to be the original place that Polynesians arrived in French Polynesia, and has the most sacred sites.
Raiatea is a main hub for sailing boats. If you cruise through Tahiti, Raiatea is the only island (apart from the main one) where the ship can pull right up to the wharf.
Tahaa, next to Raiatea is home to many exotic vanilla and pearl farms.
Tahaa and Raiatea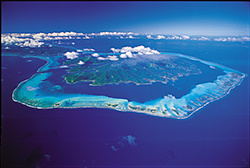 © GIE Tahiti Tourisme – Tim Mckenna
Bora Bora, often awarded as 'the most beautiful island in the world', is truly the Pearl of the Pacific. Bora Bora is the perfect honeymoon destination and it's seductive beauty attracts vacationers from all over the world.
Bora Bora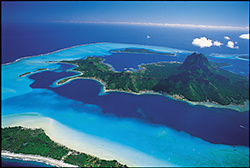 © GIE Tahiti Tourisme – Tim Mckenna
Tuamotu Atolls
The Tuamotu Atolls include Rangiroa, Manihi, Tikehau and Fakarava. These atolls have pristine lagoons teeming with all sizes of marine life. If you're planning a Tahiti diving trip you'll enjoy some of the best diving in the world here. The Tuamotus are also home to the original black pearls of Tahiti and now have cultured Tahitian pearl farms producing some of the most lustrous and colorful black pearl jewelry. A visit to a pearl farm helps make Tahiti island vacations memorable.
Rangiroa Atoll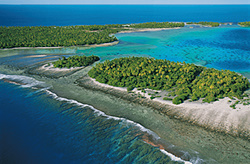 © GIE Tahiti Tourisme – Marcel Isy-Schwart
Marquesas Islands
Out in the Marquesas, Nuku Hiva and Hiva Oa offer the best accommodation for tourists. These islands are full of awesome scenery with high mountains, volcanic cliffs, towering waterfalls and untamed vistas. Hiva Oa is the final resting place of artist Paul Gauguin. The isolation of these islands has resulted in an interesting and proud culture of people. Every 4 years they hold an rousing festival which continues for weeks. If you want to visit, Air Tahiti brings these far flung islands near Tahiti.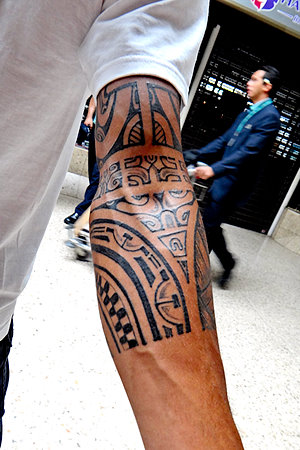 A Marquesan style tattoo
Originally there was little contact with other islands. When missionaries made it taboo to have Tahiti tattoos their vigilant presence in the islands near Tahiti meant this body art could not be worn and it disappeared for many years in the Society Islands. But out here artists continued to use and teach this meaningful traditional art form. So their ancient designs were all preserved. It's a great place for having a Polynesian tattoo applied.
Austral Islands
The remote Austral Islands are located on the Tropic of Capricorn. Whales live in the ocean around these islands from July to November. The Polynesians here are known for their elaborate skills in weaving coconut and pandanus leaves to create beautiful hats, bags and mats. There are four islands here with small family pensions; Rurutu, Tubuai, Raivavae and Rapa.
Gambier Islands
Tahiti Tourism playfully refers to the Gambier Islands as "At The End of the World". These islands still have original stone buildings from the arrival of the first missionaries during the nineteenth century. The island of Mangareva, has most of the area's population. Some of Tahiti's largest pearl farms are in Mangareva's lagoon. The more purer and more nutrient rich the water, the happier the oyster, the more pearls can be produced.