Looking for the best snorkeling in Bora Bora?
Snorkeling in Bora Bora Lagoon is my favorite activity.
On the beautiful island of Bora Bora some of the most amazing scenery lies beneath the surface of Bora Bora lagoon waiting to be discovered. The Bora Bora Lagoon is home to hundreds of dazzling tropical fish species. Everything is friendly. So you can relax and frolic as if you're in a huge heated pool.

Colorful coral at the southern tip of Bora Bora
When I am at Bora Bora I spend every possible moment in, and on, the Bora Bora Lagoon. The clarity of the water, combined with the diverse shades of blue, make the lagoon a snorkeling paradise. Gliding in the calm water, watching the bright, striped and spotted fish dance around the coral below, is pure happiness.
So I want to share some of the best places for snorkeling in Bora Bora.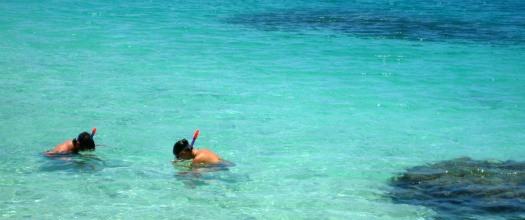 Don't know how to snorkel? Snorkeling for beginners in tranquil Bora Bora Lagoon is the ideal place to start.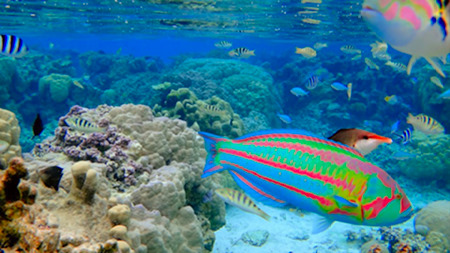 See the colorful underwater world in Tahiti
My Favorite Snorkeling Tahiti
The vanilla island of Tahaa has more of the best Tahiti snorkeling. Here you can do a drift snorkel between two motus. The water is shallow so you are very close to the bright living coral, and the fish swim right up to you. Instead of having to dive to see this natural beauty, the ocean floor has come up for us to see.
The most amazing Tahiti snorkeling can be found on the distant atoll of Rangiroa. Located far from human activity, the coral is living and colorful. I have snorkeled several times at the side of the pass watching all kinds of marine creatures swim through with the current. The water here is deep and you need to be a confident swimmer. So for those who want a relaxing experience, snorkeling in Bora Bora is as good as it gets.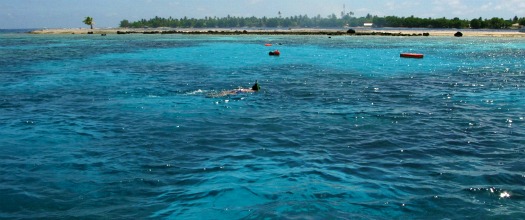 Find out what to take to Bora Bora to extend your time in the tropical sun and make the best of Bora Bora snorkeling beaches.