Bora Bora Snorkeling Excursions
A local guide introduces me to a friendly ray
Everyone visiting Bora Bora needs to experience Bora Bora snorkeling excursions. The tours will take you to coral gardens and snorkeling spots that you would other wise not be able to see. There are a variety of Bora Bora snorkeling excursions available including shark and ray feeding excursions, and eco tours.
Snorkeling on Bora Bora Tours
These Bora Bora boat excursions are a great way to enjoy the lagoon and be introduced to some of the best snorkeling in Bora Bora. You will be amazed by the ever-changing views as you boat around the perimeter of this fascinating island paradise.
Touring Bora Bora by boat you also get to see the beautiful motus that surround the main island of Bora Bora. The motus are privately owned. To be able to step onto a motu and snorkel from it's beach you need to be accompanied by a Bora Bora tour guide.
Always take your snorkeling gear when you go on a Bora Bora excursion. Your guide will know all the best snorkeling spots. (Listen carefully to get ideas for where to go if you decide to hire a boat for a day.) All Bora Bora lagoon Tours will include opportunities for snorkeling.
Shark and Ray Bora Bora snorkeling Excursions

On a shark and ray tour, you will see a wide variety of colorful tropical fish, gray rays, and black tip reef sharks. You may even be lucky enough to see manta rays or eagle rays. The friendly grey rays interact with people. They will swim right up to you and glide so close that they tickle you as they pass.
Graceful, black tip reef sharks pass through the sandy areas of the lagoon. Guides have trained them to come for feeding during boat tours.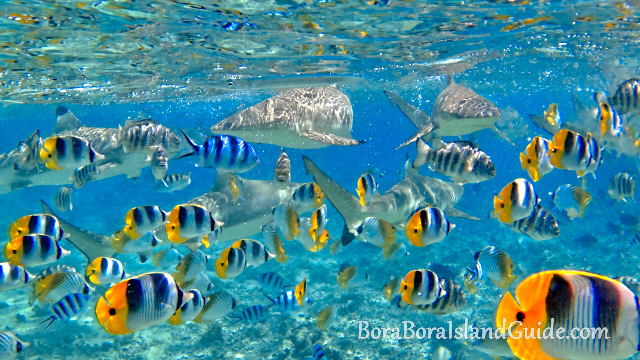 Tropical fish and reef sharks swim by on a snorkeling excursion
Companies like Moana Adventure Tours provide all day or half day Bora Bora excursions with snorkeling stops. They begin with a sting ray feeding. A half day tour includes a relaxing picnic on a sandy motu where you can snorkel while the guide prepares island food. On a full day tour you will enjoy a lavish lunch. These lagoon tours will take you to explore one or more coral gardens for an amazing snorkeling experience. The best tour guides will treat you to an unforgettable day of island hospitality out on the Bora Bora lagoon.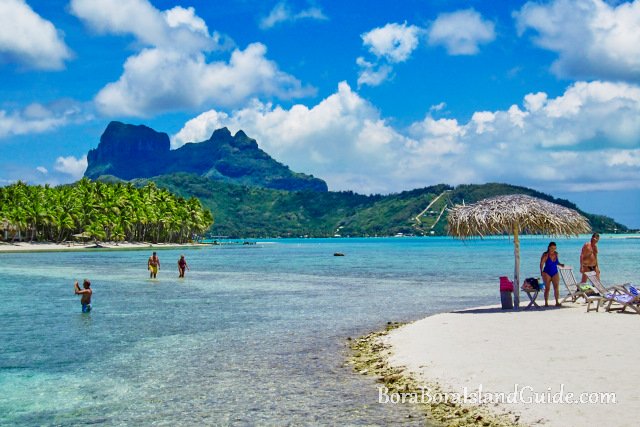 Relaxing on a motu while on a lagoon excursion
Love snorkeling?

Private Bora Bora Snorkeling Excursions

For romantic or more intimate excursions, you can organize a private lagoon excursion. Bora Bora Romantic Tours offers full and half day excursions tailored towards couples.The love Boat offers an excursion with professional photos taken during the day.
Other excursion providers offer private snorkeling excursions for families and small groups too, just ask them for a quote as prices vary according to the length of time and number of people.

Search the Site

Are you still looking for additional information? You can use the Google search box below to search the site.