UPDATE 2022: The Sofitel Bora Bora is currently closed. It is unknown when the resort will re-open.
Sofitel Bora Bora Snorkeling Expedition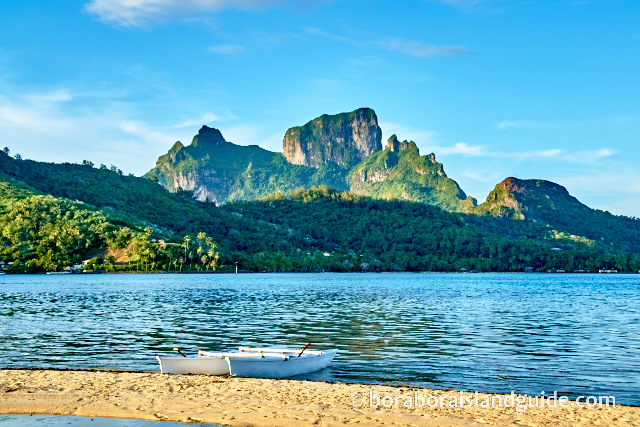 We had perfect weather for paddling a Polynesian outrigger on a Sofitel Bora Bora snorkeling trip to the most beautiful coral gardens in the lagoon. Even though it was Tahiti winter!

Ask what's our favorite thing to do while visiting the world's most beautiful island and it's easy.  A Bora Bora lagoon excursion with a snorkeling stop at the coral gardens!  But it can cost up to $200 per person for a boat tour because fuel and goods have to be transported to this remote sanctuary from afar.

At one Bora Bora resort, you can have this extra-ordinary experience (every day) for free! Sofitel Bora Bora snorkeling opportunities include paddling to the best snorkeling spot in Bora Bora. Independently!
The best snorkeling spot is to the right of Pointe Noire
How to get to the coral gardens from the Sofitel :

1. Master a Polynesian Outrigger Canoe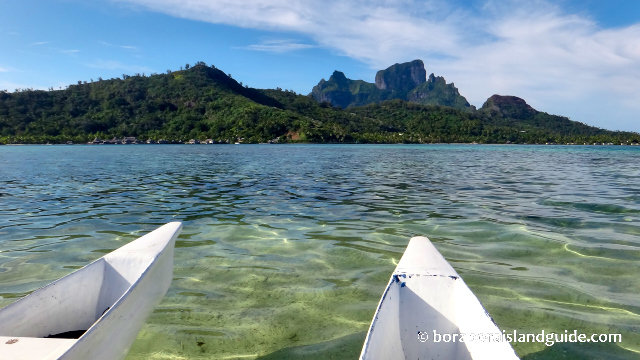 Mt Otemanu was watching over us as we set off in a traditional Polynesian outrigger canoe from the Sofitel Private Island beach. For the first time!

2. Paddle around the motu to Pointe Noire

We paddled anti-clock-wise around the Sofitel Motu, past the arrival dock and 3 secluded beach bungalows set at the water's edge.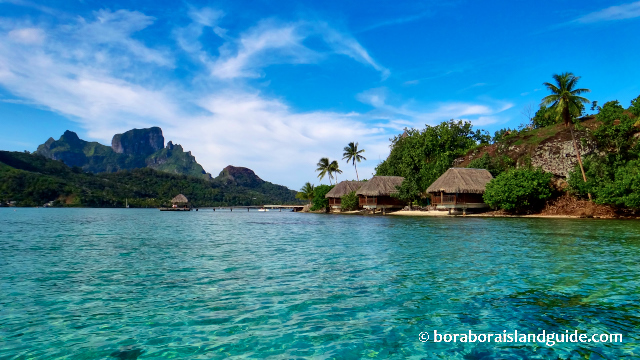 Although the scenery was demanding our attention, we realized that we needed to focus on paddling as a team of two. Or we might end up at the Moana's overwater bungalows instead.
3. Pull your canoe up onto the shore at Pointe Noire

It was the middle of the afternoon and we seemed to be the only ones out on the water. When we arrived at an area with abundant coral we clambered onto a rocky beach and pulled our canoe up on to shore. Very pleased that we had our water shoes on! They're essential in Tahiti, to protect feet from pieces of broken off coral. Leave your high heels for New York, and bring water shoes and flippers. The Bora Bora lagoon is a bath-like temperature.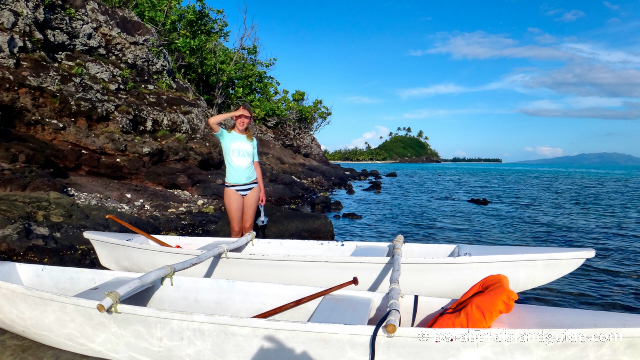 We pulled the outrigger canoe onto the shore
4. Snorkel the coral gardens at your leisure

We have visited the aptly named 'the Aquarium' coral gardens several times and always seen more tropical fish than anywhere else in Bora Bora. Uncountable numbers swim all around us.

Gleefully, we had the Aquarium to ourselves. Like on a previous vacation when we hired a motor boat and scooted right around the Bora Bora Lagoon by ourselves. As we were pushing off from shore another adventurous couple arrived and photographed us together. Our beach 'hair' is proof that we don't just loll around the stunning Bora Bora beaches on deck chairs.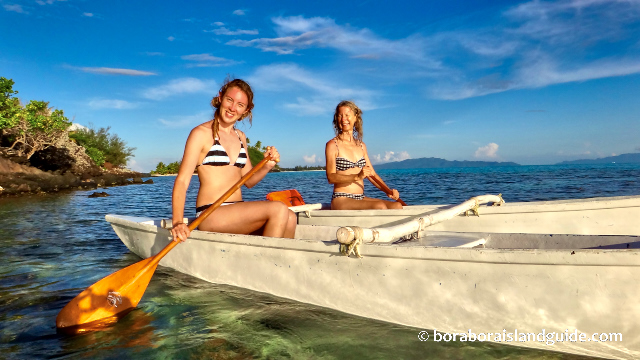 This clever craft was designed with the stability to skim vast distances across the Pacific Ocean, carrying supplies. We could see Raiatea and Tahaa in the distance. But the coral reef, that encircles Bora bora and creates the calm lagoon, is a barrier to the sea. There's only one narrow channel through, and that's on the opposite side, to the west.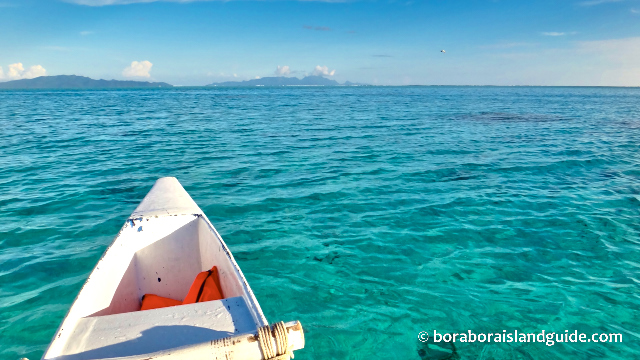 Looking to the islands of Raiatea and Tahaa
After snorkeling we took our time returning to the Sofitel's beach, drifting peacefully as we surveyed the awesome 360 degrees of Bora Bora scenery. It was hard to believe that we were actually taking ourselves on this most astonishing of Sofitel Bora Bora activities.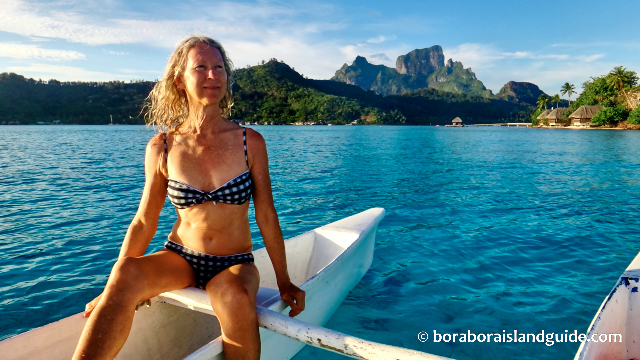 As we rounded the bend, heading back to the Sofitel Private Island resort, the sun was setting behind Bora Bora Island, throwing shadows over it's east side.

We decided that Bora Bora Sofitel snorkeling is one of the best Bora Bora activities. It's awesome! It's free! And you are in charge!

---
- Sofitel Bora Bora Snorkeling -
Straight from your Overwater Bungalow!

Want to snorkel straight from your Bora Bora over water bungalow? The Sofitel Private Island Resort is a great choice. Find out which of the Sofitel overwater bungalows have the best coral and sea life around them for Sofitel Bora Bora snorkeling. Get the right hut and you don't even have to get wet! You can watch the lagoon life traveling underneath the glass panel. Can't swim? Choose one in shallow water and learn.

Here's more about how to find the best snorkeling in Bora Bora.

See details of our visit to the gorgeous Sofitel Bora Bora. Including which bungalows at both Sofitel Resorts have the best snorkeling around them.

If your favorite vacation activities will be in or on the Bora Bora lagoon, you must know the best time to go to Bora Bora.

Canoe Racing is Tahiti's Football
One of Tahiti's most celebrated events is the annual, grueling display of gleaming, manly muscle, Hawaiki Nui Va'a. Over 3 exciting days, between several islands, Pacific Islanders from various countries compete. Men (sorry ladies...but it's great to watch those studs arrive at Matira Beach) train all year for that strenuous race! Fortunately they've lovely brown skin!
Search the Site

Are you still looking for additional information? You can use the Google search box below to search the site.