Best snorkeling in Bora Bora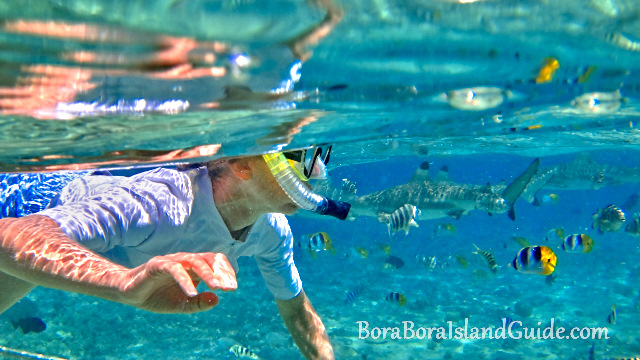 Here is our pick of the best snorkeling in Bora Bora. Bora Bora offers snorkelers of all levels a fun lagoon environment to explore. One location is inside the calm lagoon, the other best snorkeling in Bora Bora will be appreciated by advanced snorkelers on a trip that takes you to meet the sharks outside the reef in the deep, royal blue, Pacific Ocean.
Snorkeling in the Bora Bora 'Aquarium'
This best snorkeling in Bora Bora spot is good for both beginners and advanced snorkelers. The area is nicknamed the 'Aquarium'. It is a stunning pastel coral garden off the southern end of Motu Pitiaau and Motu Piti Uuuta (which may be called the Sofitel Motu on your map.) The water here is calm and clear and has hundreds of colorful fish nearby. You can only get here by boat, so if you hire a boat definitely include a stop here. Bora Bora lagoon excursions usually include a stop to this coral garden.
The beautiful blue aquarium coral gardens
If you chose to stay at the Sofitel Private Island Resort you have unlimited access. You can paddle a complimentary kayak or Tahitian canoe around the motu to explore the 'Aquarium' at your leisure.
Snorkeling Southern Bora Bora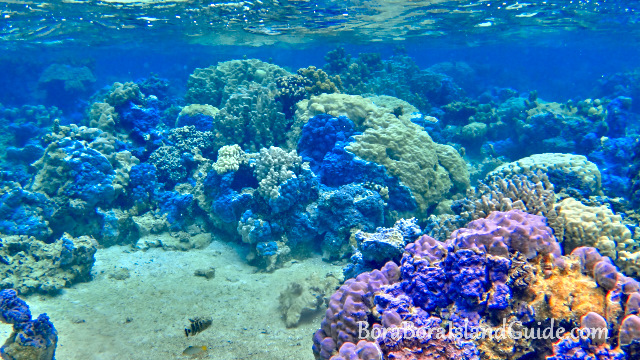 The coral gardens in the southern tip of Bora Bora's lagoon have the most colorful coral I have ever seen! You can also find schools of sting rays and sharks swimming around here. The easiest way to get here is to take a lagoon excursion.

Snorkeling outside Teavanui Pass
Want an extraordinary Bora Bora snorkeling experience? It's my favorite memory of snorkeling in Bora Bora! To be transported into another realm ask your tour guide to take you through the pass to the deep ocean water outside of the lagoon. Here you discover the meaning of 'royal blue' as you snorkel in ocean water so crystal clear and blue that it feels surreal. You can gaze into the depths, seemingly forever.
The boats outside the pass for divers and snorkelers
Time seemed suspended as I hovered and watched the sea life passing by below and heading off into the distance. I saw hundreds of graceful sharks traveling past and was thrilled to spot a lemon shark cruising slowly along the ocean floor. I felt sorry for the people who stay in the boat. And I'm no Indiana Jones! My boyfriend would like me to be more daring.
The trip before I noticed some divers walking along the bottom. I looked to see what colored fins they were wearing because my boyfriend was out diving that day. I saw that they were heading towards a mother dolphin who was swimming with her baby. Snorkeling in Bora Bora creates indelible memories.
To see the best snorkeling in Bora Bora you will want to take a Bora Bora snorkeling excursion. They take you to places around the lagoon that you would otherwise not be able to get to, or know of. If snorkeling on your Bora Bora vacation is important to you, you might want to look at the best bora bora resort snorkeling for choosing your Bora Bora resort.
Search the Site

Are you still looking for additional information? You can use the Google search box below to search the site.