Best Bora Bora resort snorkeling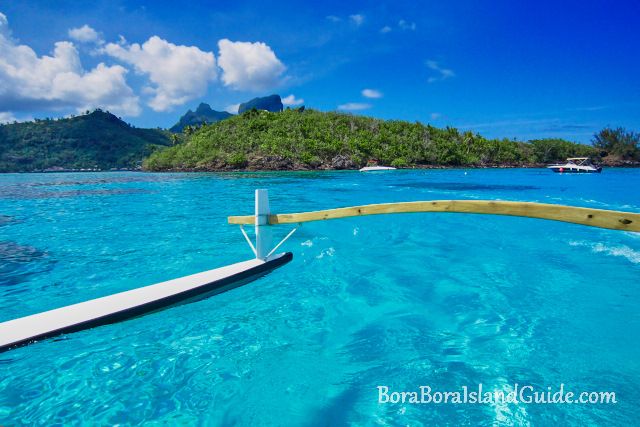 The 'Aquarium' snorkeling spot, located behind the Sofitel Motu
Is finding the best Bora Bora resort snorkeling important to you? It is to me as well.
I spend much of my Bora Bora vacation in the water. All the Bora Bora resorts are in beautiful locations around the Bora Bora lagoon however not all of them are near coral reef. Some resorts have inner lagoonariums that they have created so that guests can snorkel at the resort. Others have natural coral gardens nearby and others are encouraging coral to grow near their over water bungalows with coral regeneration programs.
Snorkeling From the Beach at your Bora Bora Resort
You can stay in an over water bungalow at a Bora Bora resort that has coral at it's shores. Slip outside your door and down a few steps to snorkel in an animated world of angelfish, parrot fish and needle fish. Keep an eye out for starfish, sea turtles and even the occasional eel.

From a beach bungalow it's only a few steps across white sand to try out the snorkeling. If you're staying in a garden bungalow it's only a short walk through the flowering hibiscus and frangipani trees to enjoy some relaxing snorkeling. Didn't bring your snorkeling gear? No excuse. Your resort will provide you with a snorkel at no charge.
Resorts with the best snorkeling in Bora Bora
Sofitel Private Island

Sofitel Motu guests can paddle a resort kayak to the south-side of the motu and swim out to the 'Aquarium' for some of the best Bora Bora snorkeling. This would be my pick of the best Bora Bora resort snorkeling, however you do need to take a short and scenic kayak trip to get there.
Maitai
Maitai Bora Bora guests can also access the snorkeling in the 'Aquarium' coral gardens. This is a much further kayak trip than from the Sofitel though. And if the current is going the wrong direction it can be quite tireing.
Conrad Nui Resort

Conrad Nui has colorful coral heads under and near its over water bungalows so it is the best Bora Bora snorkeling resort in Bora Bora. The area near the black lava rock is also teeming with fish. The water here is deeper, so is best for more experienced snorkelers. The Hilton Bora Bora has some of the best Bora Bora resort snorkeling right under it's bungalows.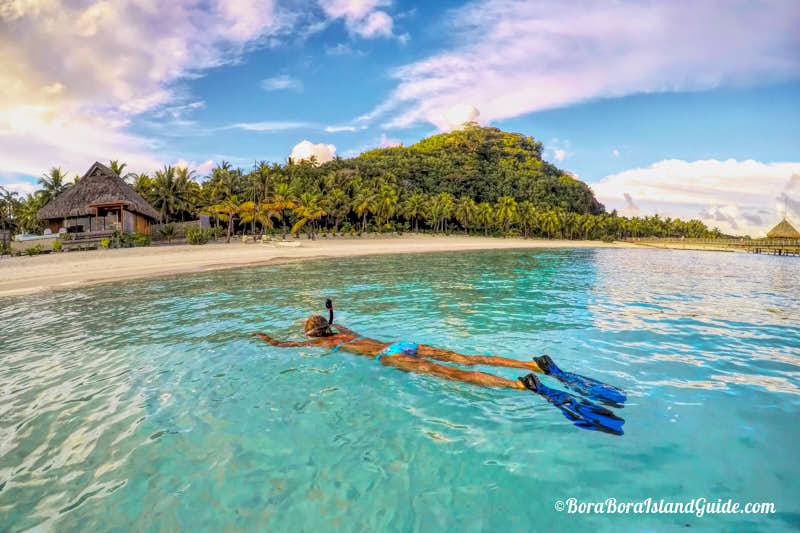 You can snorkel straight off the Hilton's beach or your over water bungalow
Intercontinental Le Moana

Intercontinental Le Moana is in a shallow part of the lagoon at the southern tip of the main island. There is some coral growing under each over water bungalow. Guests can also walk across the road to Matira Beach for more great snorkeling in Bora Bora.
Four Season Resort

Four Seasons Resort has some coral at the very end of the western over water bungalows.
Pearl Beach Resort

Pearl Beach Resort has been regenerating a coral garden near it's over water bungalows. The coral is still quite small but has attracted some colorful fish.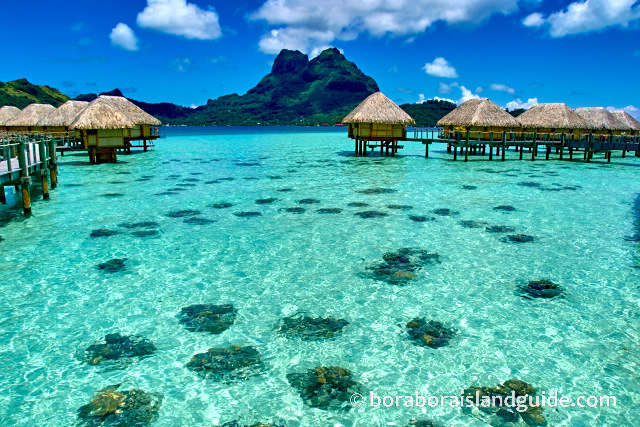 Coral around the over water bungalows at the Pearl Beach
The Intercontinental Thalasso Resort
The Intercontinental Thalasso Resort has some coral and fish near it's chapel. If you are a keen snorkeler you will want more, and will need to take lagoon excursions to experience the best Bora Bora snorkeling.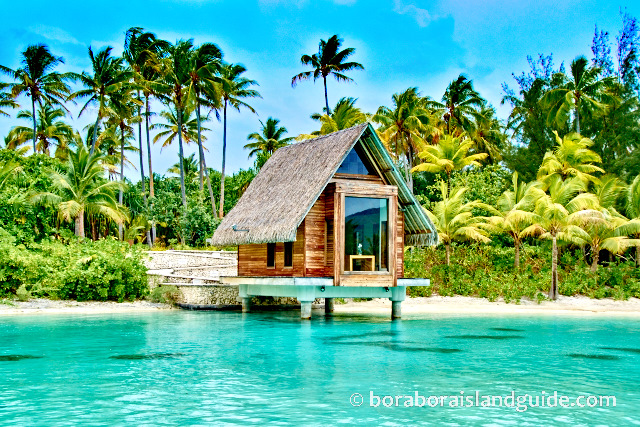 Coral near the Thalasso chapel
Most of the resorts on the East side of the lagoon have created artificial lagoons for their guests to snorkel in. This part of the lagoon is bright blue with a sandy bottom, and there is almost no coral growing here naturally. These resorts have inner lagoons for guests to snorkel in:
Le Meridien

Le Meridian has a turtle sanctuary in their lagoon and you can book for swimming with the turtles. They have a very large inner lagoon that has lots of coral and fish for swimming amongst. This is a perfect place for beginner snorkelers or people who are not comfortable in the outer lagoon.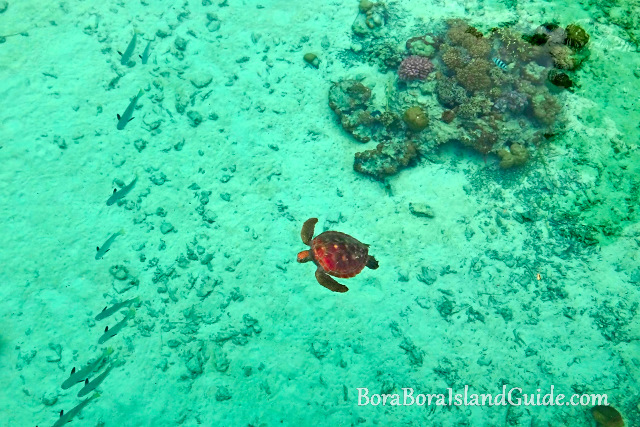 Le Meridien's lagoonarium
St Regis Resort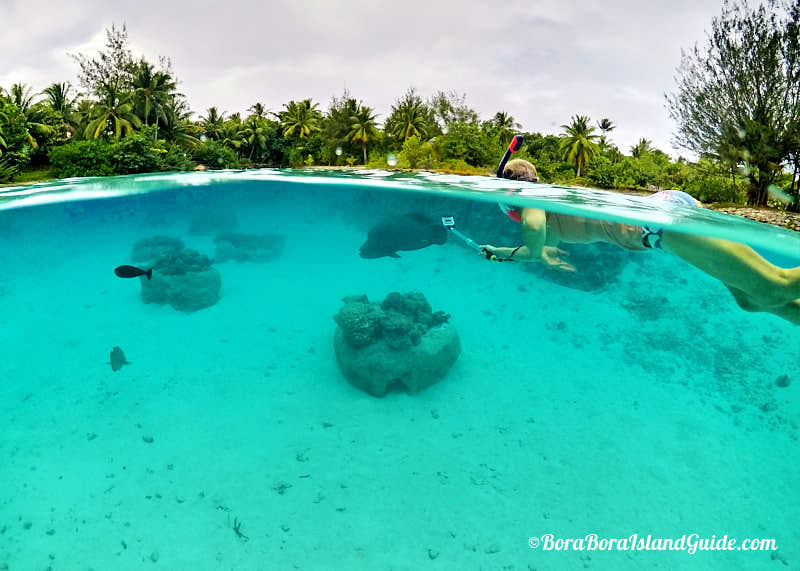 St Regis Lagoonarium
The St Regis Resort has a drift snorkel adventure. It has a large lagoon that winds around an island. You can float around with the current and discover beautiful coral and colorful fish. The St Regis has the best Bora Bora resort snorkeling in a lagoonarium.
Four Seasons Resort

The Four Seasons resort has a large inner lagoon. You can take a tour around the lagoonarium with the marine biologist, who points out all the Bora Bora marine life. Children also benefit from specially tailored kids club programs with the marine biologist.

Best Bora Bora resort snorkeling

What we think? Our favorite Bora Bora snorkeling resorts are the Hilton Nui resort and the Sofitel Private Island.

Search the Site

Are you still looking for additional information? You can use the Google search box below to search the site.