Bora Bora Weather Year Round
Here's what you need to know about the Bora Bora weather to help decide on the best time to go to Bora Bora, when you're likely to enjoy the best weather in Bora Bora, and what to take on a Bora Bora vacation for each season.

The season you're planning to vacation in may also influence your choice of the  best Bora Bora resort to book.  A quick check of the monthly Bora Bora weather chart will show you that the temperatures are 26°C (80°F) and above, all year round.
Lagoon water temperatures, of 26°C (80°F) and above, mean that you can swim every month of the year at the beautiful Bora Bora beaches.
Monthly Bora Bora Weather Chart

Jan
Feb
Mar
Apr
May
Jun
Jul
Aug
Sep
Oct
Nov
Dec
Daytime Avg High ºC
(ºF)

---

30
(86)
31
(88)
31
(88)
31
(88)
30
(86)
29
(84)
29
(84)
28
(82)
29
(84)
29
(84)
30
(88)
30
(86)
Night Time Avg Low ºC
(ºF)

---

24
(75)
24
(75)
24
(75)
24
(75)
24
(75)
22
(72)
22
(72)
22
(72)
22
(72)
23
(73)
24
(75)
24
(75)
Hours of Sunshine/Day

---

7
7
7
8
7
7
8
8
8
8
7
6
Avg Number of Rainy Days

---

19
13
9
16
5
6
9
4
9
9
12
15
Monthly Rainfall cm (inch)

---

47
(19)
26
(10)
12
(4.7)
21
(8.3)
3
(1.2)
4
(1.6)
20
(7.9)
5
(2)
19
(7.5)
6
(2.4)
18
(7.1)
39
(15)
Sea Temp ºC
(ºF)

---

28
(82)
29
(84)
29
(84)
29
(84)
28
(82)
28
(82)
27
(81)
27
(81)
27
(81)
27
(81)
28
(82)
28
(82)
The climate in Tahiti and Her Islands is warm and pleasant for most of the year. Although this is the tropics, the heat is not extreme. A respite is provided by gentle South Pacific Ocean breezes and the north-easterly trade winds. There is only a small variation between daytime and night time temperatures, so you can look forward to balmy evenings during most of the year.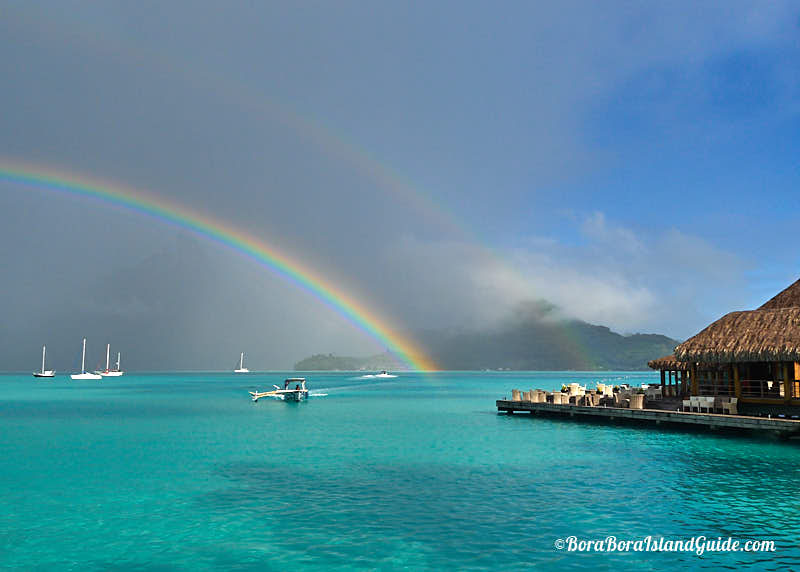 A passing rain shower in June
Seasons in Bora Bora

Bora Bora weather is officially divided into two seasons, summer (low Season in Bora Bora) and winter (high season in Bora Bora). I like to include a third category, Bora Bora 'shoulder' season. Planning to go during the shoulder season is one of the smartest choices you can make.  

If you live in the northern hemisphere you may be surprised to know that the Bora Bora summer and winter seasons are at the opposite time of year to yours. Look on the map and you will see that French Polynesia is south of the equator.
Summer Weather
The Bora Bora summer months are December, January, February and March. Summer is the wet season in Tahiti. During these months there is more chance of rain and the temperatures can be slightly higher. We discovered that there are also times when the temperatures are cooler. If you are considering going during the Bora Bora summer there's more you must find out to be prepared for possibilities during wet season.
Winter Weather
Bora Bora winter months include June, July, August, September and October. Winter is the dry season in Tahiti and usually has day after day of sunshine and blue skies. Here's what winter in Bora Bora was like on our recent June vacation. Find out what makes winter in Bora Bora the most popular vacation time.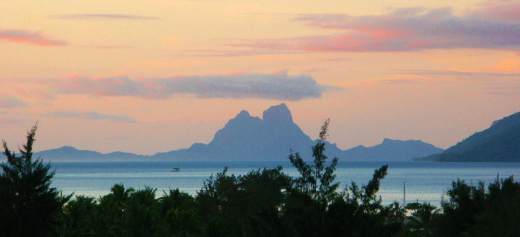 Shoulder Season in Bora Bora
The middle months of April through May, and November are sometimes referred to as the 'shoulder' season. Shoulder season occurs each side of winter, as the weather changes. The moderate days between seasons have some of the best Bora Bora weather. In our book which details information on what your travel agent may not tell you we reveal the amazing advantages of vacationing during one particular month.
When is the Best Time to Go to Bora Bora?
Bora Bora is no ordinary destination! So much consideration is given to the question of what is the best month to visit Bora Bora. Whether you're planning the perfect Tahiti honeymoon, a once-in-a-lifetime Bora Bora vacation, an affordable Bora Bora holiday, or deliberating between exciting Tahiti cruises; there are important factors to consider when deciding the best time to go to Bora Bora.

As the lagoon temperature is warm all year round, it's always a good time to go to Bora Bora!  But some months are likely to ensure a superior vacation because you may experience less rain, less wind; or be able to party on low season prices. Here's what to expect for weather in Bora Bora, including all the not-so-good weather to be aware of: such as rain, wind, humidity; or  (God forbid) ... a hurricane. By knowing about these factors you can time your trip to suit your preferences, and know what to prepare for. A page on Bora Bora weather by months covers the main seasons, with the pros and cons of traveling during each season.
Cyclones in Bora Bora
French Polynesia is on the eastern edge of the South Pacific cyclone/hurricane belt. So it's rare to have cyclones in Bora Bora. Historically, storms caused by tropical depressions and other El Nino effects have usually occurred in February and March. The last one to pass through Bora Bora was in early 2010, and closed Lagoon Resort.
Flight Tips
Do you know the best route to get to Bora Bora from your part of the world? See ways to save money on flights.
Want Help With Packing?
Make packing fun, as you check off this what to take to Bora Bora list. It's been updated after each of our holidays in Tahiti, to include what we needed ... and didn't have ... for each of the Bora Bora weather seasons.
Want help with booking?

Once you know the time of year you wish to visit Bora Bora,  contact our favorite Tahiti travel specialist for a quote. We love the concierge-like service they offer; combined with wholesale-like prices, that always give us the best deal on booking four or five star! Don't make the mistake of paying full price for your  Bora Bora vacation. Get our time saving e-book, dedicated to savvy insider tips on how to save on a Bora Bora vacation.
Search the Site

Are you still looking for additional information? You can use the Google search box below to search the site.