The Best Bora Bora Excursions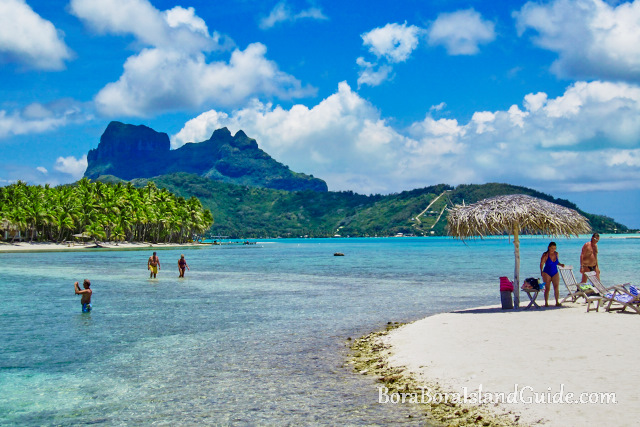 Relaxing on a private Bora Bora motu
Whether you are a 'water baby' or not, the best Bora Bora excursions are on the lagoon.
Once you see the clear, turquoise Bora Bora lagoon and feel it's sensuous temperature on your skin, you will understand what makes Bora Bora vacations so memorable. The colorful marine life in the lagoon adds adventure.
The surrounding scenery will enhance the fun of your water activities. Exquisite, white sandy motus, crowned with emerald green palms, are dotted around the blue lagoon. And stunning views of Bora Bora Island and Mount Otemanu provide an ever-changing, dramatic backdrop to Bora Bora activities.
Some of the locals excel at proudly showing off this paradise (where they actually live!) by offering the best Bora Bora excursions for introducing visitors to Polynesian life.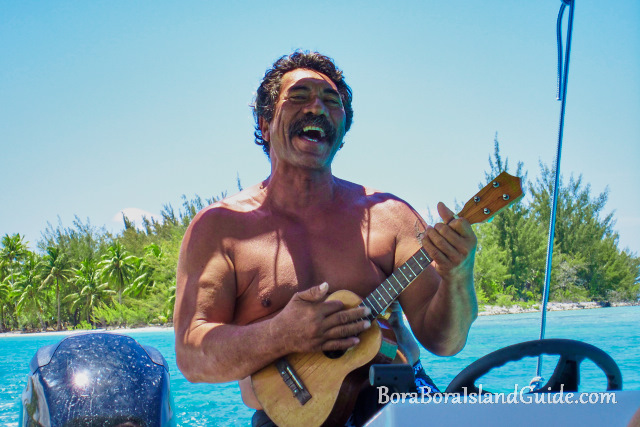 Our tour guide, Marona, serenading us with the ukelele
Find the Best Bora Bora Tour Guide
If you see a romantic blue and white outrigger canoe skimming across the Bora Bora lagoon it's Marona, of Lagoon Tours, going by. His previous boat was destroyed by the 2010 hurricane that whipped through Bora Bora. When 'The Batchellorette' came to Bora Bora to film the show's final episode, he was involved in the production and he attributes his new vessel to income earned during the filming.
Lagoon Tours & Circle Island Excursions
Marona gives the best Bora Bora excursions. His gracious charm, quick wit and flexibility create a feeling of being shown around by a friend. We love his Circle Island tour with stops at coral gardens for some of the best snorkeling in Bora Bora, shark and ray watching, and a visit to Marona's motu home. On the way back, you can lie on the front of the boat to sun-bake, with the spectacular scenery moving past.
Motu Home Visit
On his tour he will treat you to a stop-off at his own motu home and prepare sweet succulent island fruit. You can enjoy this juicy snack under the plaited palm shelter built by himself and a friend. His take on an island 'bathroom' could be on the 'most interesting toilet/loo' list. Shortly after we arrived we watched his dog Honey, swim vigorously from a distant motu, when she realized her master was home.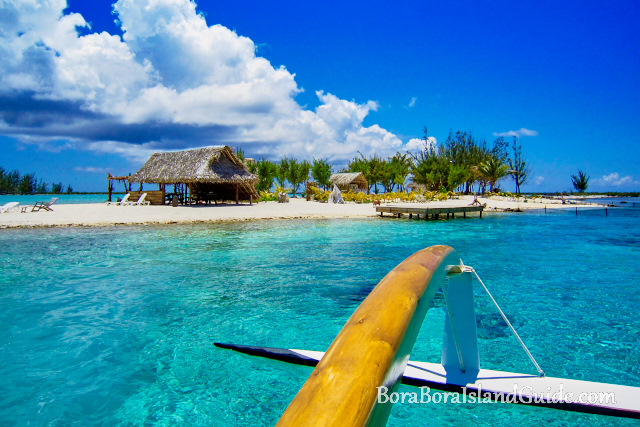 Marona's little motu home
Honey swimming home to see her master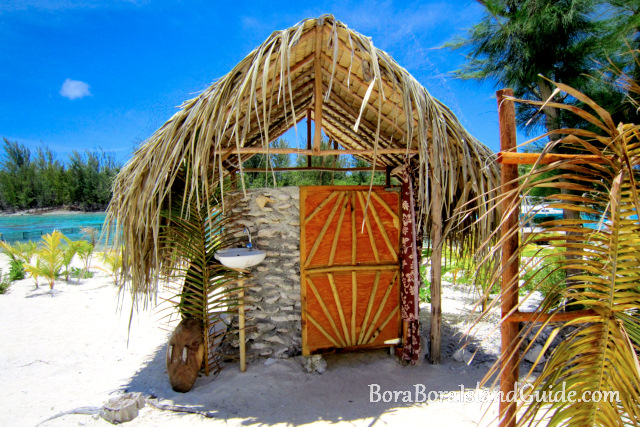 Is this most scenic bathroom in the world?
Bora Bora Snorkeling Outside the Reef
Ask Marona to take you outside the reef for a plunge into the crystal clear, royal blue ocean. You won't find this amazing transparent blue in a box of crayolas! It seems like you can see forever, as you watch graceful sharks gliding about in their deep water-world. On my first visit to Bora Bora, I decided to take a ray and shark watching tour while my boyfriend went diving. It just happened to be with Marona and he gave me the confidence to experience being in the water with the sharks. (I'm the type who won't go on a roller coaster.) Now when I see people stay in the boat I know the pleasure they're missing.
Best Bora Bora Excursions include a Motu Picnic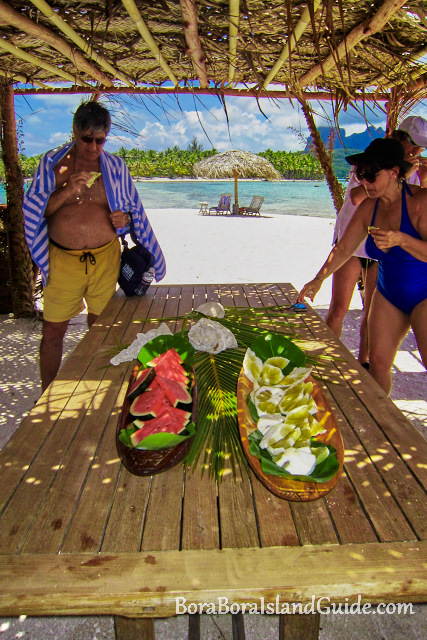 Motu Picnic stop
You can also book a picnic tour tailored to your wishes. Lagoon Service will pick you up from your Bora Bora resort and escort you around the lagoon to the Bora Bora activities of your choice. At lunch time you will bask in warm island hospitality. Marona will take you to his private motu for a delicious picnic lunch of grilled mahi mahi, poisson cru, grilled yams, fresh fruit and coconut bread, served on a plate of hand-woven leaves.
You will want to know how to say 'Mauru'uru' to thank him for entertaining you on one of the best Bora Bora excursions there is.
Plan your Bora Bora Excursions
In busy periods the best Bora Bora excursions are quickly booked out. Put a little time into planning your Bora Bora vacations to make sure you can enjoy the Bora Bora activities you want to do most. Check how the Bora Bora weather might affect your excursion choices and find out the best time to go to Bora Bora (for you).
Search the Site

Are you still looking for additional information? You can use the Google search box below to search the site.