Dreaming of a vacation in Bora Bora?
Bora Bora holds such mystery and beauty that for many people it remains a dream. A mythical place, too fairytale-like to really exist. But paradise is here on earth and it is more beautiful than the postcards!
Romantic resorts make Bora Bora even more alluring. Thatched-roof villas and over-water bungalows, nestled along stunning beaches, offer luxury in paradise. White sand beaches surrounding the lagoon welcome you into warm water to swim and explore with your snorkel for hours. Warm sunshine and tropical scents lull you into island relaxation.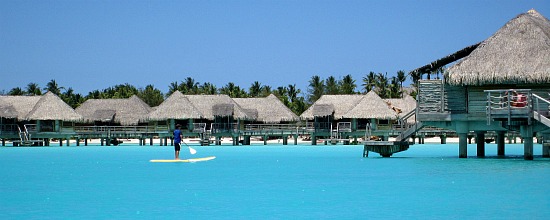 There is something for everyone.
Divers plunge into crystal clear depths with graceful sharks and manta rays. Snorkellers swim and spy on tropical fish in the coral gardens.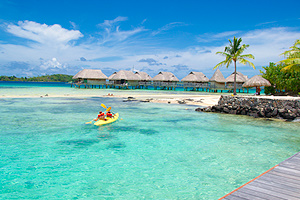 Try parasailing, and marvel as the water melds from aqua, to azure, to sapphire blue.
Cycle the island circle road enjoying the fragrance of frangipani.
For a change of pace, paddle through the sheltered, shallow water. Or scoot across the enchanting lagoon on a jet ski. Or enjoy a boat tour around the island and feast your eyes on the changing shape of Mt Otemanu. To enjoy a taste of islander hospitality, select one that offers a motu picnic.
Want to explore the inner savage island? Ride to it's centre in a 4WD and hike into the Forbidden Valley of the Kings.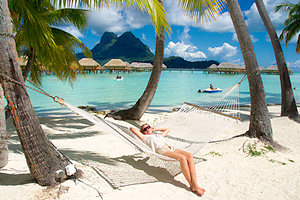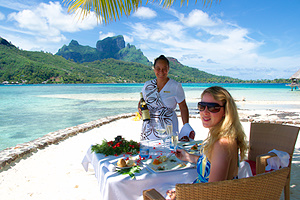 This is the perfect place to do nothing.
Bathe in the Tahitian sunshine.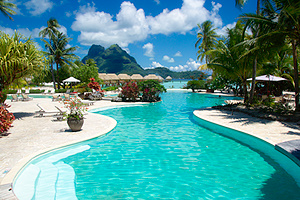 Linger over fine dining in restaurants overlooking the ever-fascinating lagoon.
Eat with locals at beach-side roulettes to savour the Polynesian spirit.
Lovers can shop for exotic black pearls and take a memory of the island's beauty back home with them.
At sunset, relax and sip coconut lime cocktails.
Bora Bora is the perfect tropical island holiday or honeymoon vacation. The ultimate setting for a romantic wedding abroad. You can do as much or as little as you want...while soaking up the ambience of the most beautiful island in the world. It's on many people's 'wish list'. You deserve to see it once. But be aware! Some who venture here find themselves returning again and again.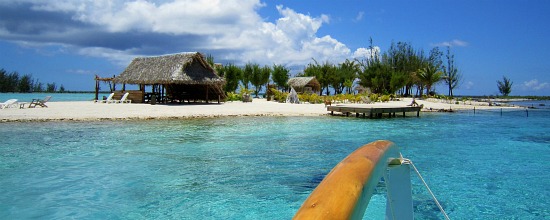 Yes, this distant isle remains a slice of true South Pacific.
Lush vegetation and fragrant, tropical flowers adorn valleys and hillsides. Locals set up small roadside stalls to sell tropical fruits and the (fish) catch of the day. It contrasts with other more familiar island destinations that bustle with crowds and high-rise development.
I found Paradise and it's beauty keeps calling me back.
This site shares insights to guide your Bora Bora travel planning and pack your precious vacation days with thrilling memories. Choose the best resorts for you. Find the most delicious and best value places to eat. Know the most interesting sights and activities, before you go. This will give you more time for lounging on Bora Bora beaches.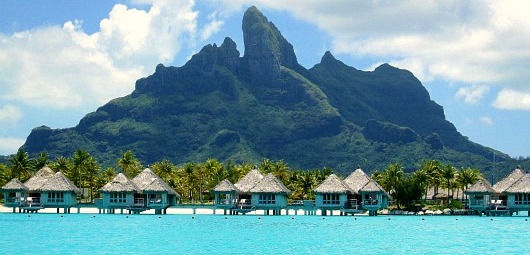 Bora Bora pictures from my holiday experiences in Bora Bora. Bora Bora photos of Mt Otemanu, the lagoon, white sand beaches, island motus, lagoon tours and activities
Postcards from Bora Bora E-zine is for lovers of Bora Bora and everyone who dreams of venturing to it's white sand beaches, blue lagoon and glamorous resorts.
Find out what makes the essence of a Tahiti vacation and Tahiti culture through Tahiti photos.
Where is Bora Bora? Mysterious Bora Bora is the most sought after Jewel of French Polynesia
This Bora Bora map shows locations of every must do, must see, place and activity to help you plan Bora Bora travel and have the best Bora Bora Bora vacation
Information on Bora Bora's weather, visa requirements, language, time zone, currency, geography, population, transport, activities, shopping, power voltage, telephone, and more
When is the best time to go to Bora Bora? It depends on what you want to do when you get there. Information on Bora Bora's activities, seasons and celebrations helps you decide.
Have the Bora Bora vacation of a lifetime with these tips and insights. How to choose the best of Bora Bora resorts, flights, food, excursions and beaches to create your dream Tahiti vacation.
How to choose the best Tahiti vacation packages. What to expect from your vacation package, which islands to include in your vacation, and selecting an all inclusive Tahiti vacation
Want a dream Tahiti honeymoon vacation or Bora Bora honeymoon? Here's how to plan your perfect honeymoon in Tahiti and create blissful memories that bind you together.
Unique Bora Bora Airport is located on it's own islet. Everything you need to know for a smooth transit and boat transfer across the lagoon to your resort motu, or Vaitape on the main island
Must-know information to get discount prices, which side to sit on the plane, variable baggage allowances, where to stay before your flights to Bora Bora and useful Air Tahiti flight details
Practical information on flights to Tahiti. Insights to help you choose your Tahiti airfare by airline, price, value and Tahiti flight schedules for your Tahiti and Bora Bora travel planning
Information on which airlines offer flights to Tahiti. How to get to tahiti from the USA, Australia, Japan, South America and Europe.
What makes an over water bungalow stay perfect for a honeymoon vacation, Tahiti wedding, or romantic beach get-aways; plus island resorts with overwater villas.
Here are the highlights of the amazing Bora Bora resorts to help you decide where to stay on your Bora Bora vacation.
Want a perfect Tahiti vacation? A stay at Bora Bora hotels will be unlike any vacation you have had. Here's everything you must know before making hotel reservations.
There's a variety of cruises available; including cruises to Tahiti, South Pacific cruises, Hawaii to Tahiti cruises, dedicated Tahiti cruise ships, as well as intimate Tahiti charters.
Descriptions of popular Bora Bora pensions, family homes and budget hotels providing friendly island hospitality and affordable Bora Bora accommodation.
These white sand Bora Bora beaches are the most beautiful in Tahiti and have been awarded the best beaches in the South Pacific
These are the Bora Bora excursions and activities offering fun ways to explore the unique Bora Bora lagoon and reef environment. Make your Bora Bora vacation as exciting as you want!
Explore Tahiti's most famous island with these Bora Bora tours. Visit Circle Island Road points of interest, climb a mountain, or take a thrilling 4x4 ride to rev up your Bora Bora vacation.
A short list of the very best things to do in Bora Bora. This pearl of an island offers so many fun activities and excursions, but these top experiences are uniquely Bora Bora.
If you're going snorkeling in Tahiti, here are the best Bora Bora tours and the best places for snorkeling in Bora Bora
Bora bora diving is famous for Manta Rays and Sharks. On dives you will see colorful hard & soft corals, teeming with reef fish. The quantity & diversity of marine life, is the star attraction of Bora Bora scuba diving.
A visit to one of these ultra-luxurious Bora Bora spa experiences is essential. Find out why you MUST treat yourself to a unique pampering on the world's most beautiful island.
Here are the best places for shopping in Bora Bora. Where to find Bora Bora shopping for black pearls, shell jewelry, coconut and tiare soaps, monoi oil, vanilla beans, shell leis, wood carvings, woven hats and baskets, and colorful pareos
French Polynesia and Bora Bora store with travel guides and souvenirs. Including books, movies, music. perfume, island specialties and stationary.
French Polynesia and Bora Bora beauty store with traditional Tahitian body products.
Have the best Bora Bora food and get the best value for your dollar, while eating in Bora Bora on your vacation
If Tahiti pearls have captured your heart, here's everything you need to know to help you choose pearls for a Tahitian pearl necklace, earrings or any black pearl jewelry.
Tahiti and Bora Bora Events and Festivals held in 2011 and 2012
Experience the exotic Tahiti culture of ancient legends told through Tahitian dancing, music and fire shows. These resorts in Bora Bora offer the famous colorful, hip-shaking dance shows.
Polynesian people use Tahiti tattoos in a meaningful way. In Tahitian culture a Tahiti tatou reflects aspects of your life and is an expression of who you are and what is important to you.
You can
add site
to improve page rank! We added our site in the
French Polynesia Directory