The secrets to saving in Bora Bora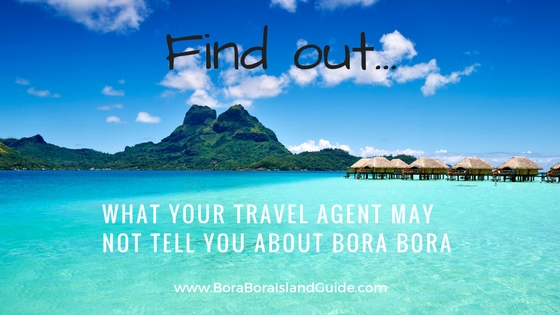 Want to know the secrets to saving in Bora Bora? Here's everything your travel agent may NOT tell you about your trip to Bora Bora!

Don't miss out on the secrets to saving in Bora Bora!

Don't make the mistake of paying full price for your Bora Bora vacation. Use this strategic guide to walk through all the critical considerations while designing your ideal Tahitian island getaway. It's easy to save thousands of dollars if you start using it during the initial stages of planning and booking.

Whether you want to make a Bora Bora vacation do-able; do it for less money; or discover how to do it sooner, because you need to save up less dollars; this book will help you live your fantasy, while others sit at home wishing…

Most sun-lovers have Bora Bora, the world's most beautiful island on their bucket list. But it's such a mysterious and unique destination that they're unsure about how to make their dream come true. This is no ordinary vacation, and this informative book cuts through all the glossy hype to facilitate decision-making. We've had the fun of helping people design awesome Bora Bora vacations for over five years, and found that saving money is as pertinent to the well-heeled, as it is to those on a budget.

These insightful gems on how to save on your Bora Bora vacation turn confusing into exciting
Bora Bora is often synonymous with expensive, but it doesn't have to be! This much-needed practical shortcut to savvy ways of saving money, with every choice; slashes hundreds, and even thousands of dollars, from the cost of your trip. You'll also smile while getting the most value from dollars that you do spend.

Planning a trip to French Polynesia isn't as simple as snapping up a hotel and flight for a bargain price. It took us several trips to know what there is to know about all the unique choices, and we're sharing the most valuable gems in this book. The more tips and strategies you use, the more money you save; while still enjoying the pleasures of paradise.
Over 80 ways to save on your Bora Bora vacation!
You'll have pivotal, insider peeks into how to: get a free night staying over water at a Bora Bora luxury resort, make your Bora Bora flight money go twice as far, slash your drink bill, buy discounted tours, find the best price on pearls; and why you should choose your hotel for it's beach. One spending tip alone reveals how to save money with every transaction; and there are about 80 tips more!

There's brilliant advice addressing common concerns that people all around the world "wrestle with" during the process of designing an extraordinary Tahiti vacation. From the early decision-making stages of planning and booking, all the way through to while you're sunning on a pristine, Polynesian white-sand-beach; this easy-to-read guide shows how to make astute choices and save money.
Find out everything you need to know now!


Download "What your travel agent may NOT tell you about Bora Bora" eBook with over 80 ways to save on your vacation to Paradise for only $9.45.


Paperback book


Order 9x6 premium bound paperback book. $16.45 plus postage.

Postage to USA $6
International postage $10

These insightful gems on how to save on your Bora Bora vacation turn confusing into exciting:
To 'travel agent' or not to 'travel agent'
What to book, when to book, where to book
'All-inclusive' answers
Wedding and honeymoon savings (and bonuses!)
Extras to be sorted before you go
All-things money
Packing clues (Bora Bora is unlike any other destination)
How to save on flights (and even get your flights for free)
Eating and drinking tips from experienced travelers
'Must do' activity and excursion options
'Must knows' to avoid being caught out
Getting around islands smoothly
Free things in Bora Bora (there's some fun ones)
Over 100 pages of wisdom to help guide you through the difficult decisions when planning and booking your Bora Bora vacation.

Search the Site

Are you still looking for additional information? You can use the Google search box below to search the site.