What To Do in Bora Bora at Night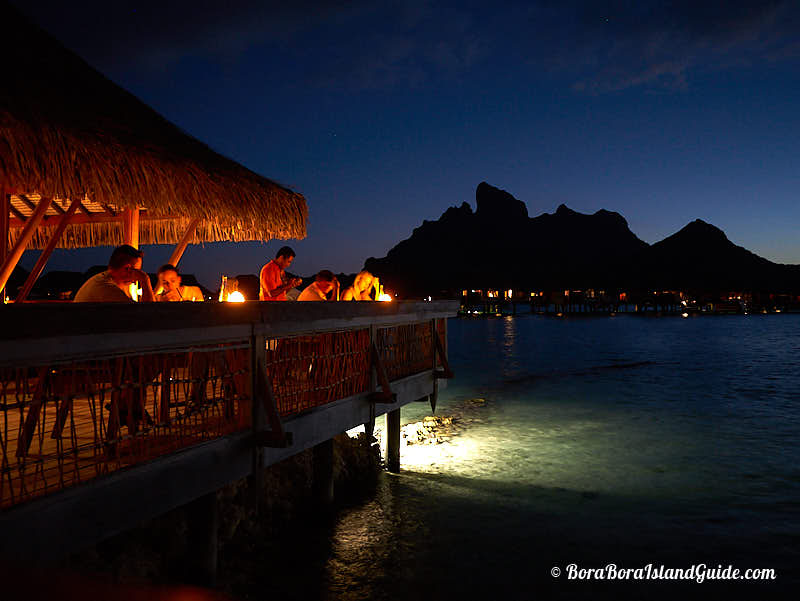 Sunset Bar & Restaurant Four Seasons
On the world's most beautiful island a day is all about the blue lagoon. So what to do in Bora Bora at night? Bora Bora is a small island, with 80% of guests visiting for their honeymoon or a romantic occasion. This means that most of the things to do in Bora Bora are focused around couples and romance. Visitors to Bora Bora enjoy most evenings around their resort, so keep this in mind when choosing your Bora Bora resort.  If you wish to experience local life, we share what to do in Bora Bora at night.
Eating Outside of Your Bora Bora Resort
When planning to eat outside of your motu resort in Bora Bora you need to refer to the timetable of the resort's shuttle boats to determine when you can transfer to and from the mainland.
The trip will cost between $15-$50/person depending on the resort. Your resort's concierge can arrange for the restaurant's free shuttle to meet you when the boat docks on the mainland. The restaurant will be diligent about dropping you back to the dock for your scheduled shuttle to return to your resort.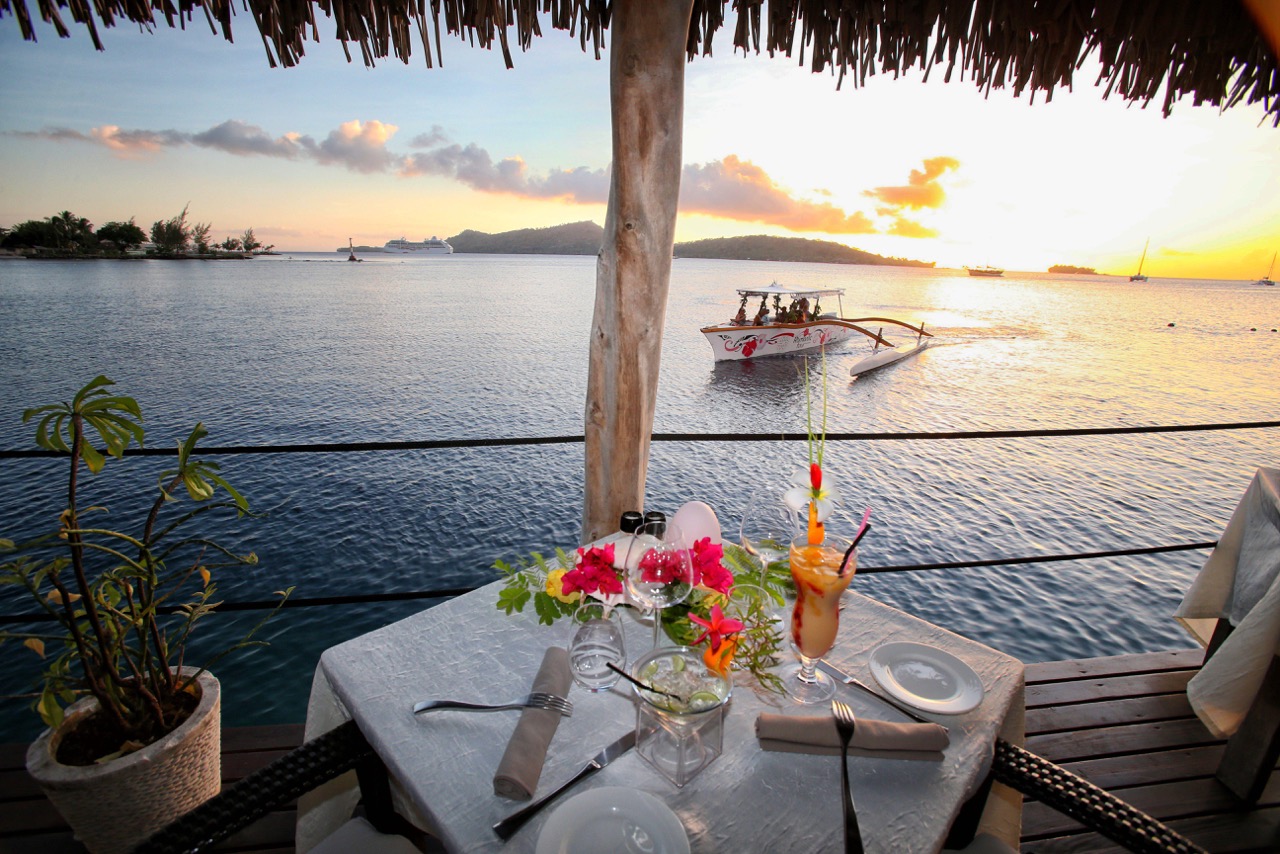 Sunset cruise to St James Restaurant
We've found that the only Bora Bora restaurants really worth making that effort for, are Villa Mahana and St James. We used a fun, easy route to have a delicious meal at St James. We booked this relaxing sunset cruise, which picks guests up from the resort. After watching the golden orb sink into the sea, the boat took us to water-side dining at St James. The price of just under $480.00 per couple, was well worth paying to have a perfect night out.

Bora Bora Nightlife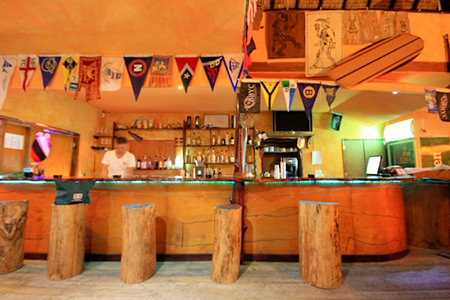 Bora Bora Yacht Club Bar
If you are wanting to eat where the Bora Bora locals go, head to Fare Manuia (The Lucky House) and have a wood-fired pizza and Hinano. The Tiki Bar, Bora Bora Yacht Club or Bloody Mary's are your main-island options for having a pleasant drink at bar. 

Bora Bora Activities at Night
The nightlife in Bora Bora is blissfully peaceful. No sirens, no horns, no background rumble! You may be delighted to hear that stargazing is amazing, way out here, far from big city lights. You can even take a Bora Bora stargazing tour to see the stars start to twinkle after sun set, and learn how the Polynesians used them for navigation.

Bora Bora Resorts at Night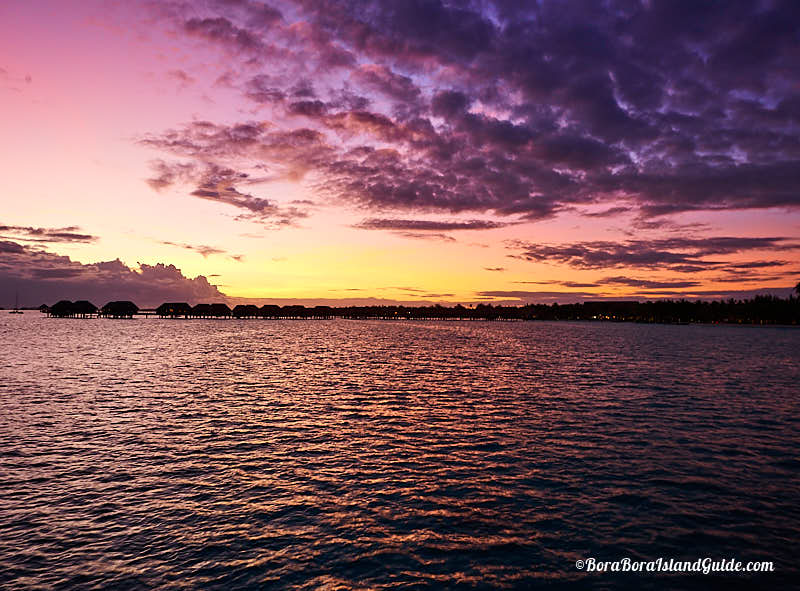 The luxurious Bora Bora resorts offer a quiet romance in the evenings, except when the drums begin beating on Polynesian dance night. Most guests relax over drinks on their overwater bungalow deck or in the bar, and then linger over a resort dinner. Some Bora Bora resorts offer live entertainment in their bar or by the beach which creates a vacation mood. Some resorts offer happy hour between 5pm-6pm, so grab a 2 for 1 cocktail before having dinner, if you can.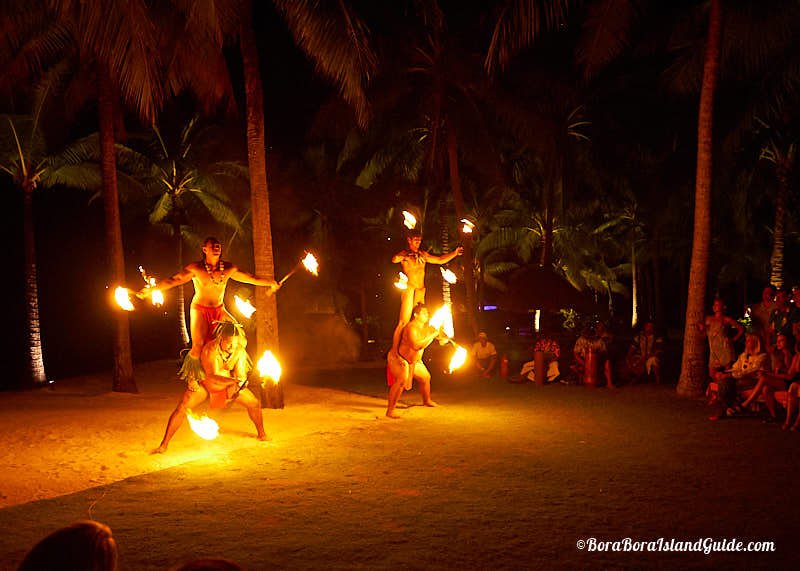 Fire show at Four Seasons Bora Bora
Visiting a Bora Bora Resort at Night
Those staying in a Bora Bora pension, or budget Bora Bora accommodation option, may want to experience a luxurious Bora Bora resort restaurant for the evening. You can arrange to visit the Four Seasons Bora Bora and the St Regis Bora Bora for dinner.  There will be a shuttle fee in addition to the cost of your dinner, but it will give you the romantic experience of a Bora Bora resort for only the cost of dining there. We suggest you go early to see the beautiful beach and pool, and enjoy a drink at the bar as the sun sets.
For an extraordinary night of entertainment, consider booking for a resort Polynesian dinner show. It will be easy to catch one, as each resort holds their dinner show a set night each week. Last trip we engaged in several: Four Seasons on Monday, Conrad Nui on Tuesday and St Regis on a Thursday. Each time a different dance team presented and they were all fascinating. Every visitor should experience a vibrant Polynesian dance show. If you're staying on the main island you can avoid a shuttle fee by booking the Sofitel Marara show, which adds in other cultural experiences.
Search the Site

Are you still looking for additional information? You can use the Google search box below to search the site.