How to get to Bora Bora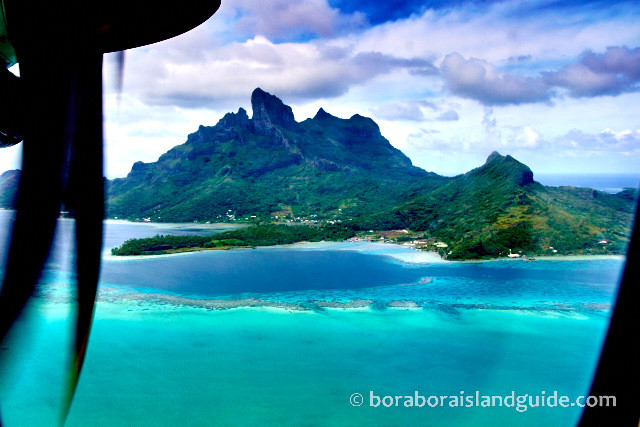 Flying into Bora Bora on Air Tahiti
Bora Bora, the most celebrated island of French Polynesia, is in the Pacific Ocean, halfway between Australia and South America. To get to Bora Bora, you first take an international flight to Tahiti, which is the name of the main island in Polynesia.

You will notice that all of French Polynesia is often referred to by it's romantic title, "Tahiti", even though Tahiti is actually the name of the largest and most populated island.
Direct flights to Tahiti depart from Tokyo, Auckland, Honolulu, Los Angeles and Santiago. The airport code for Tahiti is PPT, which stands for Papeete, the capital. From Tahiti, you will take a short 45 minute, scenic flight to Bora Bora with the inter-­island carrier, Air Tahiti. Most international flights land in Faa'a Airport, at Papeete on Tahiti, during the evening. If your flight arrives at night, you will need to book Tahiti hotel accommodation for that first night.

Because of safety precautions due to the short runways on the other small islands, combined with possible wind factors, Air Tahiti's inter-­island service does not operate at night.

Other ways to get to Bora Bora

Have you considered cruising around Tahiti? You can charter a yacht to Bora Bora, or take a Tahiti cruise ship to Bora Bora. Cruising is an easy way to get around French Polynesia and Tahiti for a great price, and see a few islands, including Bora Bora, which features on every Tahiti cruise itinerary!

Private planes can make arrangements for flying directly to Bora Bora, and land at Bora Bora's airport on little Motu Mute.

Most flights arrive into Tahiti arrive at night, if this is your flight, you will need to book accommodation for that first night in Tahiti.
Where is Bora Bora?

Bora Bora is an 8 hour flight, across opposite sides of the Pacific, from both Los Angeles and Sydney, and about 5 hours from Hawaii. Bora Bora is located in the Society Islands, the most populated group of French Polynesian islands.

You are probably wondering about how to get to Bora Bora because it's so frequently named the "most beautiful island on earth"!

Although it's one of over a hundred islands scattered across the waters of French Polynesia, it's beauty is the most haunting, because of how it's green, volcanic peak rises so dramatically from the large, fluorescent, turquoise lagoon.
You may also want to know how to get to Bora Bora because you're fascinated by striking photos of thatched­roof overwater bungalows, on the most iridescent blue water you have ever seen.

Because Bora Bora is just below the equator, the lagoon is a pleasant temperature to jump into all year round. Everyone who has a Bora Bora vacation goes home planning to return!

Fortunately most dreamers, wondering how to get to Bora Bora, don't actually plan a holiday,because it seems so distant. Which is why these islands remain so pristine!
Where is Tahiti?

Flights to Tahiti

Home › How to get to Bora Bora
Search the Site

Are you still looking for additional information? You can use the Google search box below to search the site.