Tahiti Airport Hotels

Here are the best Tahiti airport hotels to choose from when you want accommodation near French Polynesia's Faa'a International Airport. We recommend staying at least one night on the main island, before or after your inter­-island flights, or boarding a cruise ship. We'll show you the best hotels and the budget hotels.

Want a budget Tahiti Airport hotel?
Go to the Tahit Airport Motel. It's a short walk from the airport. If you have luggage, take a taxi for about $10. The walk is uphill, and the Airport Motel can be hard to find, especially in the dark.

Beni, at the Fare Suisse, also close to the airport, makes Tahiti airport stop­overs smooth and affordable. Rooms are clean, comfortable, and quiet. Upstairs guests must use a staircase for bags. Fare Suisse is near downtown Papeete, so you can walk to the roulettes, the market, restaurants, and Champions grocery store. Complimentary Wi Fi and airport transfers, plus cheerful service, make room and breakfast great value for $130.

Or if you want to stay amongst the action of downtown Papeete, try the older style, Tiare Tahiti Hotel, on the main road, facing the waterfront. These budget ($108) rooms are basic, but clean and comfortable. You can cross the road to eat at the roulette vans, and it's a convenient walk to the ferry, the shops, and the taxi stand for the airport. Breakfast is over­priced, but there's plenty of eating nearby. Wi Fi is available for a charge.

Want the Best Tahiti Airport Hotel?
Our favorite place to begin a Tahiti vacation is at the Intercontinental. Our flight arrives late at night, and it's only 6 kilometers from the airport. We wake up to superb views of verdant Moorea across the lagoon, and linger over the extensive buffet breakfast, surrounded by lush tropical gardens and an inviting swimming pool. A large, inner lagoon with coral and fish makes the landscape interesting to stroll around. If you want a little luxury, this is one of only two Tahiti resorts with over water bungalows.

| | |
| --- | --- |
| The huge swimming pool at the Intercontinental | The large lagoonarium at the Intercontinental |
Want the Best Hotel in Tahiti?
Consider the Intercontinental, Le Meridien, Pearl Beach, or Manava Suite Resort.
Le Meridien Tahiti
Tahiti Le Meridien is located in a residential area, away from the bustle of Papeete. The main block of the hotel has a large koi pond, which is also a feature of the restaurant. All rooms and bathrooms are large, and overlook the beach or the koi pond. Guests can relax in fragrant, expansive grounds, a white­-sand pool, and on a small sandy beach.
This is the other hotel in Tahiti with over water bungalows.

Make sure you enjoy the generous buffet breakfast laid out in a beautiful setting. Friday night entertainment is a Polynesian dance show. An art studio on the top floor has resident artists. Although there is nothing of interest within walking distance, a shuttle service is provided to town.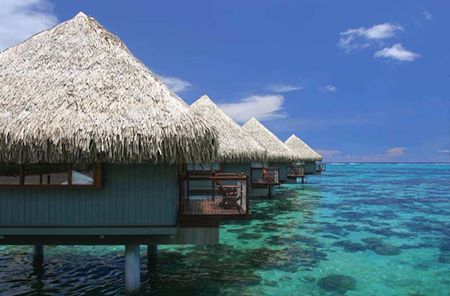 Want the best eating on Tahiti's main island?
The acclaimed Le Coco's restaurant is easily accessible from the Intercontinental and the Le Meridien. Food­lovers will want to taste the delights at Le Coco's. Every creatively presented morsel of this gastronomic experience is worth savoring, as are the wines. Expect to pay $400.
Tahiti Pearl Beach Resort

Formerly the Radisson Plaza, Pearl Beach is located at the end of tranquil Matavai Bay. We found it useful to hire a car while we stayed here. It enabled us to shop at an awesome Carrefore supermarket, and independently explore the most beautiful spots on the island, while eating our French delicacies. It's usually a 20 minute (7.1 kilometer) taxi ride from the airport, but it's wise to factor in half an hour, as the drive is through downtown Papeete.

Comprising of four separate buildings, with pathways between them, every room has an ocean view. The huge 2 level premium suites, on floors 4 and 5, offer sensational views, and parents have the privacy of their own spacious 'penthouse'.

The part-­outdoor eating area overlooks exotic flowering gardens, and a beautiful pool, where you can swim and soak up the scented, tropical ambiance. There's an extraordinary, volcanic black-sand beach, but no watercraft available. Service and food is usually good, but occasionally they're not what you'd expect when paying hundreds of dollars per night. Thursday night there's an opportunity to see a traditional Polynesian dance show.

Pearl Beach is close to historical Point Venus lighthouse where you can visit a monument to Captain Cook, and watch a colorful display of the locals playing football. A free shuttle drops guests in town twice per day. Wi-Fi is available in some locations and there's also paid room internet.
Manava Suite Resort
This modern resort has spacious, apartment style accommodation. The décor includes some artful decorative and functional touches using natural, island materials.
We bought incredible fresh "fish of the gods" at a Carrefore, and cooked it in coconut milk in our well-­equipped kitchen.
This roomy accommodation seems to be popular with families, especially during school holiday times. This means the beautiful infinity pool can be noisy. There's no beach or snorkeling here, as Manava Suite is alongside a busy, boat channel.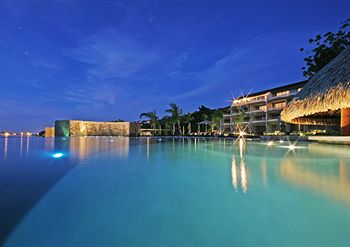 The infinity pool at the Manava
An inclusive Tahiti Stop­over

You can usually get a great deal on a Tahiti Airport hotel by booking an all­-inclusive Tahiti vacation that includes a stop­over on the main island.

Search the Site

Are you still looking for additional information? You can use the Google search box below to search the site.