Weather in Bora Bora by months

Looking at the weather in Bora Bora by months, there are 3 distinct Bora Bora seasons: peak season, shoulder season and low season.

The popularity and weather in the Bora Bora seasons reflect the seasonal rates that it costs to vacation in Bora Bora. The month you choose to visit Bora Bora will determine both your weather and the cost of your vacation.
Weather in Bora Bora by months:
December, January, February

We call these the summer months. The weather at this time of year can be fantastic, but you can never know exactly what it is going to do. It is hotter, more humid and there is more rainfall than other times of the year.
The advantage of traveling to Bora Bora during these months is that you have low season rates (with the exception of Christmas and New Year) which can save thousands on your trip to Bora Bora! A white-sand Christmas in Bora Bora is also a special time to be there and new years eve on the lagoon with fire-works is an experience I will never forget.
There can be more mosquitoes at this time of year, but we have only ever noticed mosquitoes when we headed into the lush sandy motu that the Pearl Beach resort is on. Find out the BEST mosquito repellent to take with you.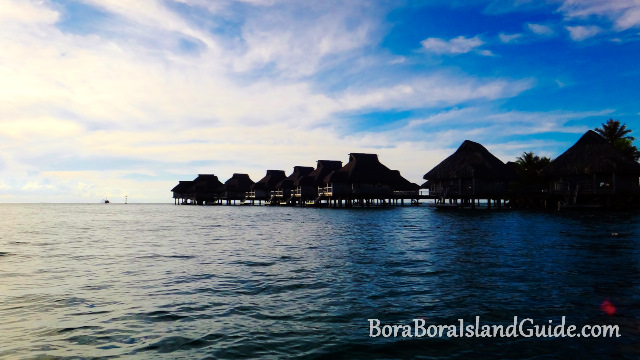 Staying in an over water bungalows keep you away from mosquitoes on shore
November, March, April, May
We call these the shoulder season months. They are a great time to visit as the weather is usually very good and since it's not peak season there are savings to be had! Princess cruises usually has it's 10 day itinerary around Tahiti during November, so it is a great time to jump on our favorite Tahiti cruise. Shoulder season is the best time to visit Bora Bora as the weather is good, accommodation prices are lower than peak season and there are less tourists traveling here.
The Tahiti Pearl Regatta is on during the months of April or May (the date changes each year). The regatta isn't just a race, it's a Tahitian festival. The four day Tahiti sailing regatta travels through the leeward islands and lagoons and ends with an evening of traditional Polynesian celebrations with fire dancing, food, and music.
During November, the Hawaiki Nui Va'a canoe race travels through Huahine, Raiatea, Tahaa and ends in Bora Bora. The celebrations take place at Matira beach, so expect crowds on this usually quiet beach. This is a great time to party in Bora Bora!
June, July, August, September, October
These are the peak season months with August being the busiest month. The weather is dryer but temperatures are still warm, ranging from 70s to 80s. Accommodation prices at this time of year are at their peak. During August there are many European travellers, particularly French, that flock to their overseas island paradise. Expect that some accommodation will sell out, so book ahead, even a year ahead if you are wanting a special villa.
The Heiva festival is on from June to July, and this is the biggest celebration of the year, so it is a wonderful time to visit Tahiti.
The trade winds blow over June, July and August which helps moderate temperatures, and this also makes it the perfect time for wind sports in the lagoon.
Pricier months, cheaper months
If you are looking at the weather in Bora Bora by months and wanting budget ways to do Bora Bora, you will want to consider vacationing outside of peak season.
If you are traveling for a extra special occasion, like a wedding, we would recommend coming to Bora Bora during the pricier months of peak season or the shoulder season, to increase your chances of perfect weather.
More information on weather in Bora Bora by months

Search the Site

Are you still looking for additional information? You can use the Google search box below to search the site.