Bora Bora Wet Weather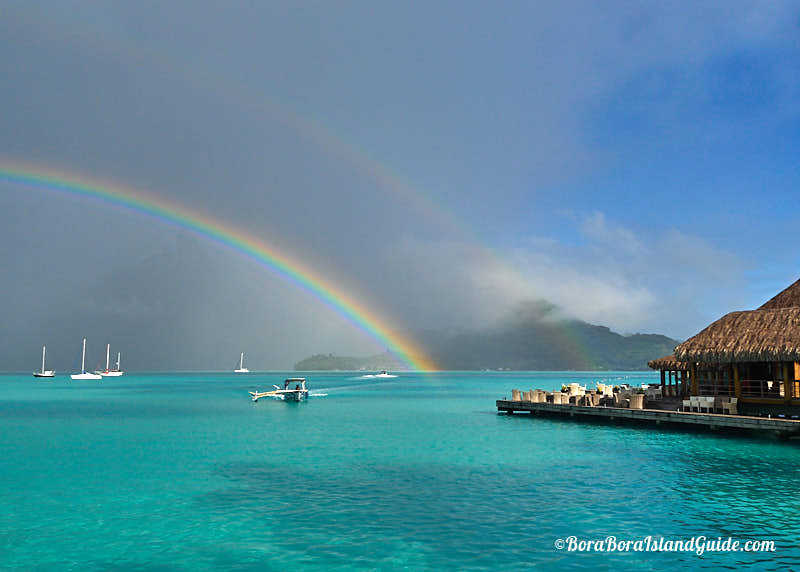 Are you afraid of Bora Bora wet weather? Some people say that it shouldn't rain in Paradise. Especially at those prices! But Bora Bora is awarded number 1 island in the world, year after year, for it's mystical beauty, not for being a desert! Majestic, jagged mountain tops soar above thriving, emerald-green vegetation. The lush foliage provides a perfect backdrop for the famous white-sand beaches which cradle the most brilliant, blue lagoon on the planet.
You've seen the awesome photographs. Bora Bora's actually more amazing in real life! Even when skies are gray, the glistening lagoon remains a vibrant turquoise, and magic is in the air. Have some Bora Bora wet weather activities up your sleeve to enjoy yourself even if it rains.
Those wanting to relax can appreciate this unique environment...even on a rainy day. But if having sunny weather every day is important, book your Tahiti vacation during the Bora Bora winter.  This is the tropics. So it's common to experience brief, misty showers. They bring colorful rainbows and then pass by, leaving the sky blue and the air scented with delicate tiare and frangipani blossom.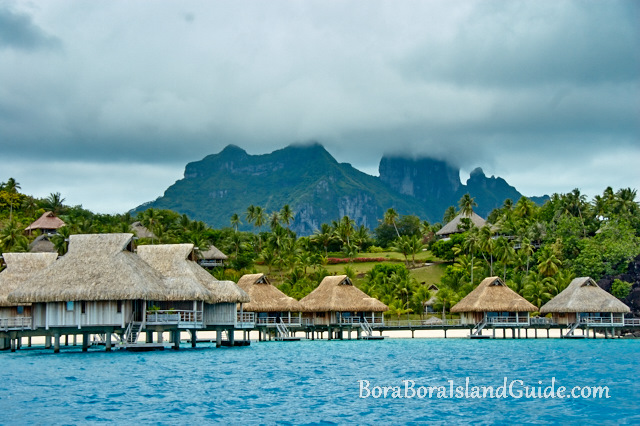 Sometimes the clouds escort in a real shower and parts of the sky can be gray for much of the day. You may need to quickly find cover and enjoy watching Bora Bora's beauty be renewed (so she can retain the 'world's most beautiful island' title). Shortly the rain will stop, as quickly as it started.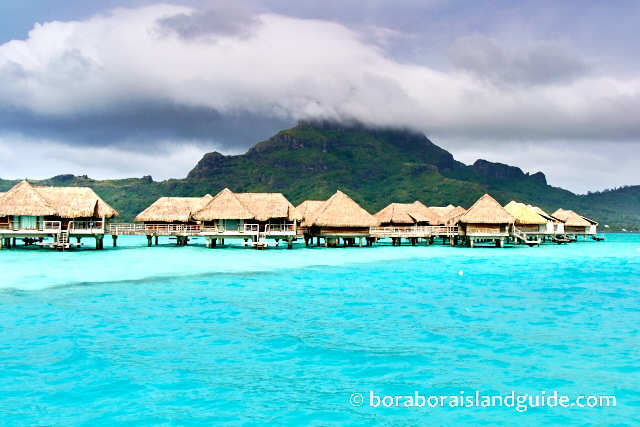 Bora Bora resorts provide throw-over plastic raincoats which you can carry around, or use to literally 'duck' around the resort. These are especially useful during the wet season. You will soon be able to commence out-door activities.
On our first few Bora Bora vacations we experienced only one or two quick showers during our 2 or 3 weeks in the islands of Tahiti.  But when we chose to celebrate Christmas and New Year in Bora Bora it began to rain two days after New Year. And rain and rain and rain. Four days in a row! It was summer in Bora Bora. Locals told us that Bora Bora only has that kind of extreme wet weather every 2 years. Our hiking tour to explore the wild inner island was canceled. Our Love Boat excursion was off.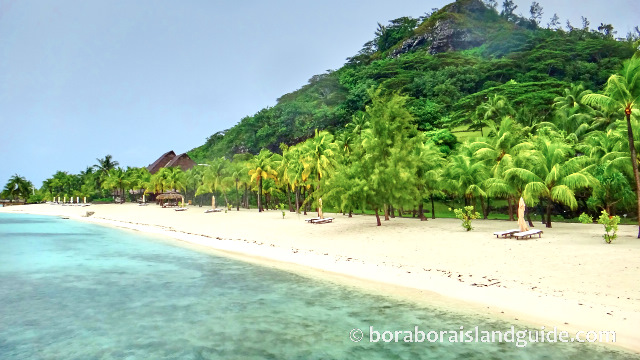 The Conrad's beach in the rain.
We had moved to a motu resort and hadn't yet had the opportunity to try out the array of complimentary water equipment before it was all pulled up on the beach. Usually Bora Bora wet weather activities include snorkeling and boat excursions. And there's plenty of time for activities in-between showers. If you come up from snorkeling, and a light shower is passing, it feels blissful on your face.
But when it rains continuously for several days, under-water visibility decreases, the lagoon rises and swells, and the water becomes choppy. There's only one narrow outlet to the sea (which keeps it warm and calm most days of the year). We had the challenge to discover enjoyable Bora Bora wet weather activities.

Search the Site

Are you still looking for additional information? You can use the Google search box below to search the site.