Beaches in Noumea
The best beaches in Noumea for swimming and sunning are along Anse Vata Bay and Citron Bay. During our 2 week vacation we tried a variety of places and found favourites that were more enjoyable at different times of day.
Anse Vata Beach
A scenic promenade goes for kilometres around Anse Vata and Lemon Bay, providing a safe walking track that also connects the best beaches in Noumea. This entire area has a lively feel as it's enjoyed by holidaymakers, French residents, and islanders. You'll see many happy families cooling down here.
The sand edging the lagoon along Anse Vata Bay is quite narrow but there's also a strip of shady park between the promenade and the sand. Many people utilize this to relax on lawn, under part shade of palms, rather than being in full sun on the sand.
Le Meridien's beach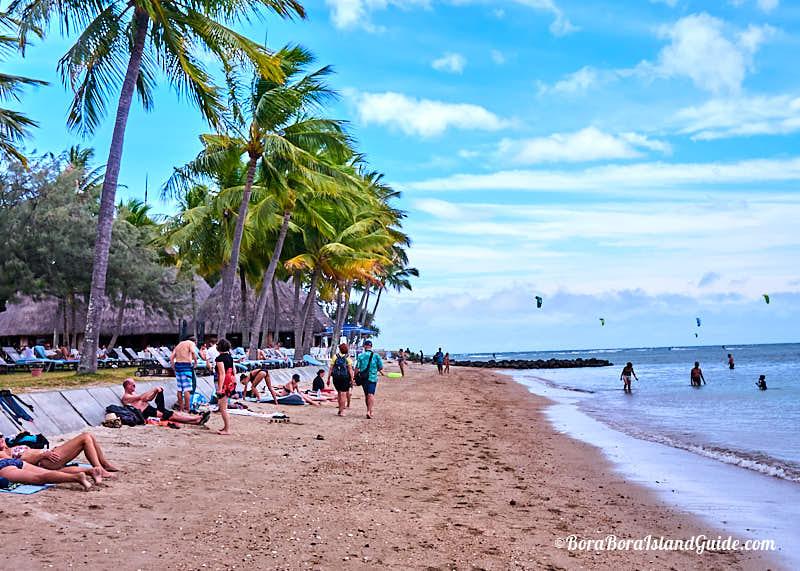 The beach in front of Le Meridien is considered the best on the island, not just for it's sand and the sandy floor in this part of the lagoon but because Magnin Point actually shelters it from the wind. We quickly learnt that on most days, after 11am, the further we walked from the point (towards the Hilton), the windier it became.
We noticed that passengers from the cruise boats are brought to this beach. So if you lay your towel on it's sand during holiday season or weekends you may have tourists almost tripping on your toes as they tramp by (often feet fully clad) to see the best beach and watch the kite surfers taking off. You won't have to share water space as the folk from cruise ships just seem to be looking, and after pointing their cameras at sea gulls they quickly disappear.
On the point side of this beach there's a breakwater which is the most popular take-off venue for kite surfers. The beach just around the point is extremely windy, and most days the wind would begin blowing here by mid morning. So this beach is most popular take-off place for windsurfers.
A quiet beach
The Anse Vata area of the island experiences frequent wind, keeping it cooler and making it a magnet for lovers of wind sports. Early mornings are calm so it's the best time to head to the beach. To have a quiet place for swimming and sunning we walked along the promenade to the west of the Hilton, looking for a clear water spot with a sandy bottom.
We walked past the place where people were waiting for water taxis that take off for Duck and Mater Island. Next we would cross the section of beach where beginner windsurfers hone their skills. We didn't go as far as the (burnt down) Fun Beach Restaurant as storm water was running into the lagoon, in two places, near there. After a swim and a short time lying on the sand we would move onto the lawn to linger in part shade.
It took us a few days to find the best beaches for after the wind had whipped up in the afternoon. They
were in opposite directions. We could walk up to the strip near the Le Meridien. Or head around to the
bigger beach at Lemon Bay.

Lemon Bay beach
Lemon Bay has a very long beach, with a generous amount of sand. Like along Anse Vata Bay, it's bordered by a strip of lawn with large, shady trees. This is the favorite of islanders and French residents as it's bigger than other beaches in Noumea. On the opposite side of the street there's an interesting mix of restaurants, cafes, bars, and shops, which also draws people here.

This is a great place to relax because it's easy to pop across the street for a drink, an ice cream, or lunch. Parking a car is a matter of luck, but if we drove over, we could always find one around the corner near Casa del Sol. Reef shoes are essential at Lemon Bay as the sandy floor is littered with coral and stones which can hurt the feet.
The presence of so many local French families provided lovely entertainment on the beaches of Noumea. We were so intrigued by the impeccible behaviour of young children that we purchased a book on French parenting style.
Duck Island beach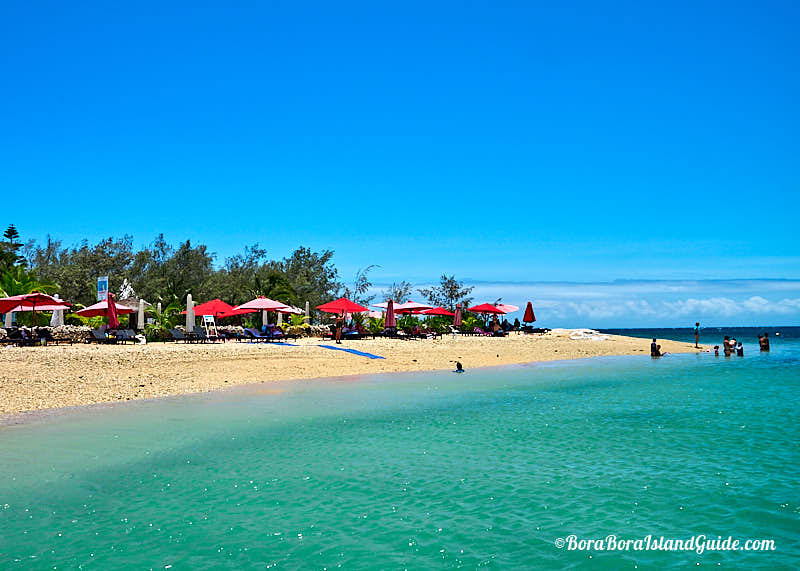 If you're looking for a little diversion there are frequent water taxis heading to and from Duck Island. Out
there you can hire a sun lounge under a red umbrella and relax with views back to the main island.
Mater Island beach
Mater Island has a stretch of white sand beach which offers shallow water with coral. This offers better opportunities for snorkeling than any other of the Noumea beaches we tried. You can read how best to visit on the Noumea excursions page. Do this on a day when there's no cruise ship in port.
New Caledonia beaches are smaller than most in Australia and busier than beaches in Tahiti. But they're so close to Australia; and the calm, warm water is so enjoyable; that most visitors would conclude that the sand size of the beaches in Noumea really doesn't matter.

Search the Site

Are you still looking for additional information? You can use the Google search box below to search the site.