Reviews of Hotels in Noumea

I carefully researched the hotels in Noumea because we wanted a comfortable 2 week vacation, while knowing 24/7 that we were on a tropical island.

Unlike many island destinations, New Caledonia's capitol is a city of a hundred thousand people, with a wide choice of accommodation. While holidaying we visited other hotels to make a comparison. This page notes our experience.
Most hotels in Noumea are centred in the area between Lemon Bay and Point Magnin. This is where the beaches are! The best located are set along the main road next to the promenade running between Lemon Bay and Le Meridien. A few more sit a block or two back, providing walking access to the lagoon and views from the higher levels.

Casa del Sol
The tall, cylindrical structure of Casa del Sol towers above the south side of Lemon Bay and also looks down, across Anse Vata and the bay. Although there's kitchen and laundry facilities very little is provided in them, so unless you bring things from home you'll need to get to a supermarket. All rooms have balconies, and if you're up high the panorama is vast.
The side overlooking Anse Vata beach is extremely windy though, so it's not pleasant on the balcony much of the time. If you book here make sure you have a room overlooking Lemon Bay so that you're sheltered from the wind. But on this side be prepared to hear music from the night clubs below, especially on weekends. It's a short walk out the door to restaurants, shops, nightclubs, and the beach. Pack reef shoes as Lemon Bay has lots of stones and coral in the water.

Noumea Hilton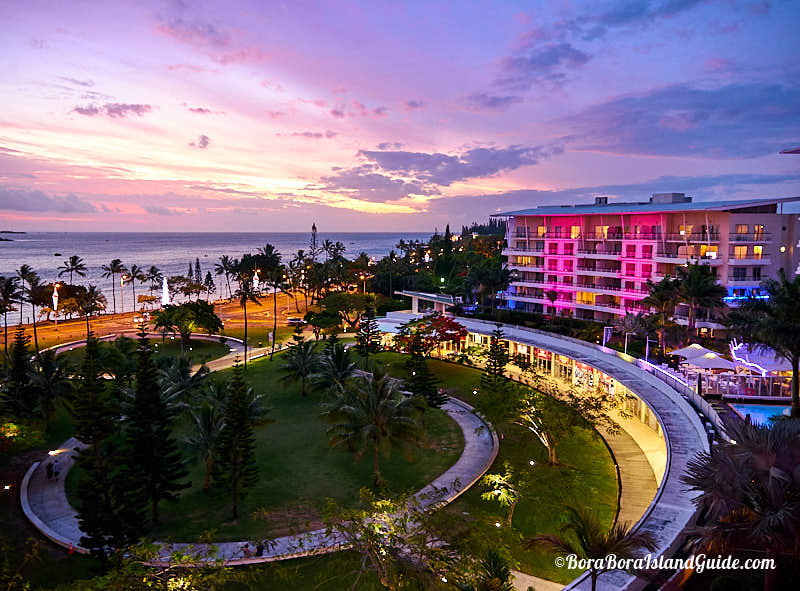 Next along this strip, sitting behind a large park with flowering trees, is the superbly located Noumea Hilton, with it's tasteful "cruise ship" lines. It boasts very spacious units (two bedrooms are also available) with well equipped kitchens, and large decks with superb water views. Located half way between Magnin Point and Lemon Bay around the corner, it's the best positioned hotel on the island. Here's why we purred over our Hilton stay.

The Lagoon Hotel

The Lagoon Hotel sits behind the Hilton, right next to a fairly busy road. It's very compact rooms have been nicely renovated throughout (a new materials odor was still present when we visited). It features a lovely small swimming pool with an intimate ambiance.

Although this hotel has been highly rated it must have been by those who had a quiet room looking over the pool. We wouldn't recommend booking there unless that was guaranteed. The little balconies of the front rooms sit directly above the street and this opening is the only source of fresh air. One of our party was given a front room even though he had booked a quiet room. He doesn't like air conditioning, especially while sleeping, so it was very hot in the tiny room (which faced the sunset) but due to the commotion and lights from the street he couldn't open windows to let in the island air.

Nouvata Park Hotel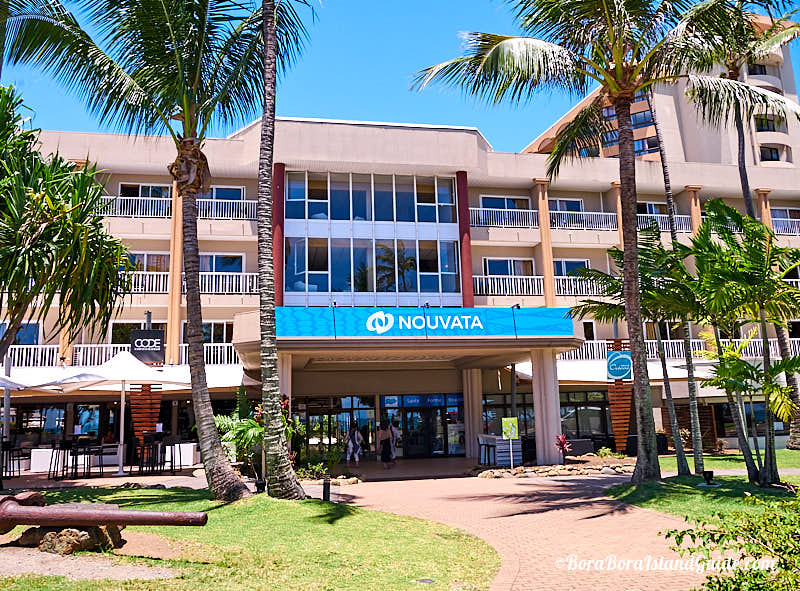 The Nouvata Park Hotel, located a little further down the beach strip, incorporates several completely different styles of old buildings in it's complex. The décor of many rooms is jaded. Some do offer lagoon views, and some have balconies over the nicely gardened swimming pool area (which is the best point about this hotel apart from location). The lagoon is across the road.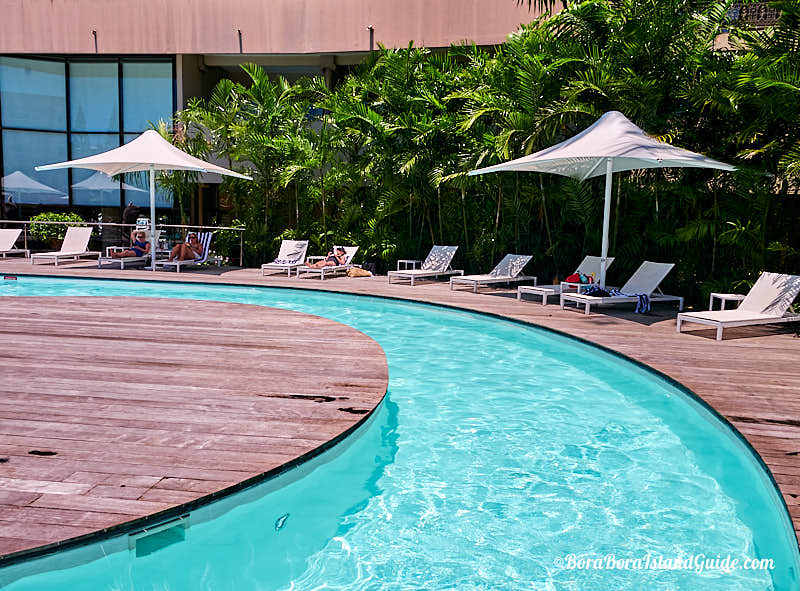 We don't recommend staying here even if you are offered one of the renovated rooms, as you can never be sure what you will be given on arrival. Do not book directly with the hotel as they have a strict "no refund" policy.

Noumea Ramada
The Ramada is set a couple of blocks back from the Noumea beach-front and has made the most of it's cylindrical height by placing a revolving restaurant on top. Rooms have a balcony, which is mandatory on a tropical island vacation. From the higher floors you can have lagoon views, plus a kitchen and laundry. But the rooms are a little tired for 4 star accommodation, especially the bathrooms. It's walking distance to the beach and cafes along Anse Vata Bay.

Chateau Royal Resort
Set back from the beach in garden, Chateau Royal is shaped like a shoe box. The Polynesian artwork on it's side identifies it for a long distance. The Chateau's main advantage is that you can step straight from it's grounds onto the beach. It offers one or two bedroom apartments that are immaculately presented. Balconies are a good size and you can have a well-decked out kitchen here. The pool, with swim-up-bar, gets a little crowded with children during holidays, when there's also a big demand for the limited number of sun lounges.
Like Le Meridien next door, it's further to go to cafes and shops. So you're likely to rely more the hotel's restaurants. Most guests report that the food is good though the servings are small and expensive. But a bus stops regularly out the front and it can take you along the main strip and all the way to Noumea Central market if you wish.

Le Meridien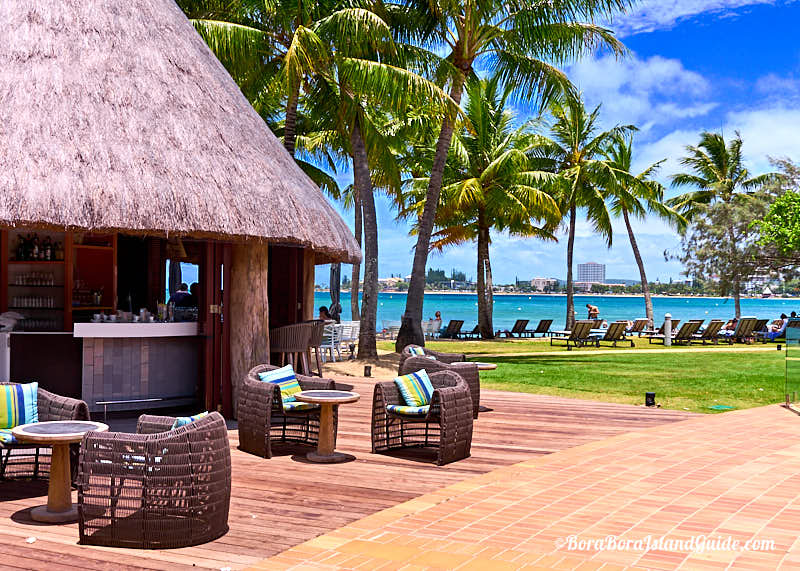 If you want luxury, Le Meridien tops the hotels in Noumea. It's set right at Point Magnin, one side of which is the favorite entry place for windsurfers and kitesurfers. The point side of the hotel is often subject to strong wind, so although it offers wonderful views, it's unpleasant on a balcony when the wind blows, which was much of the time during our visit. This will not worry air conditioning addicts.

There's a classy décor throughout. Standard rooms are large and all have balconies with lovely views, so there's no need to upgrade. Kitchens are available. Although it's a 5 star hotel the servicing of rooms is inconsistent but you can have the luck of perfect service.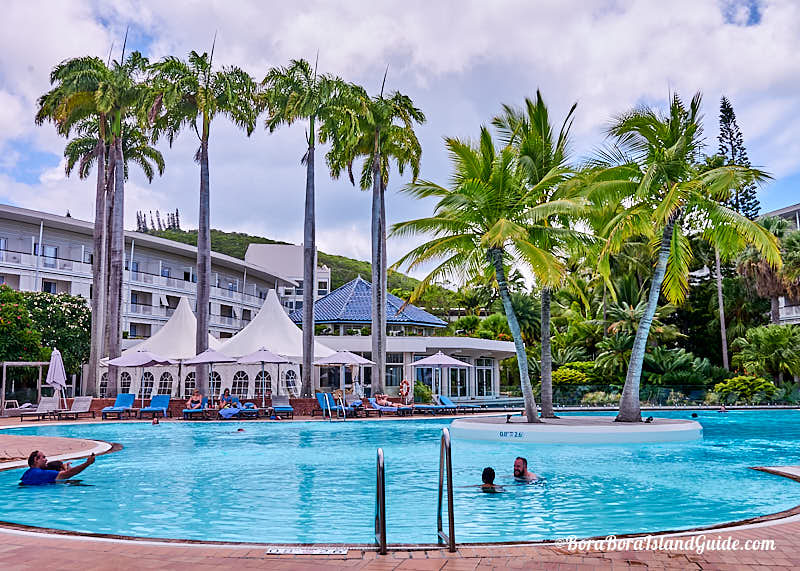 A superb swimming pool creates a luxurious, tropical-resort ambiance in the attractive grounds which run down to the narrow stretch of white-sand beach. This beach is considered the best on the island. At the edge of the hotel property rows of sun lounges are placed under palms for guests to savor beach and lagoon views. The pool doesn't get overcrowded and you don't have to get out early to recline on a chair here.

It's further to eat out from this location, but Le Meridian has more restaurants than other hotels in Noumea. The breakfast buffet gives value, lunch at the Fare is good, the Japanese restaurant is recommended, and Le Hippocampe provides gastronomic delights for the same price as French restaurants at Lemon Bay.

Guests are treated with a daily complimentary coffee at the bar or poolside cafe, and there's unlimited free wifi. In true resort style (just like in Bora Bora) Le Meridien provides canoes and stand-up paddle boards. The romantic little wedding chapel reminded us of Le Meridien, Tahiti, where you can say "I do watching the sea-life underneath. In Noumea it's lagoon aspect is towards the windsurfers taking off. If your partner is a wind sport addict it just might be the perfect place to tie the knot but bring some strong-hold hairspray.

L'Escapade Island Resort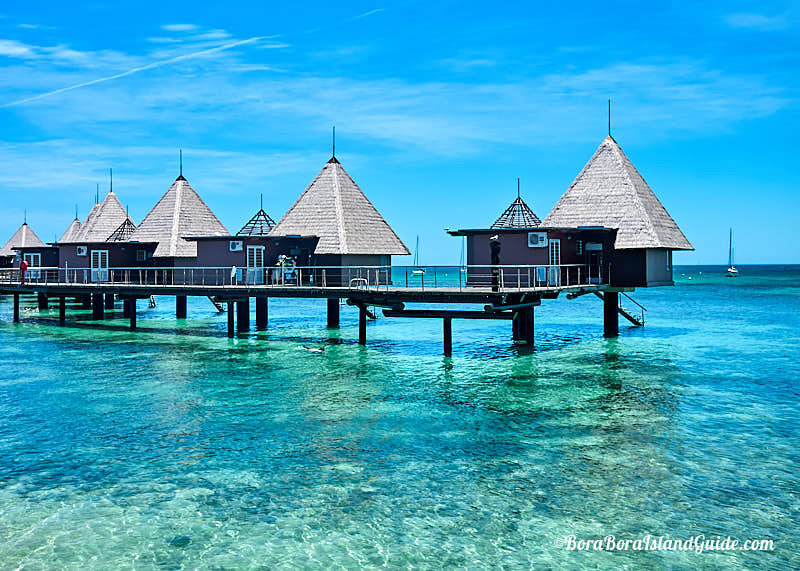 This small resort, set on a tiny island nature reserve, is the only one of Noumea hotels with over water bungalows. For Australians who can't get to Bora Bora over water bungalows (yet) this a chance to sleep above a lagoon and snorkel straight from your "room". All accommodation is in huts and some are in gardens. They may look a little tired but rooms are clean, comfortable and spacious.

It's a romantic resort for couples. But be aware that on weekends and holidays the grounds can be busy with day-trippers. They pay for lunch to have full use of the grounds, but the over water bungalow area is out of bounds to them.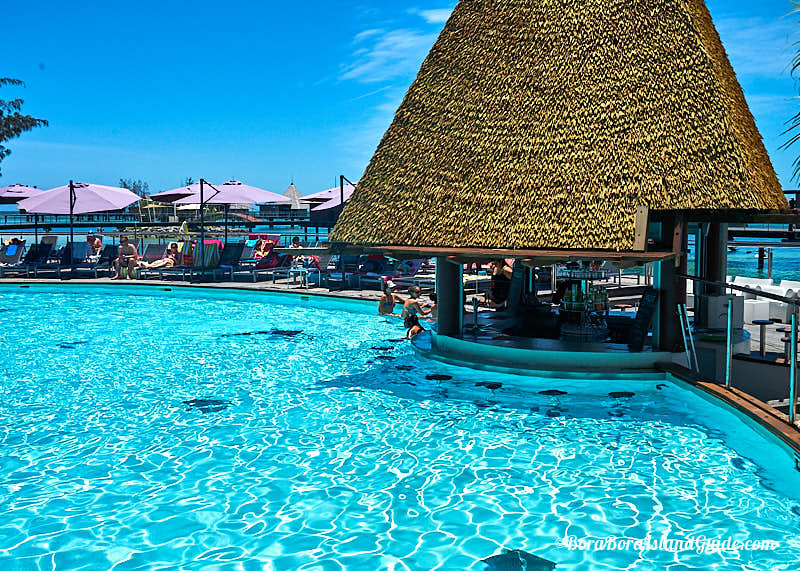 The down side of staying off shore at L'Escape is that you are largely limited to eating at the resort, and it offers 3 daily buffet style meals, which are pricy, and you'll likely get tired of the choices if you stay a few days. At lunchtime there's also a cheaper snack bar alternative selling hot dogs, salads and baguettes.
Which is the best hotel in Noumea? That's a matter of opinion! But check out these tips to have the best experience staying at hotels in Noumea.
Search the Site

Are you still looking for additional information? You can use the Google search box below to search the site.