Eating at Le Moana Bora Bora
Here's how to find the best eating at Le Moana Bora Bora. You have more flexibility than at any other resort.
Le Moana's meal plan includes dining at the Intercontinental Thalasso restaurants. And you can walk outside Le Moana and find a variety of cheaper Bora Bora eating on the Circle Island Road. Or book at Bora Bora restaurants and their complimentary shuttle will pick you up from reception.
We can recommend eating at Le Moana Bora Bora
Definitely include breakfast when you book. The buffet breakfast at Le Moana is a good spread in a lovely island atmosphere.
And a short boat ride takes you to the more sophisticated Thalasso where the buffet breakfast is a grand cosmopolitan feast. We enjoyed the best breakfasts of our lives!
Noa Noa Restaurant
Noa Noa Restaurant is at the centre of Le Moana resort and serves breakfast and dinner in French, International and Polynesian cuisines. It opens to an enclosed patio and a beautiful landscaped terrace which steps down to the beach and lagoon. There's a choice of indoor or outdoor dining with gorgeous views from both.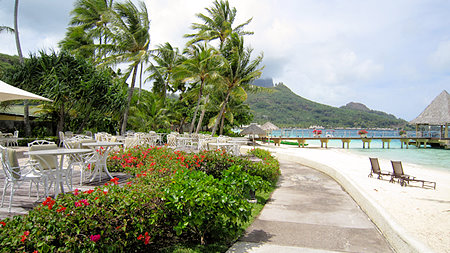 Outdoor dining at the Le Moana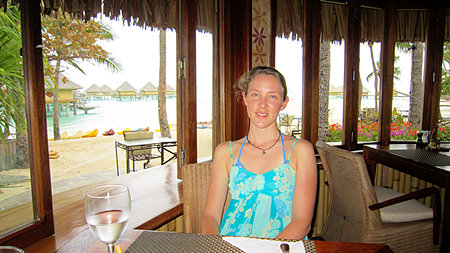 Inside Le Moana's restaurant
We stayed at the end of December so no one was eating outside. The wet season had just arrived. This is officially summer but there were a few wet days in a row and we discovered that Bora Bora can actually be windy and cool. The islanders refer to this as the cold time of year.
As we wanted to relax on our first evening we ate at Noa Noa. I ordered my favourite Polynesian dish, Salmon de deux. The fish of the gods! It was served succulent and delicious.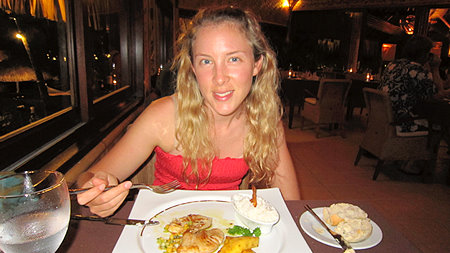 Enjoying Salmon de deux
Vini Vini Restaurant & Bar
The casual Vini Vini Bar sits alongside the infinity pool, overlooking the beach and the lagoon. Snacks can be ordered during the day and drinks are served until 10.30 pm. Happy hour is announced by the sound of a conch shell. This is the time to indulge in exotic Tahiti cocktails at a better price. The atmosphere is enlivened by Polynesian music, as well as tunes from round the globe.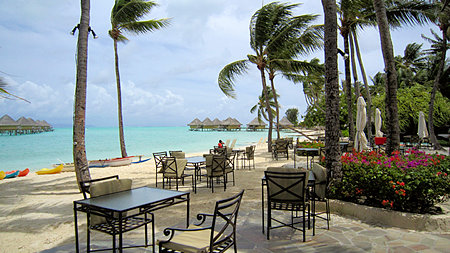 Dining at the Le Moana by the pool
Lunch is available from noon to 3pm and we fondly remember how tasty our steak sandwiches were. We heard that the yearly Hawaiki Nui Va'a canoe race (between four Leeward islands) finishes at Matira Beach, and the competitors lunched here.
Eating at Le Moana Bora Bora, outside the resort
You have many Bora Bora restaurant and dining options when you stay at the Le Moana Bora Bora. Here are your eating options outside of the resort.