Moorea Over Water Bungalows
Here's what you need to know for planning a stay in Moorea over water bungalows, on a Tahiti vacation. Compare what each over water resort has to offer.
Popular for Tahiti Vacations
Those who have chosen to live in Moorea say that Bora Bora may have the most beautiful lagoon...but Moorea is the most beautiful island! On romantic Moorea, over water bungalows come at a more affordable price than remote Bora Bora. As it's only a 10 minute flight, or a 1 hour ferry ride from Papeete, the accessibility of beautiful Moorea makes it a popular stop-over on the way to, or from, Bora Bora.
Hilton Moorea Over water Bungalows
The 5-star Hilton Moorea Resort & Spa has 54 luxurious over water bungalows (667sq.ft.)set out over the lagoon and divided into 2 categories. Each has a king bed and sitting area with writing desk. There's a glass floor panel to view the lagoon below. The bathroom is luxurious. Their outlook gives a feeling of serenity and has mountain and water views for a more affordable price than similar accommodation on Bora Bora. Choose a King Panoramic Over Water Bungalow for more privacy and stunning views.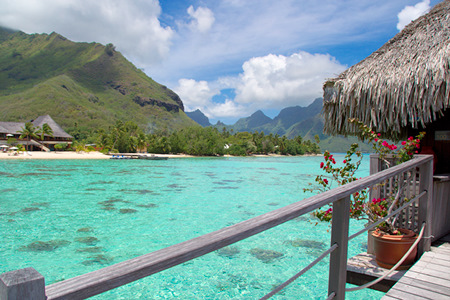 The Hilton's King panoramic over water bungalows have beautiful outlooks
The Moorea Hilton is a snorkeler's delight. Abundant, living coral starts just a few meters from the water's edge and attracts amazing numbers of neon striped and spotted fish. It surrounds the over water villas so you can enjoy some of the best straight-from-your-deck snorkeling in Tahiti.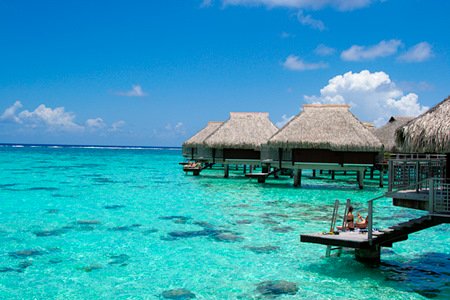 Snorkel straight from your bungalow
This is a perfect place to do nothing. The pool and it's beautiful surrounds (which include a stunning green velvety mountain backdrop) is utterly inviting. It adjoins a perfect, white sand beach scattered with woven pandanas umbrellas and palm trees for shade.
The casual over water Toatea Bar sits at a junction of the wooden walkways that lead out to the overwater villas. In the evenings, as the sun sets, it begins serving crepes with views of the lagoon and mountain peaks. Sharks show up to provide entertainment.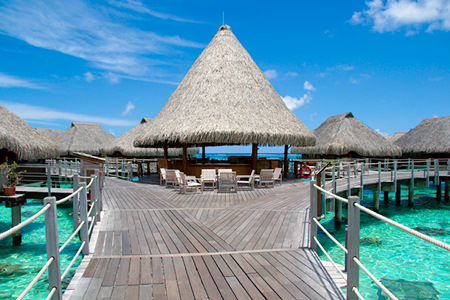 Enjoy sunset drinks at the Toatea Bar
The Hilton's main buildings have been designed with beautiful natural woods and traditional materials, giving them an authentic, tropical island feel. A magnificent shell candelabra adorns the open air Arii Vahini Restaurant which has, panoramic ocean views, and serves one of the most sumptuous buffet breakfasts in Tahiti.
Lovingly tended, fragrant, flowering gardens, add to the romantic atmosphere and make it perfect for a honeymoon vacation, Tahiti. During our stay we only met couples, so it's ideal for romantic beach getaways too. It's a personal favorite of ours.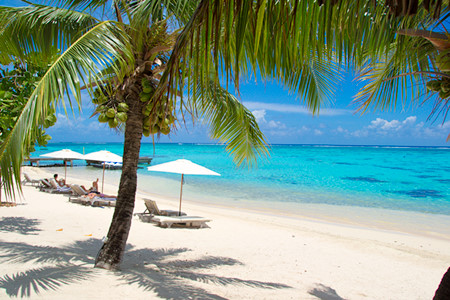 The Hilton's white sand beach is paradise
Intercontinental Moorea Over Water Bungalows
The 4-star Intercontinental Resort & Spa, Moorea has 50 over water villas with wonderful water and mountain views. They are all Junior Suites with a separate living room. But the 21 Over water Bungalows set along the shore are lower priced. The 29 Premium Over water Bungalows further out in deep water, are more secluded and have open views to the ocean and sunset. There is ample coral (which is home to colorful fish) around the over water villas so the best access for snorkeling is from them.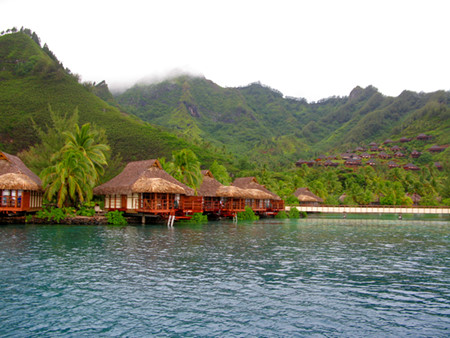 Over Water Bungalows at the Intercontinental
The Moorea Intercontinental's white sand beach is shaded by pandanas roof umbrellas. It is smaller than some others, as is the pool. The convenient location, just 1 mile from Petit Village appeals to families as well as couples on a honeymoon in Tahiti.
Pearl Resort & Spa Moorea Over Water Bungalows
The 4 star Moorea Pearl has an authentic Polynesian tropical island ambiance. It's 28 over water bungalows (517sq.ft.) each have a glass floor window to view the sea life below, and a good-sized sundeck with direct access to the lagoon. There are 8 Over Water Bungalows in shallow water closer to shore and these face the island with it's mountain backdrop. The 20 Deluxe Over Water Bungalows in deeper water have ocean views and more privacy.
The Moorea over water bungalows at the Pearl make snorkeling a treat. In the superb coral around the bungalows you can spot sea turtles, eels, sharks, octopus, trigger fish and angel fish. Even the bungalows not in deep water have good snorkeling straight from their deck.
At the Pearl Beach you can swim in the largest infinity pool on Moorea but the white sand beach is small and has no umbrellas. It's Manea Spa is worth a visit for a relaxing Tahitian Massage.
You can rent a scooter just across the road and drive all around the island road (make sure you go up to Belvedere Point). The nearby shops, supermarket post office, banks, car rental and restaurants are a 10 minute walk away. Do take a torch for returning to the hotel at night.
Sofitel Moorea Over Water Bungalows
The 4-star Sofitel Moorea La Ora Beach Resort offers 39 over water bungalows with a glass floor panels and lagoon views. The Luxury Overwater Bungalows (554sqft) are spacious with a large terrace while the Superior Overwater Bungalows (330sqft) with terrace are amongst the smallest Tahiti villas.
You can spot all kinds of fish swimming underneath the glass floor window of the Sofitel's Moorea over water bungalows, and snorkeling around them is fantastic. Their decks have steps down to a pontoon (with shower) for lagoon access. Having an over water bungalow is great at this resort as you can avoid the sharp coral at the edge of the resort's small white sand beach.
Fortunately one of the most beautiful (and popular) stretches of accessible white sand on Moorea, Temae Beach, lies adjacent to this hotel. Tamae Beach is one of the best beaches in Tahiti. Another plus is that the Sofitel Moorea is just 5 minutes from the airport. Golfers on a Tahiti vacation will also appreciate it's proximity to the Moorea Pearl International Golf Course. It is an advantage to speak French at this resort as it's the preferred language of some staff.
Club Bali Hai Moorea Over Water Bungalows
Club Bali Hai caters for those dreamers who are on a tight budget. Here you can have the cheapest over water bungalow in the South Pacific. Although the scenery is magnificent, these large over water villas are not in a clear lagoon setting, but are built on long stilts at the edge of Cook's Bay. Their apartment-like amenities include a full kitchenette.
Getting to Moorea
Taking the ferry is easy. You can put your baggage in a cargo crate on the dock, where it is loaded on and off for you, or take it up the ramp with you. I have done both, and when we have entrusted it to the crate it has arrived at the other side. Once some locals told me that bags can disappear, as they go in the bottom level of the ferry where people sit in their cars for the crossing.
It's essential to arrange a transfer when booking your resort so that you are met with a welcome when the ferry arrives. On arrival at your resort, book your return transfer to ensure availability in the resort's comfortable vehicle when you leave.