Tips to Have the Best
Over Water Bungalow Stay
To have the best over water bungalow stay you must know these 12 essential tips that we have learned from experience.
A water bungalow vacation will be very different to any hotel holiday you have had. Here's what to consider when choosing over the water bungalows:
Choose a water bungalow set over the Bora Bora Lagoon. This pristine paradise is celebrated for being the most beautiful clear blue, warm lagoon in the world.
If you want to experience the joy of jumping straight off your deck into turquoise water, book a bungalow on water further from shore, at a resort where the lagoon is deep enough.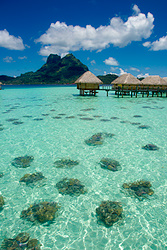 Choose a resort with coral if you love snorkeling
If you're a beach baby, one of the overwater villas close to the resort's beach will be the best over water bungalow for you. They are in shallower water so it's easier to swim in to the beach from them.
To have colorful tropical fish swimming below your water bungalow choose a resort known for an abundance of living coral around it's bungalows. Otherwise you may only spot the occasional stingray passing underneath.
If you don't want to climb down your steps into water that has interesting creatures you may prefer one of the resorts without coral. Bora Bora resorts on the eastern ring of motus have little coral. Their huts over the water are set over a part of the lagoon that is like a turquoise swimming pool with a white sand bottom. Several have lagoonariums with marine biologists who introduce guests to the sea life.
If a sense of seclusion is important, the best over water bungalow for you is one facing the lagoon rather than one that faces the resort. Some resorts have 'horizon' over water villas. For example, the Bora Bora Le Moana has a category that looks across the lagoon to the reef and ocean, all the way to the horizon. For maximum privacy upgrade to a bungalow on water at the end of the pier.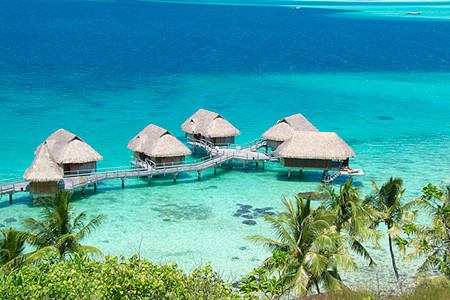 Choose a bungalow at the end of the pier for more privacy
In French Polynesia people refer to the 'sunset' side of an island. If you want the thrill of relaxing in your bungalow on water while the sun sets over the watery horizon, the Hilton Nui is the only one in Bora Bora which offers that experience.
A couples spa experience is a 'must' on a holiday honeymoon. Tahiti luxury vacations also require a spa visit. So you may want to select your water bungalow resort for it's spa. Find out what's special about each gorgeous Bora Bora spa.
Be aware that food and drinks can be very pricey, especially on isles more distant from the main island of Tahiti. Usually you will save money buying (at least) half board when you book. If you are keen to save money on food the best over water bungalow will be at a resort near shops and restaurants.
Over the water bungalows invite relaxation. Stay at least 5 nights so that you can unpack and unwind. For the evenings, bring some movies you have been wanting to see. Or borrowing from reception is free. Watch them in bed with the water lapping gently underneath.
Here's a hint for those planning a honeymoon holiday. We don't recommend the cheapest over water bungalow. Tahiti has some budget priced over the water bungalows but we think you will get more pleasure from a similar priced beach bungalow at a beautiful Bora Bora resort like the Le Meridien, Le Moana or Sofitel.
Check out the array of choices and select the best Bora Bora resort you can afford. Then choose what is the best over water bungalow, for you, at that resort. Want to know more about the gorgeous over water bungalow resorts in Bora Bora? There are simple Polynesian style huts over the water, and extravagant over water villas that are virtual over water palaces. Here are all the over bungalow resorts to choose between.