Free things to do in Bora Bora
Here are ideas for free things to do in Bora Bora. A Bora Bora vacation can be done on the smallest of budgets! Some of the most fun things to do are actually free Bora Bora activities!
1. Visit Matira Beach
Bora Bora's most prized piece of white sand has been named "best beach in the world", and the best thing about it is that everyone can enjoy it! So put it at the top of your list of free things to do in Bora Bora. Swim, sun bake and snorkel in this warm turquoise water. Sip freshly opened coconuts and watch the beautiful sunset from Matira Beach.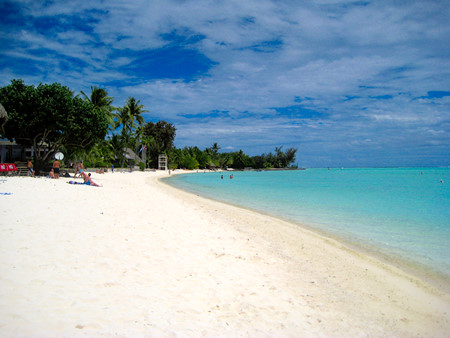 Matira Beach
2. Vaitape
Bora Bora's main town of Vaitape has a variety of stores to keep you entertained for a few hours. There are high-end shops for the discerning buyer, and markets where beautiful items are only a few dollars. Shop for pearls, hand crafted jewelry, home-wares, books, souvenirs, pareos, vanilla and Monoi products.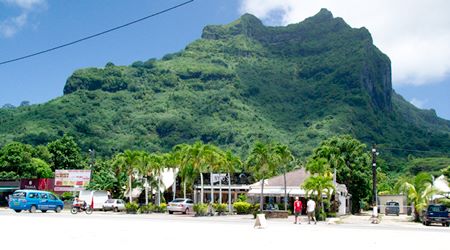 Vaitape Town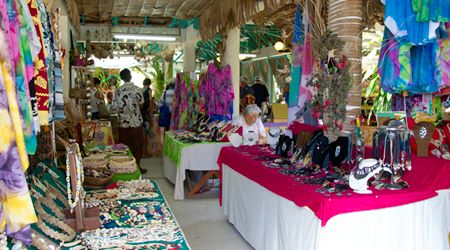 Vaitape Markets
3. Visit Bloody Mary's
When we first visited Bloody Mary's we stopped in to check it out, read the famous visitor list, walked over the sand floor, visited the gift shop and then left. If you want to hang out in this fun island atmosphere a bit longer, it's just for the cost of a drink! Enjoy sitting on the palm stools under the shade of the thatched roof on a hot Bora Bora day. If you are walking from Matira beach, Bloody Mary's will be your Oasis!
4. Visit Bora Bora Art Galleries
There are art galleries, exhibiting the work of local island artists, dotted around the Circle Island Road. Visiting them is a lovely way to see the island through the local eyes.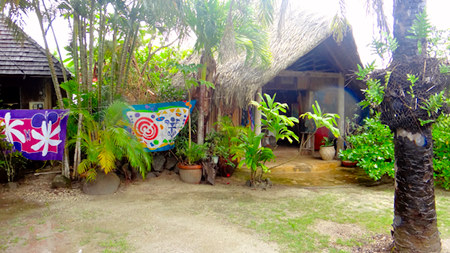 Galerie d'Art Alain & Linda
5. Walk or ride the Circle Island Road
Some Bora Bora pensions offer guests use of free bikes. This 32 kilometre (20 mile) road has many free Bora Bora attractions to visit along the way. Some are historical. If you don't have a complimentary bike, you can pick one up at any of the bike rental locations near Matira beach for a small fee for the day.

Marae along the Circle Island Road
6. 'Free' use of a glamorous resort's grounds
Some of the beautiful Bora Bora resort's invite visitors to dine at their restaurants. The Hilton Nui is especially welcoming. If you book lunch or dinner you can enjoy the afternoon relaxing around it's amazing infinity pool and white sand beach. The all-day restaurant and bar is right on the beach with a sand floor. If you're staying in pension type accommodation you have to eat anyway, so you will find this to be one of the most enjoyable free things to do in Bora Bora. It's a wonderful opportunity to experience Bora Bora luxury. There's a small charge for Nui's shuttle boat service on the way back to Vaitape.
7. Swim Free with Rays at the Yacht Club
The Bora Bora Yacht club is one of our favorite places to hang out. Drop by for a drink or one of the freshest (and best priced) lunch snacks in Bora Bora. Enjoy the bonus of swimming with friendly rays. You can relax on the pontoon and be wowed by the best sunset views in Bora Bora.
Free Things To Do In Bora Bora At Your Resort
Most of the Bora Bora resorts offer a wide range of free activities, usually including the following:
Kayaking and Outrigger Canoes – Go for a paddle off of your resort's beach around the calm lagoon.
Snorkeling – Bring your own snorkeling gear or use the complimentary gear provided at the resorts. Some resorts even have snorkel excursions with a marine biologist who points out marine life on a guided tour.
Paddle Board – These little water craft have become popular and the Bora Bora resorts have been quick to have paddle boards available for guests to use.
Hobbie Cat Cruises – Look out for the colorful sails of the hobbie cats gliding around the lagoon. Most resorts have them and take guests for complimentary rides with a sailor.
Work Out – Have the best view and the purest Pacific Ocean air to breath while you work out in paradise at your resort's gym.
Cultural Activities – These give insights into local life and are always high on our list of free things to do. In Bora Bora many of the resorts offer a different daily activity such as a demonstration on how to tie your pareo or weave a traditional basket. We suggest that on your first day you make a note of the ones you want to join in with, so that you don't miss out.
Free Activities Unique to Specific Bora Bora Hotels
Intercontinental Thalasso - Swim with the Rays
At the Intercontinental Thalasso a beach boy attracts the sting rays by feeding them each day.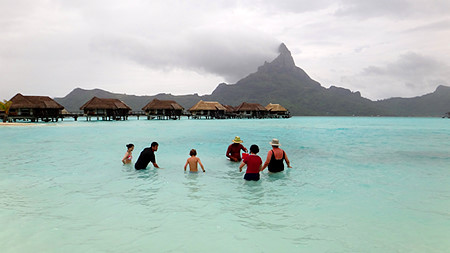 Stingray feeding at the Intercontinental Thalasso
Le Meridien – Visit the Turtle Sanctuary
Le Meridien Bora Bora guests are lucky enough to have a large inner lagoon full of tropical fish and turtles on site! Each morning there's a turtle feeding and those who attend are given a fascinating talk. You can also book to swim with the turtles, along-side the Marine Biologist. If you are not a Le Meridien guest but would like to visit the turtles, you can. Contact the resort to organize your trip across the lagoon on the resort's shuttle boat, for a small fee.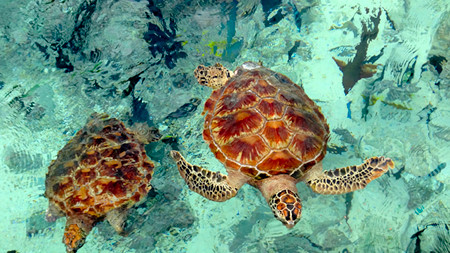 Turtles at the Le Meridien
Free Kid's Club at the Four Seasons Bora Bora
Want a family holiday that caters for every member of the family? The Four Seasons will treat the kids and teens of your family to all day complimentary activities and dedicated kids areas. It looks like so much fun I wish I was still a kid. So if you are a family coming to Bora Bora, consider the Four Seasons Resort.
Snorkeling at the Hilton Nui
The Hilton Nui has a special project to restore coral and gives a little snorkeling tour off it's beach.
Free Transport in Bora Bora
If you book a meal at any of the best Bora Bora restaurants they provide you with free transport each way. We once had lunch at the St Regis and spent the afternoon in it's beautiful grounds. We asked the concierge to book our dinner at the Kaina Hut. When the St Regis shuttle boat arrived at it's dock on the main island the free taxi was waiting for us. After eating, the taxi took us to the Vaitape wharf to catch the boat back to the Nui.
Free Internet in Bora Bora
Using the internet at Bora Bora hotels can be quite pricey for a short time. If you're in the Matira area the Boutique Fareaui across the road from Le Moana gives you free internet access (and you can use their computer) when you buy something. This well stocked store has a wide range of goods and souvenirs.
Want some more budget Bora Bora tips?
That's our list of free things to do in Bora Bora. If you are wanting more ideas for saving money while on your Bora Bora vacation visit affordable Bora Bora vacation and Bora Bora affordable resorts.