Matira Beach, the Best Bora Bora Beach that's Everybody's!
Matira Beach is a mile of exquisite white sand at the southern tip of Bora Bora Island.
When you visit, you will understand why it is Bora Bora's most popular public beach. It stretches from Hotel Bora Bora (currently closed for renovations) to Matira Point and is framed from behind by lush palms and green hills. To each side there are more long strips of privately owned beaches.
On the eastern side, several four and five star Bora Bora resorts nestle along Pofai Bay and have great views of the Beach. Le Moana Intercontinental Bora Bora resort is just across the road. It's authentic Polynesian charm also offers the freedom of easy walking to this great beach and the nearby shops and cafes. The luxurious Intercontinental Resort & Thalasso Spa has it's dock here, so their guests can ride across the lagoon to visit.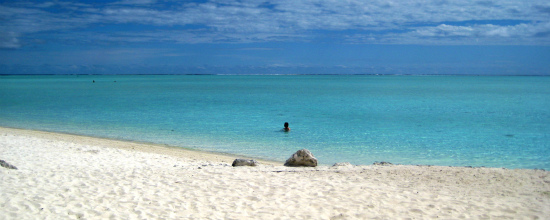 Often described as the most beautiful beach in the world. Matira Beach is actually the only public beach on the main island that is worth a visit. It is so gorgeous it is in our list of best things to do in Bora Bora! Everybody is welcome on this expanse of sand. There is a fun atmosphere that offers natural shade from palm trees, safe swimming and easy snorkeling.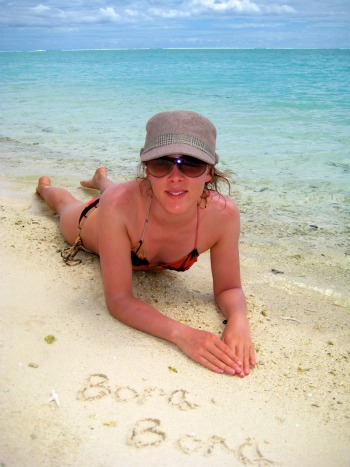 Me on Matira Beach
The white sand slopes gently into a sandy bottomed lagoon so the water is warm and shallow. The floor is flat and has a sandy, coral-free bottom to walk on. I have not seen any children there, but if you are traveling with your family, this would be a wonderful place for children to swim and play.
During low tide, you can wade from Matira Point, across the shallows, out to the barrier reef. This shallow water is what makes it impossible to sail around the island in a yacht.
What to do at Matira?
Wondering what there is to do here? Here are the activities and tours that are available at Matira Beach, including where to find the best snorkeling.
Sunset at Matira Beach
This western-facing beach is renown for beautiful sunsets. Last time I was on Bora Bora I discovered this for myself. We swam and snorkeled in the afternoon and lingered to appreciate the glowing, orange orb scatter a myriad of colours across the sky. As the sun sank slowly into the lagoon, we sat at a cafe and slowly sipped drinks. And lost all sense of time.
It was past public transport hours and no taxis came by, so we started walking along the road to 'Bloody Mary's'. In the dusk we could see the silhouettes of the palm trees above the lush vegetation that lined the road. The island air was fragrant and warm. Even though we were stranded there was magic in the moment and we felt so happy. A French man stopped to offer us a ride. The only words of ours he could understand were 'Bloody Mary's'. Soon we were walking in through the welcoming door. From here it was easy to catch a taxi back to our cruise ship. On Bora Bora taxi fares go up after 7pm. But the sunset moments were worth it.

Sunset at Matira Beach