Best Side of Plane to Sit for Bora Bora?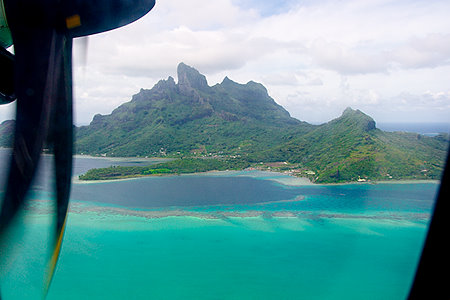 View from the plane on flights to Bora Bora
Seating on the inter-island flights to Bora Bora is open seating. So the best side of plane for views is available to the first people that board the plane.
Try to get to the airport early enough to be towards the front of the queue for boarding. Then you will be one of the lucky ones!
After you enter the plane from the rear, take a seat on the left hand side as you walk down the isle. This side of the plane will have the best view of the most beautiful island in the world, as you approach Bora Bora Airport. Many people know this, so if it is important to you, get to the airport early.
Most of the time, the planes follow the same path when landing. But every now and then, the pilot will approach from a different side, for the flight to Bora Bora Airport. I'm guessing this change is made due to the wind direction. But the left side is usually the one to have the great views. You will see Huahine, Tahaa, Raiatea and Bora Bora on your approach to Bora Bora airport.
No seats on the best side of the plane?

Flying over the reefs and lagoons of French Polynesia is magnificent.
If you have to sit on the right side of the plane, relax and look out for Maupiti and Tetriaroa in the distance. Even if you sit on the right side, when the plane comes to land it will U-turn and give a quick, close up view of Bora Bora Island.
Search the Site

Are you still looking for additional information? You can use the Google search box below to search the site.