Tahiti Village Resort Las Vegas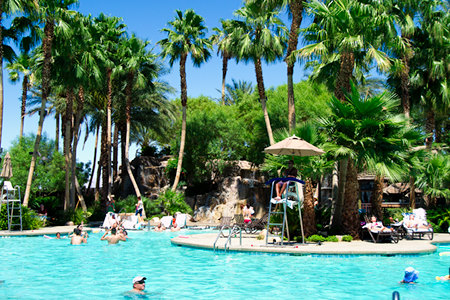 Tropical paradise in the heart of Las Vegas
We were keen to review Tahiti Village Resort Las Vegas (themed after our favorite vacation destination)and discover what it had to offer. 

If you want to experience a touch of Tahiti, closer to home, we found an air of Polynesian Paradise at this relaxing resort. You can choose an exotic Bora Bora, Moorea or Royal Tahitian suite. It deserves the Certificate of Excellence awarded by Trip Adviser in 2012.

Viva Las Vegas

Everything in Vegas is larger than life. What would Tahiti, Las Vegas style, be like? The drive south on the strip to Tahiti Village took 15 minutes in busy traffic. We stepped from the searing heat into a cool, cavernous reception area which (unlike the prestigious Bellagio or bustling Flamingo and MGM) had no queue to check in, even though it had full occupancy. The calm energy soothed us immediately.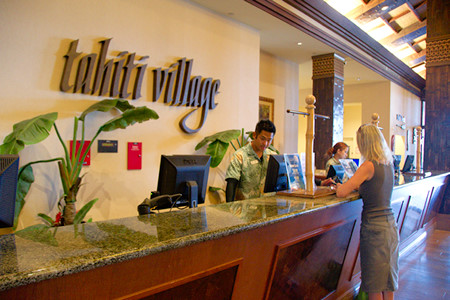 Reception at Tahiti Village
Nostalgic Tahiti Apartments

Leaving the reception building we were delighted to discover palm shaded pathways leading to the suites (308 guest rooms, in towers). The immaculate, elegantly decorated apartments are lovingly cared for, and have some beautiful touches of luxury, including mahogany finished furniture.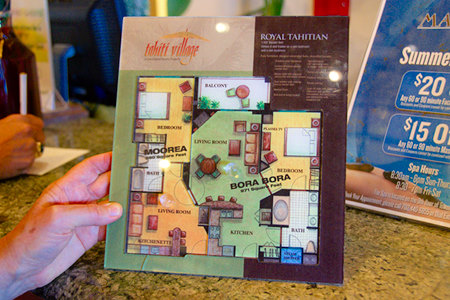 The Apartment layouts at Tahiti Village
The Moorea suite (580 sq.ft) has a generous sized bedroom (with king bed) and the bathroom has a shower in the bath plus a single basin. The ample living area provides a pull out sofa-bed to sleep two extras. (You would need more space for 4 adults though.) The Moorea suite incorporates a practical kitchenette.
The Bora Bora (971sq.ft.) offers the spaciousness we are accustomed to in the luxurious villas on Bora Bora Island. It has a large bedroom (with king bed) and gorgeous bathroom with twin basins, a steam shower, and huge tub with jets. The charming living area also has a sofa-bed to accommodate more people. To make being away from home extra comfortable, these Tahiti apartments include the convenience of a well equipped, full sized kitchen with granite bench tops, plus a washer/dryer.
The Royal Tahitian (1551 sq.ft.) is for those vacationing with friends or a larger family. In these Tahiti apartments you get a combination of the Bora Bora and the Moorea suites, connected. Very nice!
Featuring a White Sand Beach!
The centerpiece of Tahiti Village Resort Las Vegas is a lagoon-blue pool with a soft, white sand beach fringed by lava rocks. This is surrounded by hundreds of striking palms and palapas. You can loll around in the degree of shade or sun that you want. And full bar service is available to indulge in an island cocktail or cool beer.

Kids love the white sand beach at the pool
The pool staff (their Hawaiian origins lending a Polynesian spirit) disperse clean towels and cold water from a thatched roof hut. This is a reminder of resorts in Tahiti where the beach house, and the friendliness of the tattooed beach boys who man them, provides a hub for diverse recreational activities.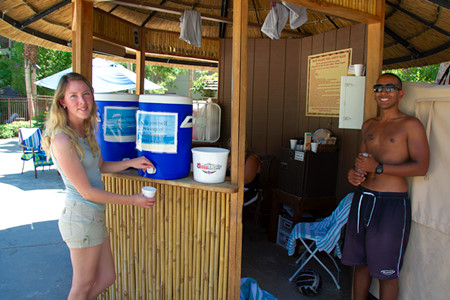 Like the Tahiti resorts there are pool boys and chilled water by the pool
Beyond the swimming pool is the curved lazy river, flowing for an eighth of a mile. Kids of every size delight in floating on it's relaxing flow. You can meet people by joining in at the pool volleyball area, or taking a water aerobics class 3 days a week.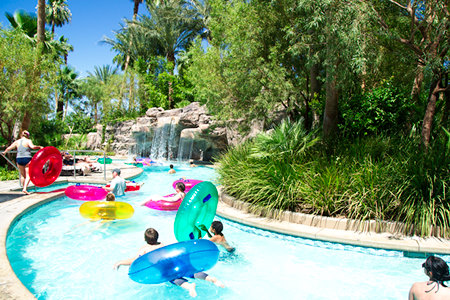 The lazy river curves by waterfalls and water features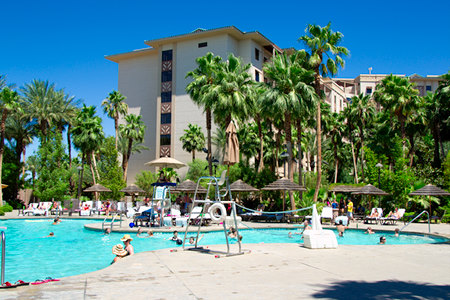 Cool down playing volleyball in the pool
In the evening the lighting of the water, among the palms, creates a magic ambiance for your Tahiti look-a-like vacation. Looking out from your suite, you can imagine you are on a tropical island.
Tahiti-meets-Vegas Entertainment

Over the summer Saturday nights are a lot of fun at Tahiti Village Resort Las Vegas, with 19 luaus planned. Last year's most popular performers were Hot Lava and now they have even more dancers in their hip shaking show. Tahiti Joes serves up a big Polynesian Style buffet and the performance begins at 7pm. Tickets are $27.99 for owners, $32.99 for guests, and $14 for children aged 4-10. Although the final luau of 2012 is scheduled for 8th of September, last year the kind weather enabled luaus to be extended into late September. For more information call (702) 440-6945.

Tahiti Las Vegas Family Resort

The Tahiti Village Resort Las Vegas is one of the hotels which is providing superb, kid-friendly accommodation, so it's ideal for the whole family. It's away from the crowded casinos and pollution, very clean, and has perfectly maintained grounds. Life-savers are positioned to observe every part of the water areas. Art and craft activities are offered for children each day. And it's non-smoking policy sets it apart from all the other hotels we have been to in Vegas.

Away from the Crowds

And if you want access to the larger than life excitement of the Vegas strip, yet be able to retreat to a more peaceful atmosphere, the Tahiti Village Resort Las Vegas has this. The hot tub is open until 10pm and a new adult spa, large barbecue area, and raised stage were almost finished construction when we visited. A free daily shuttle operates from Tahiti Village Resort Las Vegas and stops twice each hour at 2 resorts on the strip. Or it's a $20 cab ride.

Eating at Tahiti Village Las Vegas

Tahiti Joes, the on-site restaurant and bar, has included bamboo and tiki gods to evoke an island atmosphere. We had heard mixed comments about the quantity and quality of food served (the management assures us they are working to fix this) and we didn't eat there. It serves a Tahitian tapas dinner – all you can eat – for $19.95. The bar tempts with $10 bottomless cocktails of several types and has extended happy hours. There's also a Denny's. Down the street there's a grocery store to stock the kitchen. Plus other restaurants nearby. But we think the best food in town is at the Bellagio Buffet.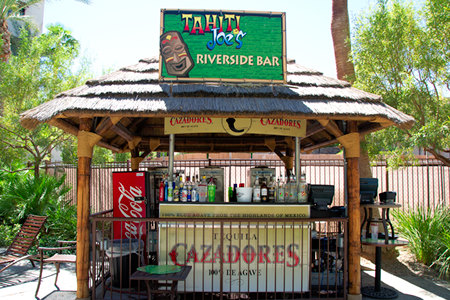 Tahiti Joes pool side bar
Mahana Spa

The Mahana Spa offers facials, manicures, massages and body treatments. You can also arrange for a massage in your suite. There's no gentle, traditional Tahitian massage, but you can enjoy a warm 'desert stone' massage. In Tahiti, 'hot rock, cold rock' is a signature Polynesian massage.

Tahiti Village Resort Las Vegas Time Share

Although this is also a very popular time share resort, no one will interrupt your vacation to ask you about making that investment. They respond to interested people who inquire. We saw the vacation adviser showing around a couple who had booked for the Tahiti Village Resort Las Vegas time share tour.

Shop Till You Drop

Tahiti Village resort Las Vegas is positioned near a large indoor, outlet mall, where you can walk from store to store in the comfort of air conditioning. There's more shop-till-you-drop, awesome bargains than we could manage, but it was the vast array of stores, not the heat that wore us out.
Tahiti in Las Vegas
Tahiti Village is 2.5 acres of manicured, tropical fantasy. Those who dream about Bora Bora Island and the most beautiful lagoon in the world (which is as blue and warm as this swimming pool) can get a thrill staying here. Tahiti Village Hotel Las Vegas offers you the chance to escape to South Pacific Paradise without venturing far from home.

Search the Site

Are you still looking for additional information? You can use the Google search box below to search the site.