Best Time to Go To Bora Bora: Seasonal Influences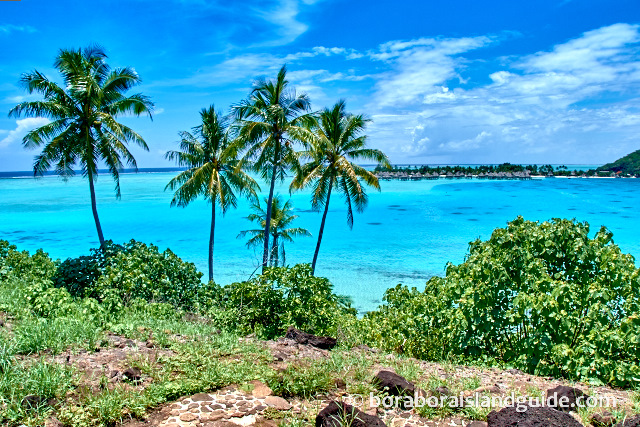 Spring Beauty
To see Bora Bora dressed in her spring finery the best time to go to Bora Bora is from October to December. The island ambiance is alive with fragrant frangipani, blossoming hibiscus and ripening tropical fruits. This is a perfect time for romantic tropical vacations in Tahiti.
Cheaper Bora Bora Vacations
If you want to vacation for less the best time to travel to Bora Bora is during the low season. You can buy discounted international flights to Tahiti and pay much less at any of the beautiful Bora Bora resorts.
Best Bora Bora Weather
If having perfect sunny weather every day is important to you the best weather time to go to Bora Bora is in April, May and June. During these months there's no wind and lots of sun. October, November and the beginning of December are also very nice. July August and September are good because although there's wind, there's very little rain. Find more detailed information on the Bora Bora weather.
School Holidays
Much of the year you will see few children at the Bora Bora resorts. The resort beaches and pools are tranquil places. It seems that many couples hang out in the sanctuary of their over water bungalow. But during school holidays there is a busier feeling around the resorts. You'll still feel like you're in paradise as their grounds are large.
But if you prefer a feeling of seclusion, the dates when the following countries have their school vacations may not be the best time to go to Bora Bora and we advise that you plan around them.
School holidays also increase demand for local and international flights which affects both the availability and the price of Tahiti airfares, as well as hotel accommodation. This may not be the best time for you to travel to Bora Bora.
Europe & the US School Holidays
August and September are the busiest months in Bora Bora as there are school holidays in Europe. Even people without children tend to take their holidays at this time. Many French people take vacations during this period and it's also the season for Italian honeymoons in Bora Bora. This overlaps with part of North America's long summer vacations, which depending on the state, start in June or July, and run through August.

Tahiti school holidays
Tahiti school holidays also influence the volume of flight bookings and consequently the price of international fares. Plus, when French Polynesia is on holiday, there is high demand for rooms in small hotels and family pensions. So if you are wanting a bed and breakfast style stay, or cheap accommodation, this is not the best time to go to Bora Bora.
Tahiti schools have a week's vacation in the last week of September and the second week of November. There's a full month off from the middle of December to the middle of January. Students also holiday in the 3rd week of February, the first 2 weeks in April, and the 3rd week in May. They have a final 6 week break during July and the first half of August.
Search the Site

Are you still looking for additional information? You can use the Google search box below to search the site.