Bora Bora Beaches 2019 Calendar

ON SALE!
Imagine seeing Bora Bora in every month next year! With the release of the 2019 Bora Bora calendar you can enjoy the ambiance of the world's most exquisite white-sand beaches and turquoise lagoon, all year. Preview the calendar below!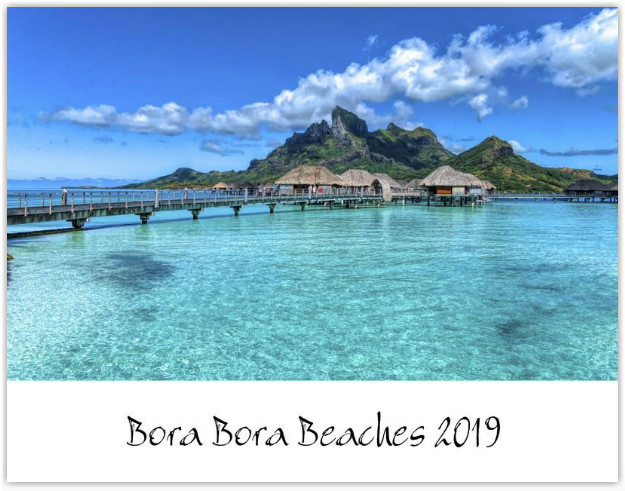 These astonishing sights, snapped around the world's most beautiful island, will infuse each day with a touch of romantic bliss. They'll remind you that life is more than essential routines; to dream big, and remember that the rewards in life - like happiness and holidays - come to those who practice self discipline. 

If you're one of the fortunate few who have already been to Tahiti, these stunning scenes will help you reminisce on your vacation of a lifetime. With Bora Bora beaches on your wall you can indulge in tropical-island nostalgia every day of the year.

Those planning a trip to Bora Bora can use the calendar for counting down the sleeps until you go!
Preview the Bora Bora 2019 Calendar
Extra 15% off 2019 Calendars!  Code:19NEWYEAR

On Sale! $24.95


Plus use code 19NEWYEAR for extra 15% off on checkout


Shipping:
 $10 USA
$15 International
Shipping
Shipping costs will automatically be added to your purchase after inputting your postal address. Please allow 1-2 weeks for shipping to the USA and approximately 2-3 weeks for shipping internationally.  
Shipping to USA $10



Worldwide shipping $15
2019 Bora Bora Calendar
$29.95 for 11x8.5in Calendar printed on high quality photo stock
Shipping to USA $10.00

International shipping $15.00

Shipping costs will automatically be added to cart once you have input your mailing address
Please allow up to 14 business days for delivery
Ring binding
US holidays on calendar
Payment via PayPal or order through Lulu.com
See our return and refund policy
Payment

Payment is safe and secure via Paypal and can be completed with a credit card, bank transfer or Paypal payment.
Search the Site

Are you still looking for additional information? You can use the Google search box below to search the site.