Bora Bora tattoo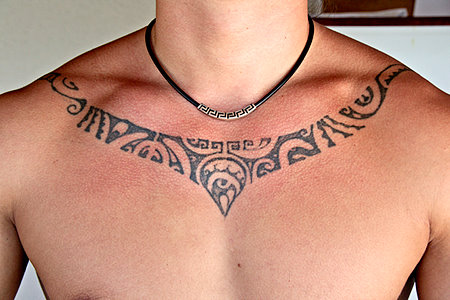 Want to take home a beautiful Bora Bora tattoo as a lasting memory of your Bora Bora vacation?
During the last 20 years there has been a resurgence in tattooing as a traditional art form and it has regained a position of honor and prestige in Tahitian culture. So you can choose from accomplished Bora Bora tatto artists, or those on Tahiti or Moorea.
Today's Tahitian motifs reflect a personal desire for identity. They have been freed from strict religious or traditional mores and the styles of the various Polynesian island groups have been merged. But much of the symbolic significance surrounding tattoo lives on.
Find out more about the symbolism of the various body areas to decide where you might like to have Tahiti tattoos placed. Think carefully about what you would like your tattoo to say about you and your life, and discuss this with the Bora Bora tattoo artist.
'Lonely Planet' puts getting a tattoo as number 3 on a list of 34 things to do in Bora Bora. It's a popular activity for people on vacation to Bora Bora. They take the opportunity while being in a culture where this form of body decoration is highly valued. At the Pearl Beach spa in Bora Bora we saw couples going together to choose their celebratory motifs.
When to get your Bora Bora Tattoo
Until your new tattoo has healed, you must not soak it with sun or water. So plan to get your Bora Bora tattoo at the end of your Bora Bora vacation. It can also be done at Tahiti or on Moorea before you leave French Polynesia and head home. Moorea is a 30 minute ferry ride from Tahiti and worth a visit. Book ahead. Don't wait until the last day or the artist you want may not be available.
Application of a Bora Bora Tattoo
You must not have sunburn on the area where you want the motif placed. The skin must be cleaned, disinfected, and if necessary, shaved. The artist uses a machine with one needle to create the outline of the design. Then he colors in the wider areas with a ball that can hold more than 15 needles.
How long does it take?
This depends on the capability of the tattoo artist and the size of the tattoo. A small design in one color may take minutes. An intricate motif covering a forearm or side of a leg may take between 2 to 3 hours. Having a back covered with motifs would require several weeks of endurance.
Will it hurt?
The level of discomfort largely depends on the body area you choose. Being tattooed in bony areas is the most painful, and the parts of the body with more flesh are less sensitive. Also, each person has a different tolerance level for pain.
How to care for a tattoo
After the tattoo has been applied, a mixture of ink and blood will seep out and harden into a scab which may take weeks to heal. This must not be disturbed so you will need to take short showers or baths and generally keep it out of water. It must also be kept totally out of sunlight. After it has healed, regularly apply moisturizer to keep it's fabulous appearance.

Where to get a Bora Bora Tattoo
Is a Bora Bora tattoo for you? It's important to go to an esteemed professional who is both knowledgeable and intuitive at helping you decide what you would like your body art to say. Find out about how to choose Tahiti tattoos for life meanings.
The artist must also be skilled at creating and applying designs. Here are Bora Bora tattoo artists who have reputations for excellence.
Search the Site

Are you still looking for additional information? You can use the Google search box below to search the site.