10 essential Bora Bora travel tips

Here's 10 essential Bora Bora travel tips that help you have the best vacation while also saving money!

1. Pack snacks in your luggage

Because of its isolation, everything costs more in Bora Bora. So bring some packaged snacks with you. Protein bars, muesli bars, nuts, biscuits and crackers don't weigh much and are easy to slip into spaces among your packing.

2. Pack a reusable shopping bag

A lightweight, durable bag will help you carry all the beer, water and snacks from the supermarket. You can even use one that doubles as a cooler. You can also use to to take food with you on day trips.

3. Pack spoons, knives and forks

When you are picnicing with your own snacks it is always handy to have cutlery with you. Sharp knives are good for cutting cheese and tropical fruits, spoons are great for yogurt, and you can eat so many items with a fork! Your hotel will not provide any cutlery unless you are staying in a self contained unit (which there aren't many in Bora Bora.

4. Bring some floats and a rope

Here's a free activity for Bora Bora. Bora Bora's lagoon is calm, so it's the perfect place to lie around on your giant swan or floating sun lounge. Bringing your own float will give you time playing or relaxing on the water - but make sure you bring a rope so you can tie yourself to your bungalow and don't end up floating too far away!

5. Buy duty free alcohol at LAX

This will be the cheapest alcohol you will see all trip! You can even organize it so that you pay for it there, and pick it up at your destination, so you don't have to carry it on the plane.

6. Keep your backpack on through the airport!

Inter-island flights have very strict weight restrictions as the aircraft are so small. If you are carrying a backpack or bag, they are less likely to weigh it if you keep it on your back. If you take it off, they will weigh it!

7. Sit on the left side of the plane on the flight to Bora Bora

Seating is unassigned on the small inter-island flights to Bora Bora. So listen to this Bora Bora travel tip and get to the airport early to be one of the first ones on the plane. When boarding, secure a left hand side seat then sit back, relax and get ready to enjoy the views as you descend into Bora Bora!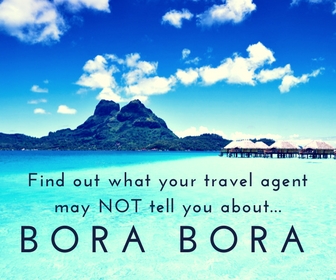 8. Visit a Bora Bora supermarket on your first day

If you head to the main island of Bora Bora before going to your motu resort, be sure to stop at a local supermarket to stock up on snacks, drinks and alcohol. If you go straight to your resort from the airport (which most of your will) be sure to head to the main island early on in your trip to visit a local market. The price you will pay for beer, wine, water and snacks will be much less than at your resort, and you can enjoy them on your beautiful bungalows deck.

9. Head to the gym

Yes we know you are on holidays, but this is one of the best Bora Bora travel tips! The gym is the only place in your resort where you can drink fresh water on tap - for free!

10. Eat breakfast late

Fill yourself up on all the breakfast goodies at your resort towards the end of the breakfast session. This will keep you going for most of the day. If you are peckish, have a few of your own snacks in the afternoon and then enjoy a good dinner.

Want to know all our Bora Bora travel tips?

What to know all the ways you can save on your vacation to Bora Bora? Find out what your travel agent may not tell you about Bora Bora here....

Search the Site

Are you still looking for additional information? You can use the Google search box below to search the site.