Papeete
Papeete is the capital of French Polynesia. Everyone heading to the outer islands like Bora Bora and Moorea for a Tahiti vacation must travel through Papeete's international airport.

Some people only stop in Papeete for one night, to connect to a flight, but stopping for longer gives you a chance to explore this amazing island of Tahiti! From here you can explore Tahiti's black sand beaches, go on inner island hikes, swim under waterfalls and visit the terrifying waves of Teahupoo!
If you want to have and evening on the town, there are restaurants and nightlife near the ferry dock. The Mapuru a Paraita market is a must to see and shop for the largest selection of local crafts and fresh food! Visit the Musee de la Perle to find out more about black pearls, and shop around the black pearl boutiques to find a valuable souvenir.
Flights to Tahiti

Flights to Tahiti arrive into Papeete airport (PPT). If you are staying overnight to connect to a inter-island flight, we recommend these Tahiti airport hotels.
Staying in Papeete

If you are staying on the island of Tahiti for a couple of days, we recommend hiring a car so you can get around to see some of the sites around the island. Here are the best places to stay on the island of Tahiti. Some are outside of the downtown area.

Downtown Papeete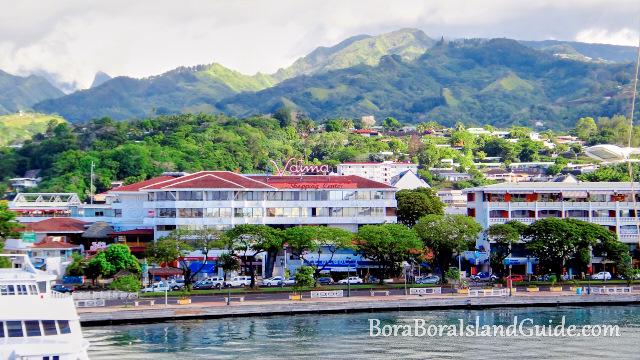 The Vaima center is in the heart of the downtown district, and opposite the cruise terminal
Things to do

Visit municipal market place for local shopping

Drive to the top of Le Belvédère for a meal
Browse the pearl shops in the downtown district
Visit the Musee de la Perle
Walk along the waterfront Paofai Gardens
Visit the Notre Dame Cathedral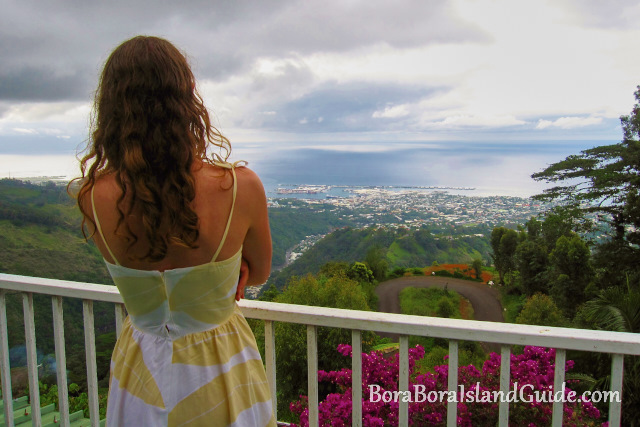 View down to Papeete from Le Belvédère
Where to eat in Papeete

An evening visit to the waterfront will show you how the locals eat. You will find a lively outdoor eating market with"roulettes". Roulettes are the Tahitian version of food trucks. They serve a variety of foods, but to go for the Tahitian favourites, try the steak and chips with a roquefort sauce, barbecued fresh fish or crepes.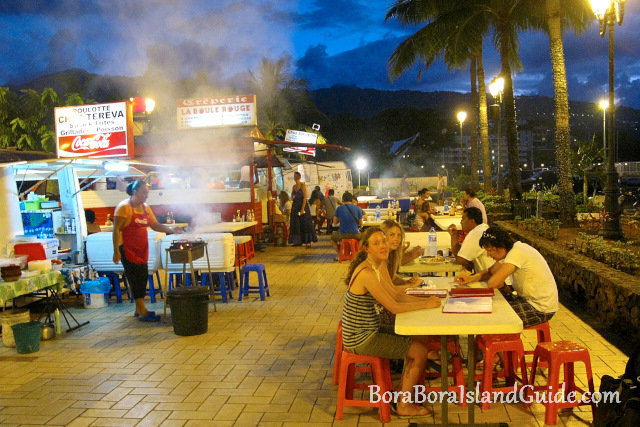 Eating at the Roulettes in downtown Papeete
Outside of Papeete

If you hire a car, there are many sites to see around the large island of Tahiti.

Visit the Point of Venus and it's black sand beach.
Take the coastal road south to see the famous surf break of Teahupoo.
Take the ferry across to Moorea for the day
Visit the water gardens of Vaipahi
Walk to the Faarumai Waterfalls
Point Venus
Cruising Tahiti

If you are heading on a Tahiti cruise, your ship departs from the dock in downtown Papeete. There are restaurants, shops, markets and a waterfront park close to the port.

Search the Site

Are you still looking for additional information? You can use the Google search box below to search the site.