UPDATE 2022: The Sofitel Bora Bora is currently closed. It is unknown when the resort will re-open.
Sofitel Marara Beach Accommodation
The slice of Polynesian culture and history that comes with the Sofitel Marara Beach accommodation makes a Bora Bora vacation even more interesting. See these adorable bungalows and check their affordable prices.
Marara Beach resort was extensively rejuvenated in 2006. The décor of the bungalows blends earthy, rich woods and the Polynesian talent for palm leaf weaving with a beautiful, uncluttered simplicity that is very calming.

Any one of these nostalgic bungalows will put you in the mood for romance or holiday fun.
Sofitel Marara Beach Accommodation: On Land
Book one of these bungalows to pay the best Bora Bora prices which also give access to all the benefits of staying at a luxurious Bora Bora resort. Like a pristine, private beach!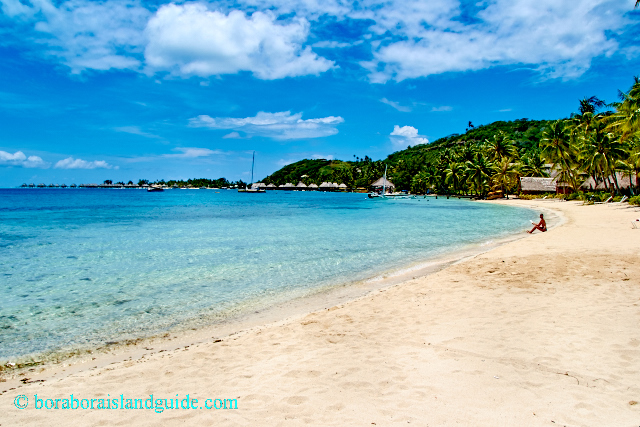 The Sofitel Marara white sand Beach
Luxury Garden View Bungalows
These 32 delightful Polynesian style Sofitel Marara Beach garden bungalows were built in 1978 to accommodate crew filming the disaster movie 'Hurricane'.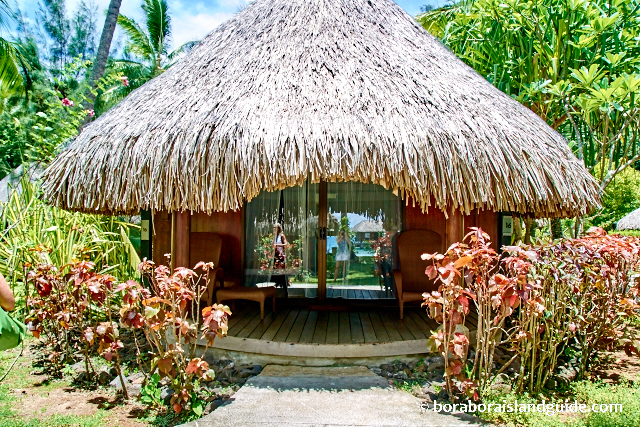 A Sofitel Garden Bungalow
They are lovingly maintained and offer elegant simplicity in an exotic garden setting. Perfect for a tropical island vacation adventure!

If you want to see what one is like inside there's more photographs and information about Sofitel garden bungalows here.
Luxury Beach Bungalows
There's only 11 of these splendid set-on-the-­sand Sofitel beach bungalows. So if you want one, book in advance.
Everyone thinks Bora Bora and over water bungalows. Yet we enjoy a Bora Bora beach bungalow just as much. Stay in one at the Sofitel and sitting in your sun-­lounge, on your deck, is like being in a panoramic movie theater. The sensational views, right across the water to Maupiti, include the occasional flashy spectacle of a a para­sailor or jet skier flying by.
Consider one of these for your Sofitel Marara Beach accommodation. Go here to look inside and find out more about the Marara beach and garden bungalows.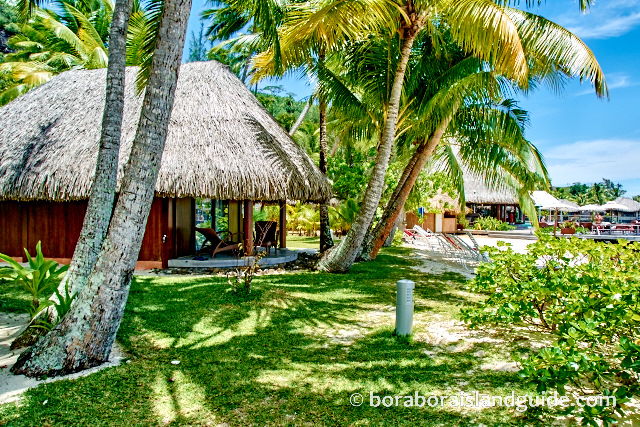 A Sofitel beach Bungalow, a few steps from the beach
Sofitel Bora Bora Marara accommodation:
Overwater

Luxury (Half Over Water) Lagoon Front bungalows
This Sofitel Marara Beach accomodation was the inspiration of the daughter of movie director, Dino De Laurentis. After the film crew returned home, she stayed to open Marara Beach as a resort. She had them constructed along the shoreline, with their decks supported by long stilts in the water. You can walk straight into them from the beach. They were the first over water bungalows in Bora Bora.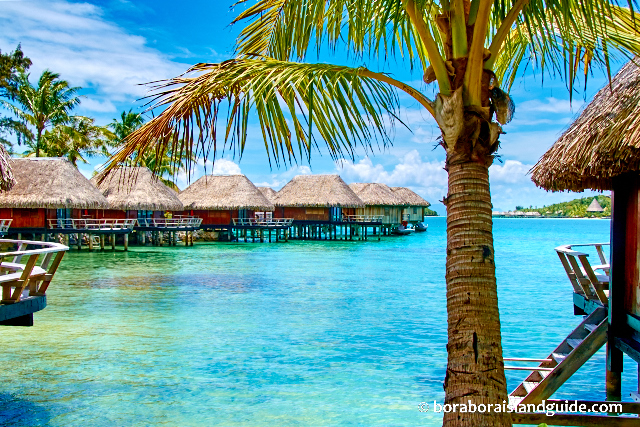 Their aspect includes the lagoon with the overwater bungalows in deeper water, and across the water to the infinity pool and thatched roof main building, which houses the Marara restaurant and bar. And some have a view to the Private Island.
Luxury Bungalow Over Water
The second Marara Sofitel over water bungalows were built further out in deeper, turquoise water. If you're thinking of Bora Bora Sofitel Marara Beach accomodation over water, and can pay a little more, these provide better lagoon access for swimming and snorkeling straight from your bungalow.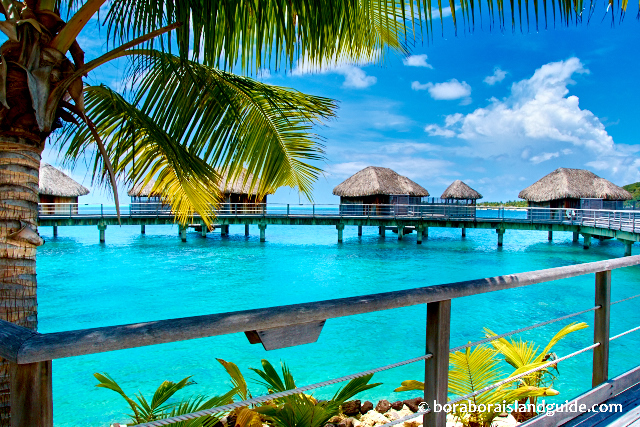 Luxury Over Water Bungalows at the Sofitel Bora Bora
There's a romantic, circular, wooden jetty to walk to your 'room'. (Would you believe that we were once asked if you have to swim to the restaurant from your overwater bungalow!)

Wheel Chair Access
The Sofitel Marara Beach resort on the mainland of Bora Bora Island has two bungalows which provide reduced mobility access.

Walk around the Sofitel Bora Bora Private island
Come for a walk around the exotic Sofitel Bora Bora Private Island. Perhaps your perfect Bora Bora bungalow is over there.

Making Bora Bora More Affordable
By being a "Accor Advantage Plus" card holder you can have even more affordable, Bora Bora Sofitel Marara Beach accomodation. The bonus booking deal is stay 3 nights and get one extra complimentary night.

We think the distinctly Polynesian Sofitel Marara Beach accommodation buys the best affordable Bora Bora vacation in resort style accomodation. It's location will also give you other cheaper priced eating choices.

Search the Site

Are you still looking for additional information? You can use the Google search box below to search the site.