UPDATE 2022: The Sofitel Bora Bora is currently closed. It is unknown when the resort will re-open.
Sofitel Marara Beach and Garden Bungalows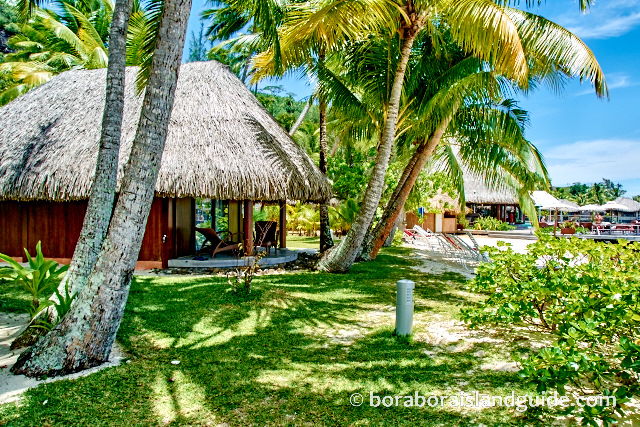 A beach bungalow at the sofitel Marara Beach
The gorgeous, Sofitel Marara Beach and garden bungalows enable us to escape to Tahiti for an amazing Bora Bora resort style vacation, without the higher prices of newer resorts.
Beach and Garden Versus Over Water Bungalow

Almost everyone dreams of the novelty of staying in an over water bungalow. But some wanna­be vacationers can't afford the prices.
Or perhaps over water is all booked out. So we want to share that we've had spectacular Bora Bora vacations staying in beach and garden bungalows too!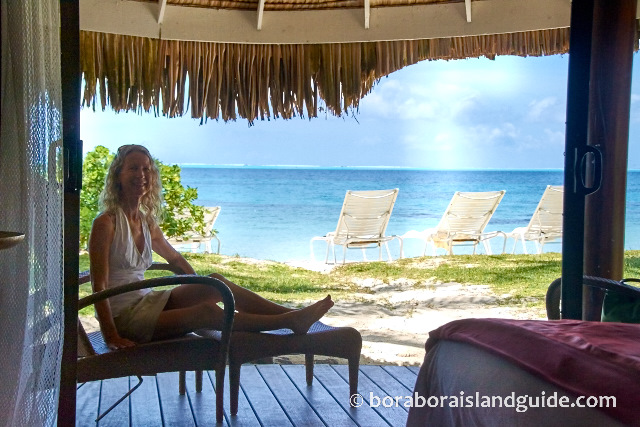 It took us 2 Tahiti vacations to realize why the beaches at the Bora Bora resorts are so deserted. Many hotel rooms are over water and guests swim and snorkel straight from their bungalows, or sun bake on their private decks, leaving the beaches quiet and sometimes deserted. We're Aussies, so wriggling our toes in the sand is like breathing! Bora Bora beach bungalows are just as much fun as over water bungalows.

Fairytale Huts
There is a mystical air (suggesting glories long past) lingering in the original Sofitel Marara bungalows. And here's why!
These 40 fairytale Polynesian huts were built by Italian director, Dino De Laurentis, to house the crew of the 1979 movie, 'Hurricane'. This film, starring Mia Farrow and Trevor Howard, was shot entirely on location around Bora Bora.
Red satin contrasts with white fabric and walls, highlighting the woven palm frond ceiling and glowing wood. Red was chosen for it's significance in Bora Bora's history. The King used red to honor his warriors when they returned, victorious, after fighting on other Pacific islands. It signified, courage, power and peace.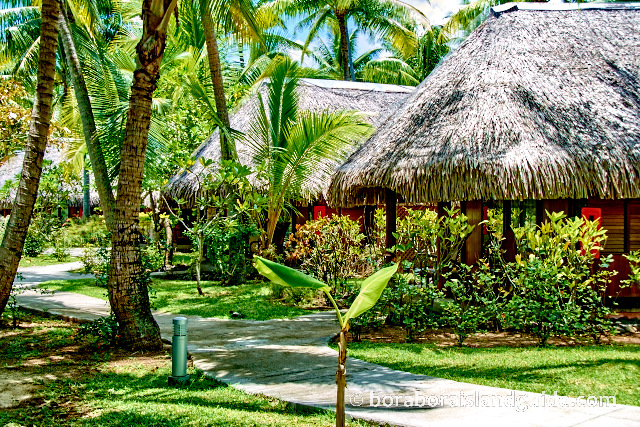 Sofitel Garden Bungalows
Immaculate Works of Art
The earthy, traditional design and décor of Marara beach and garden bungalows blends rich woods and the Polynesian talent for palm leaf weaving, with an artful, uncluttered simplicity, that is very restful.

We found the Sofitel Marara beach and garden bungalows have been meticulously maintained and are immaculately clean.

Sofitel Marara Garden Bungalows
You can stay for days in one of these quaint, Polynesian bungalows and not even see the neighbors. When I'm at one of the spacious Bora Bora resorts I wonder where all the other guests are!

Once you experience the pleasure of strolling through lush, tropical gardens, you realize that it's fine if your bungalow is further from the lagoon.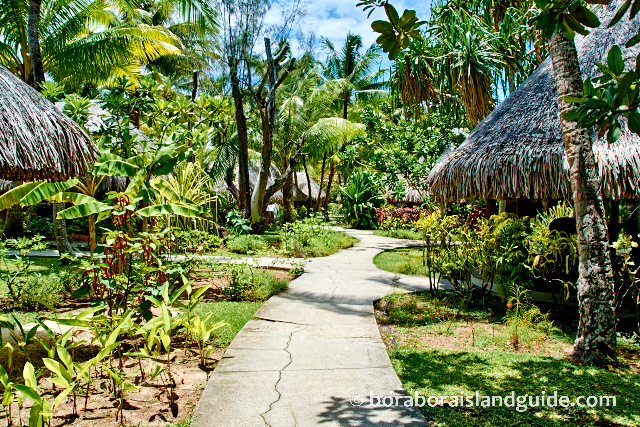 In paradise all paths lead, through fragrant floral gardens, to the beach! In our experience there's plenty of inviting, empty deck chairs, at the water's edge, most of the year. (Though you may have to be quick in July and August!) You don't have to pay extra for the privilege, either, like we did on a beach vacation in Europe.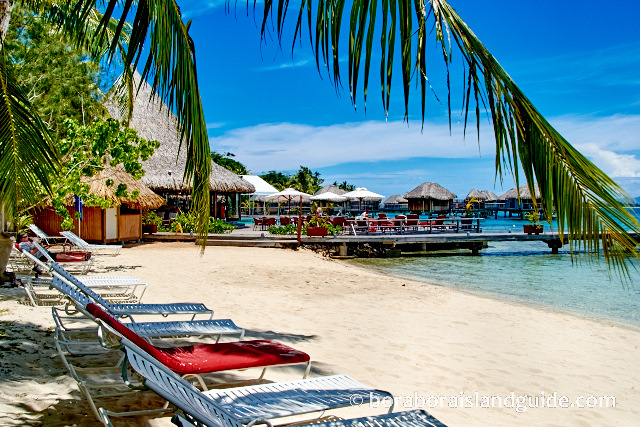 The beach is only a few steps from a beach or garden bunglalow
Marara Beach Bungalows
The beach and lagoon are outside your front door, and there's bee­line access to the restaurant and bar, from these perfect, Polynesian beach houses.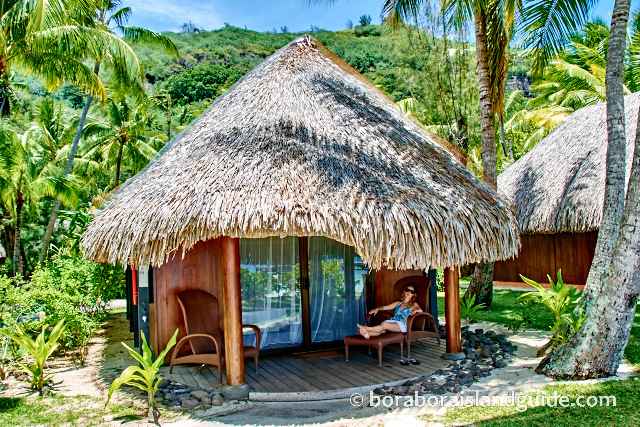 They have views to go for! It's worth sitting through 8 hours of flights to Tahiti and an inter­island flight (Make sure you know which side of the plane to sit on!) to have front row seats to this.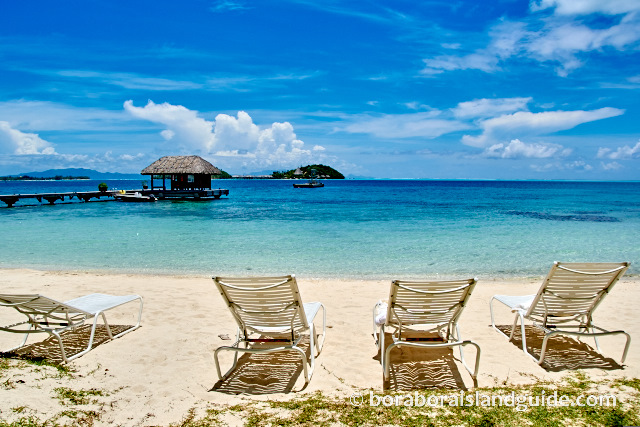 Step Inside Sofitel Marara Beach and Garden bungalows
The sitting area is small and it's all you need because most of your fun will be outdoors (unless it's your honeymoon). Even after sunset the temperatures are pleasant.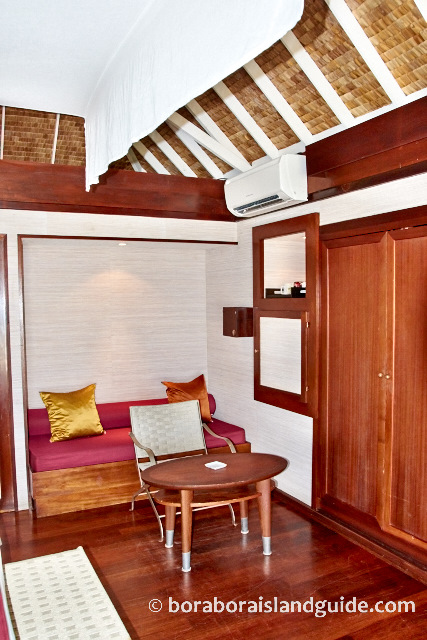 Kingly beds are very comfortable.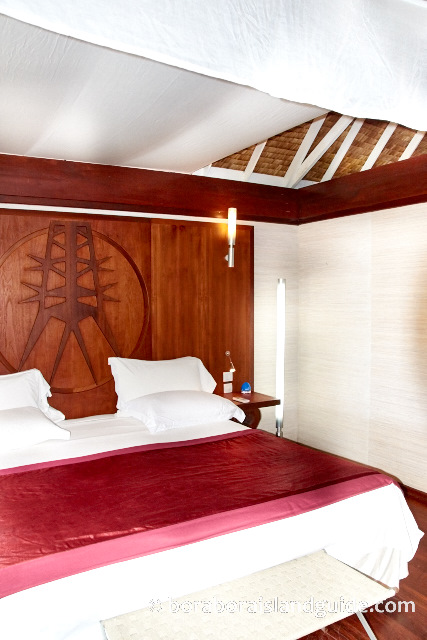 Spotless, shiny bathrooms have a vanity, shower and separate toilet. Plus complimentary robes.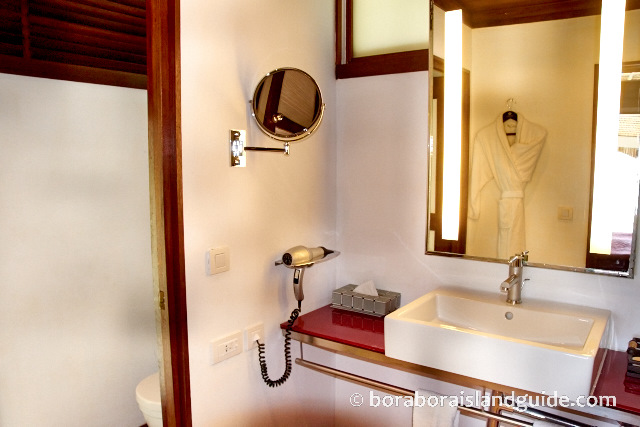 There's a (privacy) lace curtain and a zapper for evening mosquito protection.

Great Value Bora Bora Resort
If you're on a budget, planning an affordable Bora Bora vacation, you don't need to pay the higher prices charged at newer resorts. The Marara beach and garden bungalows give a dreamy, tropical island experience.
Search the Site

Are you still looking for additional information? You can use the Google search box below to search the site.