Information on Bora Bora geography
The volcanic peaks of Mt Otemanu and Mt Pahia rising out of the Bora Bora lagoon
Bora Bora geography is unique from it's volcanic formation. Bora Bora is a small island, 29.3 km2 (11.31 sq mi), set in a turquoise lagoon that is surrounded by a string of motus (small islands). Its highest peak, Mt Otemanu is 727 meters high (2,385 ft), and rises up from the lagoon with lush emerald green hillsides and black volcanic rock. The steep, dramatic profile of Mt Otemanu makes a big impact, and is a stunning backdrop to the blue lagoon and white sandy beaches from just about anywhere around Bora Bora.
To adventure into the rugged interior of Bora Bora Island requires a 4X4 vehicle. Many inland roads lead to superb panoramas of the lagoon and it's motus. If you like hiking, bring along a good pair of boots to explore the islands inner trails.
The most easily accessible public beach is Matira beach. It is located on the southern tip of the main island and has gorgeous white sand and shallow lagoon waters. Here is more information on Bora Bora's famous Matira Beach.
Bora Bora Geography: A string of Islands
All the motus that surround Bora Bora's Lagoon are flat and sandy, except for Motu Toopua which is a volcanic island. These motus are fringed with white sand beaches and are considered to be the best beaches in Tahiti. The most luxurious resorts have set themselves up on some of these motus. You can have the best view of Mount Otemanu while relaxing, on a sun lounge, with a snack and cocktail in hand.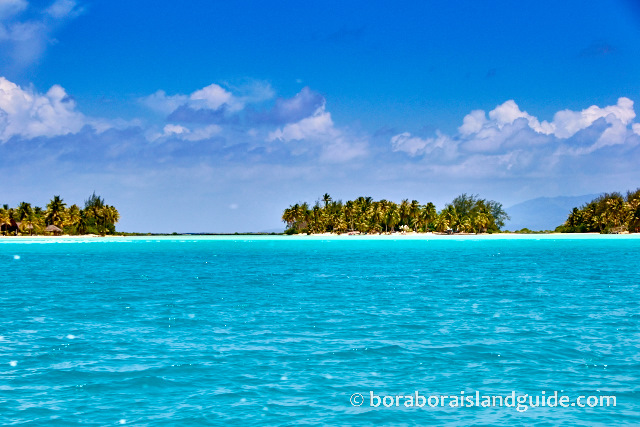 Motus surrounding Bora Bora
The smaller motus have quiet, romantic beaches that are perfect for day-trip picnics by boat. All the motus are privately owned, so if you want to visit one, find out where the public beaches are located, or book a tour that will take you. Motu day trips and private motu picnics are available from these tour providers. Information on Bora Bora's Population
Bora Bora is home to about 9,000 people. They live in 3 villages, Anau, Faanui and Vaitape. Many work in the Tourism industry. For recreation, they enjoy dancing and drumming. You can see the exciting, colorful art of Tahitian dancing here. The official languages of Tahiti are French and Polynesian.
Information on Bora Bora's Wildlife
There are not many animals here, as the islands appeared from volcanic activity in the middle of the Pacific Ocean, far from any other land. So the only land animals here are the ones brought in by people: horses, cows, pigs, chickens, sheep, goats, dogs and cats. Snakes or dangerous land animals do not exist in this tropical paradise. Walking around the island you might see big holes in the ground. These are created by crabs. You can also find the occasional hermit crabs on the beaches.
Although there are not many land animals, there are many sea creatures! There are hundreds of colorful fish species here as well as sea turtles, sharks, dolphins, manta rays, gray rays, leopard rays and even occasional humpback whale sightings.
Search the Site

Are you still looking for additional information? You can use the Google search box below to search the site.