Which Bora Bora Resort is for You?
Choosing which Bora Bora resort you stay at is the most important decision of a Bora Bora Vacation. You will discover that lounging around the resort's beach or diving off the sunny deck of your over water bungalow is even more pleasurable than you imagined.
Your resort cost will likely be the largest part of your budget. We discuss the highlights of staying in each of these beautiful resorts so you can choose the experience you want to have. Some days you won't even leave the resort and its beautiful surrounds. So first select the best resort, and then the best villa style that your budget will allow. Wondering how much a Bora Bora vacation costs? Here is a guide to Bora Bora prices.
The best resorts are located around the entrancing lagoon, either on the main island or the surrounding motus. You can find them on our Bora Bora map. Every resort has soft white sand beaches and blue lagoon. But each varies with what it offers in location and style of accommodation. Plus each resort has a different view and is in a different area of the Bora Bora lagoon, which varies in depth and color.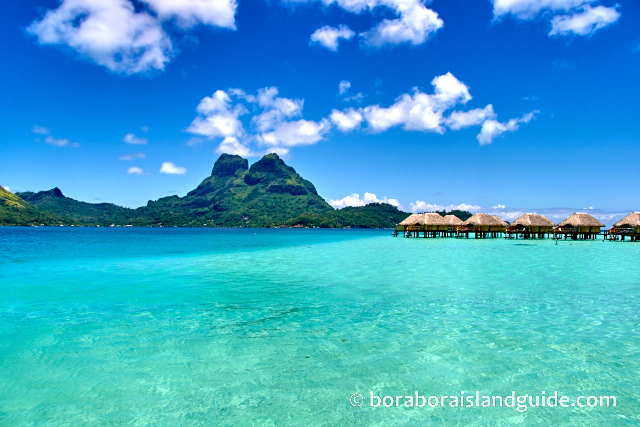 Some look across the lagoon to Mt Otemanu while others have great snorkeling from their beach or are set in a shallow swimming-pool-like part of the lagoon. If you want to watch the sun set over the sea or stroll to local restaurants and shops, you can choose a resort for that. You may also want to consider the Bora Bora Spa treatments each resort offers.
Here are details about the over water bungalows in Bora Bora.
All the Bora Bora resorts look beautiful, so it can be daunting trying to choose between them. Look at what each resort offers and decide what is most important to you. Then it will be easier to choose which resort will give you the vacation you are dreaming of. Once you have chosen your resort, you will want to find out how to get from Bora Bora Airport to your resort. Here is a summary of the unique qualities of the Bora resorts.
Search the Site

Are you still looking for additional information? You can use the Google search box below to search the site.